Breitbart Jerusalem has obtained rare access to the internal communications of Islamic State fighters speaking about the battle of Mosul.
In conversations on the encrypted messaging app Telegram, the fighters said they were bracing for a long and protracted battle.
On the messaging app, Abu Jaafar Alshami wrote: "Our brothers and loved ones, thank Allah, torture the enemies of Allah, the Peshmargas [Kurdish militiamen] and the Shi'ites and all those who support them – the Americans, the French, the Poles, and others. They're all cracking up under the pounding of your brothers near the border of the Welayat [region]." He further gave updates about alleged victories in the outskirts of Mosul, where Iraqi forces admitted they met formidable resistance.

Fighter Abu Talha Aljazrawi wrote: "Thanks to Allah, we are confident in our sons the mujahideen. We are here deep inside the region of Ninveh, waiting impatiently for our turn to take part in jihad for Allah, the one and only. We swear in the name of Allah to parade the heads of the nonbelievers and Shi'ites in the center of Mosul. We're not afraid and won't let their airplanes frighten us. They have America on their side, we have Allah on ours."

The app user who goes by the name of Mossab Almuhajer resorted to Islamic theology: "The speech of Allah does not allow the men of evil to defeat the believers. We set up Allah's faith on earth, but it is likely that Allah allowed evil to win because he wants to shame them, and wants to delay the victory of the believers to separate them [from the nonbelievers]… We promise you will find us tomorrow on the ramparts of Baghdad… You rely on the airplanes of the coalition, we are confident nothing can harm us, except what Allah has planned for us."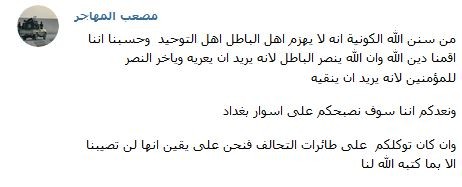 Usama Almaghrebi ("the Moroccan") wrote: "We left our countries to fight for the victory of Allah's faith… Our brothers in religion and faith… We've come here to fight for Allah and to fly his flag… I swear to Allah that we'll show them the strength they had never encountered… I swear to Allah that the battle will be a disaster for them and they'll be sorry for what they do… We may lose Mosul or other places, but rest assured that the Islamic State is going nowhere, and will return stronger than ever. Look at the mujahideen from all over the world pledging allegiance to our caliph," he said, alluding to reports in the pro-IS media that an Al-Qaeda affiliate in Africa pledged allegiance to IS and its leader Al Baghdadi.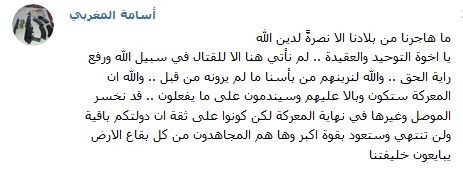 "Silencer" wrote: "I swear to Allah that we're preparing for their arrival and arming ourselves and waiting for them inside Mosul… Our brothers don't allow us to go to the frontline because there are enough mujahideen out there. We regret not being able to take part in the fighting, but we are waiting for them with our explosive belts and with our APVs filled with explosives, we're waiting for them to come to a battle that will go down in history."
"They falsely claim that they're advancing into the city in an attempt to boost morale among their troops, but they know that they're lying and that they sustained many losses, and that many more are to come deep in Mosul. We're ready and waiting for them. I swear to Allah that neither America nor any other country could help them. We will annihilate them. They will take Mosul only after all of us are killed in the name of Allah. The mujahideen are racing for places on the explosive car, they get on and shout: 'I can smell heaven already!' Can these people be defeated? No. I swear to Allah that the infidels will never defeat the believers."