Democrats are trying to restrain their gloating over their many wins in the 2018 omnibus battle, including new language to limit border wall construction to just 33 extra miles.
"We're feeling very good about this," said the Democrats' Senate leader, Sen. Chuck Schumer, who has stepped up his opposition to a border wall since President Donald Trump was elected in 2016. "We've accomplished many, many, many of our goals." He added:
When it's unveiled, you will see. We're not going to get into any more details.
Those gains include roughly half a billion dollars for the huge "Gateway" tunnel in Schumer's New York — and language shrinking Trump's wall construction on the border to just 33 miles of fences and riverside levees in 2018. At that rate of construction, it will take 22 years to complete Trump's border-wall plan.
The Democrats' grins echo their triumph in the December 2015 budget fight when Democratic leaders hid their gains from rank-and-file Democratic legislators to preempt celebrations before the deal was sealed. After the 2015 deal was sealed, Schumer boasted: "Almost anything the Republican leadership in the Senate achieved this year, they achieved on Democratic terms… Democrats had an amazingly good year."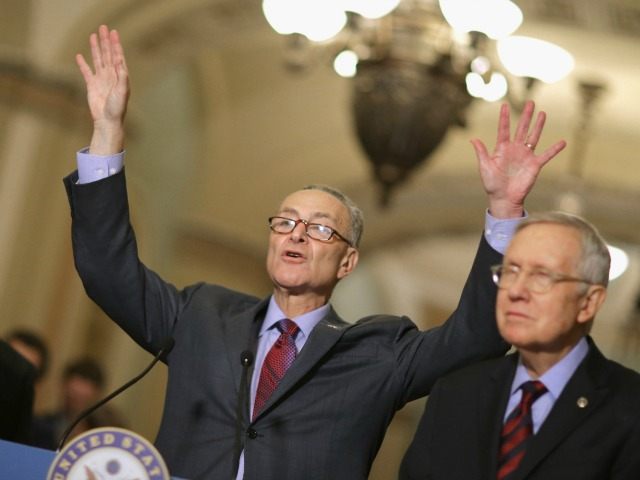 The Washington Post reported:
In the final wall compromise, $1.6 billion will be available for physical barriers along the Mexican border, but strings are attached. Most of the funding, officials said, can be used only for repairs or for "secondary" barriers along border stretches where there is already a wall. The rest can be used for 33 miles of new barriers, but there are restrictions on the type: Only levees or existing "bollard" fencing can be built, rather than the concrete prototypes Trump appears to favor.
According to Politico, the 2018 omnibus bill:
doesn't provide the specific funding for the [New York tunnel] project but does include funding increases for other federal transportation accounts, including Amtrak, that will allow tunnel construction to begin. And there will be more than $500 million available for Gateway this year that doesn't require administration approval under the terms of the deal, and the project can apply for billions more, according to a source familiar with the negotiations.

"It's troubling that we get a tunnel but we don't get a wall," House Freedom Caucus Chairman Mark Meadows (R-N.C.) said, noting the border wall funding had previously been appropriated. "The last time I checked, the president didn't make any promises about getting a tunnel at any of his campaign stops."
The Democrats' victory comes even after their damaging shutdown of the government in January as they demanded an amnesty for millions of illegals. The GOP blocked that push, but subsequently did little or nothing to push the President's election-winning immigration priorities.
The core problem is that few GOP politicians believe the GOP gains by campaigning on immigration, either in budget disputes or in elections, said Rosemary Jenks at the NumbersUSA immigration-reform group. "I don't think the majority of Republicans recognize that immigration is a fantastic campaign issue," Jenks told Breitbart.  "If they did, they would be running on it."
House Speaker Paul Ryan defended his funding package, telling reporters that "I feel like we're in a very good place."
The Democrats also reportedly blocked Trump's effort to expand border security and end the "catch-and-release" policy towards migrants by adding more detention beds:
The bill also rejects a Trump administration request for more immigration enforcement officers and an increase in funding for detention facilities. Language in the bill, two officials said, holds the level of enforcement agents flat and does not allow the administration to add detention beds. However, a Republican official said the administration could still move money between accounts to fund more enforcement.
Democrats also blocked Trump's effort to penalize Democratic-run "sanctuary cities." Trump wanted explicit approval from the Congress allowing him to deny grants to cits which block enforcement of immigration laws.
But Ryan's business-first wing of the GOP traded those immigration issues to win many gains for themselves, including a massive $78 billion increase in defense spending, and a huge $52 billion increase in domestic spending. Farm-country GOP legislators also got the Democrats to agree to a tax-bill fix that helps farmers who sell grain to cooperatives.
The business-first gains were won when the GOP leadership — including Ryan and Senate Majority Leader Mitch McConnell — agreed to expand the annual spending from $1.1 trillion in 2017 to $1.3 trillion in 2018.
That increase was opposed by fiscal-conservatives — but their opposition also meant that the GOP and Democratic leaders would exclude them from back-room talks about immigration spending and policy.
Breitbart reported:
[Conservative GOP Rep. Jim] Jordan said, "Planned Parenthood, Gateway Bridge … trillion dollar deficit, and no wall."

Congressman Jordan added, "I'm voting against it, I think everyone here is voting against it. I hope the White House does veto it."