President Donald Trump's deputies are planning to shrink the H-1B program and force companies to pay higher wages to American graduates, according to a document from the Department of Homeland Security.
The huge H-1B outsourcing program — which now keeps a population of at least 460,000 non-immigrant foreign graduates in U.S. professional jobs — would be shrunk by narrowing the law's definition of "specialty occupations," according to the agency document provided to Breitbart News.
The proposed change is huge, said Rosemary Jenks, policy director at NumbersUSA. "If Trump can get done what is in that letter, I think it will be a huge motivator for American high-tech workers to come out and vote" in November, she said.
Polls suggest the H-1B program is very unpopular. An August 2017 poll reported that 68 percent of Americans oppose companies' use of H-1Bs to outsource U.S.-based jobs that could be held by Americans.
The draft regulation is expected to only approve outsourcing visas only for foreign graduates who have skills which are not available in the United States, such as fashion-designers who have perfected a foreign style, marketing managers with expert knowledge of foreign markets, and very gifted doctors and software designers. The regulation would effectively end H-1B outsourcing of routine jobs, such as health therapists, pharmacists, teachers, fashion designers or software programmers.
The regulation would also raise wages for the approved H-1B workers, so further raising the salary floor for American graduates.
The April 4 letter was sent to the Senate's judiciary committee by the U.S. Citizen and Immigration Services division of the Department of Homeland Security. The letter from USCIS director L. Francis Cissna said the agency:
will propose to revise the definition of specialty occupation, consistent with INA § 214 (i), to increase focus on obtaining the best and the brightest foreign nationals via the H-1B program, and to revise the definition of employment and employer-employee relatonship to better protect U.S. workers and wages. In addition, DHS will propose additional requirements designed to ensure employers pay appropriate wages to H-1B visa holders.
The regulation implements Trump's "Buy American and Hire American" inauguration-day promise. By reducing the supply of foreign workers, it would pressure a wide range of domestic employers to hire American graduates and so would raise salaries for a wide range of complementary American graduates in medicine, academia, science, computers, business, and design.
USCIS declined to provide Breitbart News with more details about the H-1B regulation. "We generally do not comment on correspondence between agency officials and members of Congress," said Carter Langston, a spokesman for USCIS. press aides for judiciary committee chairman Sen. Chuck Grassley did not respond to questions from Breitbart News.
But the regulation will face extreme opposition from business lobbyists and lawyers because it would begin to shift a huge amount of money from investors' profits and lawyers' fees back into salaries for young graduates and mid-career, family-raising professionals.
The corporate resistance to the H-1B reform will pressure legislators and administration officials to block the regulation, and will ask judges to reject the new definition of "specialty occupations" as too vague, says John Miano, a computer expert who became a lawyer after salaries fell amid the first inflow of H-1B workers.
Currently, a "specialty occupation" refers mostly to people with commonplace college degrees.
The broad definition is gamed by companies which use labor-brokers and Indian outsourcing firms to recruit many low-skill foreign workers with credentials from very low-grade colleges in India or the United States, he said. The workers' lack of training, he said, is partly fixed with training from the American workers who are being replaced by the H-1Bs, and by support via the Internet from more experienced workers living in very low-wage India. Roughly 90 percent of H-1Bs are paid at the lowest two rates in the labor department's five-level scale.
In the reform, above-average Americans salary offers for H-1Bs could be used as a definition of "specialty occupation" skills, said Miano. But subcontractors will try beat that test by hiring only H-1B employees who agree to secretly return a large part of their high pay to the subcontractors, he said.
Government "lawyers will have to be very clever" to devise a simple yet narrower definition of "specialty occupation" that will satisfy judges and minimize corruption, Miano said. 
Any change that raises salaries will ensure bitter opposition from the CEOs of prestigious companies, such as Facebook, Amazon, Apple, Intel, Microsoft, and Google. All of those companies increased their use of H-1Bs in 2016, or Fiscal Year 2017, compared to the prior year.

The technology CEOs will be joined by university leaders who directly employ roughly 100,000 H-1Bs as doctors, therapists, professors, scientists, and programmers — despite the disproportionate impact on women graduates.
Many other CEOs in healthcare, engineering, tourism, banking, pharmaceuticals, fashion, entertainment, and even fast-food, will object to the UCS plan because they use H-1B outsourcing to suppress white-collar salaries.
The opposition to Trump's reform will also come from investors, including Zuckerberg and other Silicon Valley investors who created the FWD.us group to lobby for more cheap labor.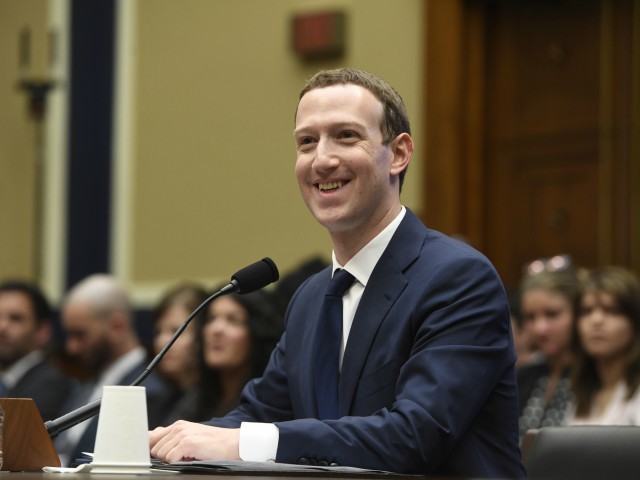 Also, "immigration lawyers will revolt … because H-1B created the business of immigration law — there were virtually no immigration lawyers in this country prior to 1990," said Miano.
Many politicians, such as GOP Sen. Orrin Hatch, have already backed legislation to allow an unlimited flow of foreign graduates into U.S. white-collar jobs. In 2013, 68 Senators voted for the "Gang of Eight" amnesty-and-cheap-labor bill partly because it allowed universities to provide green cards to an unlimited number of white-collar foreign customers.
Democratic legislators also want to give work permits to many illegal-immigrant college graduates, including the relatively few 'Dreamers' who have college qualifications, so bypassing the proposed H-1B reform.
Congratulations to Parthiv Patel – the 1st Dreamer admitted to the NJ State bar!! What an incredible achievement – we in NJ are lucky to have him. Read more of his story: https://t.co/O5sOz2JBfE

— Cory Booker (@CoryBooker) January 25, 2018
Companies now employ a largely ignored army of more than 1.5 million white-collar visa-workers in U.S. jobs. These foreign graduates get jobs sought by Americans graduates via multiple temporary-worker visa programs, including the H-1B, L-1, OPT, E-2, TN, and O visas.
The federal government reports annual H-1B approvals but refuses to count the resident H-1B population.
However, an October 2017 report by the DHS Inspector General said that "as of April 2017, [USCIS] reported more than 680,000 approved and valid H-1B petitions."
The resident H-1B population is roughly 460,000, according to a 2017 calculation by the Economic Policy Institute. In contrast, a 2017 study by Goldman Sachs estimated the population at 950,000, perhaps by including former H-1B workers who were working with "Employment Authorization Permits" permits.
Since 2013, several other white-collar visa-programs have expanded. For example, former President Barack Obama greatly expanded the very broad "Option Practical Training" program from roughly 140,000 foreign graduates in 2013 up to roughly 330,000 graduates in 2016.
DHS officials do not release the number of resident L-1a, L-1b, E-1, E-2, or TN professionals, even though their number may exceed 500,000 graduates.
The EPI's 2013 data suggests that companies employ roughly 1 million foreign graduates in the United States during 2013, either directly or via Indian outsourcing firms. That employment number may be 1.5 million in 2017.
Also, the visa-worker data does not include at least 2 million additional people with "Employment Authorization Documents." Those work permits are awarded to a variety of visitors or to pending immigrants, such as white-collar visa-workers who have applied — but not received — green cards. DHS provides minimal information about the number of resident EAD-holders.
If the resident population of white-collar visa-workers reaches 1.6 million, it is equal to roughly two years' output of Americans who graduate with degrees in medicine and business, architecture, accounting, science, software, math, and engineering.
The visa-workers are much cheaper to hire than American graduates because some do not have to pay taxes, some are paid in home-country wages, and many take jobs at very low salaries in the rational hope of eventually getting the hugely valuable deferred bonus of American citizenship from government officials. That deferred government-provided subsidy puts Americans at a huge marketplace disadvantage because employers must pay all of their wages in dollars.
Elite American companies tend to pay their H-1B workers well. But many U.S. companies — include the elite companies — save money by renting H-1Bs from lower-tier, lower-wage, outsourcing companies. The outsourcing companies include many American companies plus a few large Indian companies, such as Tata, Infosys, and Wipro.
Bloomberg explained how the elite companies hide their huge use of lower-wage H-1Bs:
The visa requests [Cisco Sysems Inc.] submitted accounted for only 40 percent of the applications from 2016 for temporary visas for jobs to be located at its headquarters. The rest [of the applications] were submitted by IT firms, mostly from India, seeking to place workers with the company — about 250 [outside] companies in total  … Silicon Valley companies don't mention workers employed by contractors, also known as the contingent workforce, when discussing how they use the program, meaning the picture they give is incomplete.
Requests for H-1B visas are tracked by company, university, location, and profession at MyVisaJobs.com.

Cheap H-1Bs reduce the salaries paid to millions of American graduates, despite the apparently high pay given to the fewer H-1Bs who work directly for prestigious companies.
The H-1B workers reduce salaries for young American graduates simply because the foreign graduates will accept lower wages. They also shrink the pay for each company's experienced professionals and supervisors by lowering the base salaries which are used to calculate the extra pay awarded to supervisors and experienced professionals.
Also, the huge number of foreign H-1B graduates creates a wage-cutting flood of Americans into other careers, as tech-workers, university teachers, female post-docs switch careers with fewer visas-workers, such as law, p.r., politics, and journalism.
The left-wing Economic Policy Institute reported March 1 that salaries for college graduates rose only 0.4 percent annually from 2000 to 2017, for a sum of 6.5 percent. That was the same growth rate as high-school dropouts, and far lower than the stock market which roughly doubled over the same period.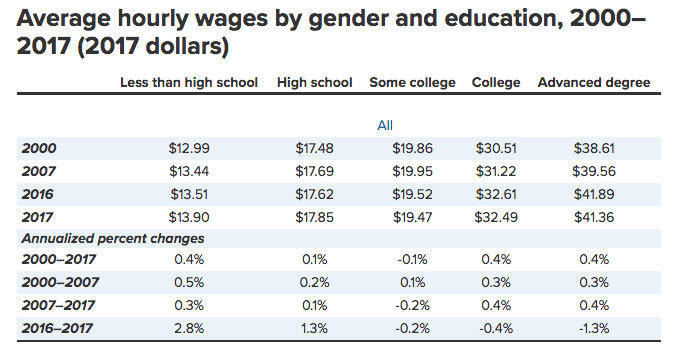 Industry groups fund many studies touting the benefits of H-1B program, which include expanding the size of the economy, growing the total number of jobs, and raising employers' productivity for investors.
But those studies hide the impact of cheap-labor H-1B competition on Americans' salaries. They also ignore how the visa programs push experienced college-graduates out of jobs, deter youths from entering H-1B sectors such as science, and they hide their assumption that Americans' per-capita income losses are less important than national economic gains for Wall Street, business, and the federal government.