CEOs are pressing President Donald Trump to dramatically raise the inflow of foreign graduates, but any corporate giveaway would freeze growing hopes for a middle-class salary boost before the 2018 or 2020 elections.
The latest lobbying came August 7, when Trump met with more than 10 CEOs over dinner at his golf club in Bedminster, New Jersey. The CEOs were from Boeing, Mastercard, Pepsico, Honeywell and other major companies whose record stock-prices are now being held back by rising marketplace pressure to raise the salaries paid to the tens of millions of American college graduates who will help decide the 2018 and 2020 elections.
According to Politico's report, which is seemingly based on statements from one attendee, Trump agreed to let companies hire more foreign graduates of American universities:
Trump entertained questions from the executives, many of whom pressed him on immigration policy.

The business world, which wants the administration to soften its hard immigration policies, was told, at least on Tuesday night, exactly what it wanted to hear.

Twice during the dinner, Trump yelled over to Chris Liddell, a deputy chief of staff in attendance, and told him to prepare an executive order for Monday that would allow top performers in schools, who he called "first in their class," to stay in the country for at least five years on a visa, the attendee said.
However, any program that allows U.S. companies to hire foreign graduates would wipe out any marketplace pressure to raise salaries for the middle-class voters needed by Trump in the 2018 and 2020 elections. Trump's polling support is weakest in that sector, but he could gain enormously if college-grads see their salaries rising.
Also, Trump does not have the legal power to import more college-graduate workers, while Congress has repeatedly refused business' demands to raise immigration levels even higher than the current level of 1.1 million green cards per year. Federal law says:
(1) In general It is unlawful for a person or other entity —

(A) to hire, or to recruit or refer for a fee, for employment in the United States an alien knowing the alien is an unauthorized alien (as defined in subsection (h)(3)) with respect to such employment …
Also, Trump has framed his administration around his compromise "Four Pillars" immigration reform, which does not offer extra college-grad cheap labor for investors and CEOs. In fact, his deputies are tightening the CEO's use of the three largest visa-worker programs — the H-1B, L-1, and OPT programs — and are preparing to cancel one of the smaller white-collar visa-worker programs, the H4EAD program.
However, Trump's deputy — Chris Liddell — is a New Zealand-born executive who has worked at Microsoft and other firms. He may wish to support a salary-cutting, stock-boosting, cheap-labor giveaway to Wall Street investors, despite the impact on Trump's voters.
Microsoft threatens Trump over cutbacks to supply of cheap white-collar visa-workers. Voting impact in 2018 is murky partly b/c progressive media pple prefer to think they/their kids will be exempt from outsourcing. So they need proxy victim/group to react https://t.co/Ou7lW6Zgii

— Neil Munro (@NeilMunroDC) July 14, 2018
Currently, U.S. companies and universities employ an army of roughly 1.5 million foreign college-graduates in a wide variety of U.S. jobs — therapists, programmers, doctors, graphic designers, professors, engineers, accountants, and pharmacists. This army of workers accepts salaries far below American wage-levels because their American jobs give them the chance of winning citizenship for themselves and their spouses, their parents and all of their descendants.
The 1.5 million foreign college-graduates are getting work-permits from the H-1B, L-1, Optional Practical Training, H4EAD, and other visa programs.
The Politico report indicates the CEOs are asking for a new version of the often-touted, never-enacted "stapling" proposal, which would allow universities to effectively sell green-cards to foreign enrollees.
That provision was included in the 2013 "Gang of Eight" amnesty, which subsequently backfired on the establishment by helping to elect Trump in 2016. The stapling measures got little publicity, but it would have allowed universities to earn huge fees by flooding the U.S. professional sector with an unlimited supply of foreign college graduates.
Business groups are still pushing the nation-changing legislation via Sen. Orrin Hatch's "Innovation Squared" giveaway.
In April 2018, the CEO of JPMorgan Chase & Co. bank urged that "those who get an advanced degree in the United States should receive a green card along with their diploma … We need these skilled individuals in America."
Some progressives are willing to flood the labor market for American graduates. "We should drastically increase the number of such [visa-] workers who can come — if not eliminate the cap entirely," said Matt Yglesias, editor of Vox.com.
Prior White House lobbying has helped business groups, largely because the establishment media ignored the damaging impact of the visa-worker programs on a huge number of American college graduates. During President George W. Bush's term, Microsoft persuaded Bush's aides to create to the OPT program, which has grown rapidly and provided 2017 work visas to 267,000 foreign graduates of American universities. In 2015, President Barack Obama created the H4EAD for 100,000 spouses of Indian visa-workers.
However, the regulations which created the OPT and H4EAD work-permit programs — and the DACA program — — rely on a very unusual interpretation of the nation's immigration law. A court in Texas has already rejected the interpretation when it was applied to the 2014 'DAPA' amnesty pushed by Obama.
GOP Kevin Yoder's reelection drops to 'toss up' from 'Lean R," says the Cook Political Report. Yoder gets some blame for reviving Obama's catch-and-release rules. But he's also aiding foreign visa-workers in H-1B outsourced American jobs in his district. https://t.co/A1Fy6eYZjE

— Neil Munro (@NeilMunroDC) August 9, 2018
The scale and impact of this white-collar outsourcing are little recognized.
The agencies release very little information about the L-1 program, and most reporters incorrectly believe the H-1B program only brings in 85,000 H1-B workers per year, for up to six years. In fact, the H-1B program brings in 100,000 workers per year, and most can stay in the United States for as long as the employer wishes.
This army of roughly 1.5 million white-collar visa-workers is roughly equal to the twice the number of Americans who graduate each year with degrees in medicine, business, engineering, science, math, software, or architecture. In many cases, the inflow of visa-workers far exceeds the annual output of Americans graduates with that skill, so flooding the market and deterring other Americans from earning a degree in that skill.
For example, in 2017, companies asked for H-1B visas to import 8,000 new health-sector professionals, including physical or occupational therapists, doctors, and pharmacists. According to the government data displayed by MyVisaJobs.com. Companies also asked for 24,000 business or finance graduates, 17,000 engineers, 4,500 arts-school graduates, 12,600 salespeople, 2,200 physical scientists, 5,400 life-sciences professionals, alongside 126,000 computer professionals.
The flood of foreign workers now means that just one of every four computer experts in Silicon Valley are American-born. The rest are from foreign cultures — are moving into a rising percentage of top management jobs in those critical, high-value jobs are foreign-born. If the "stapling" measure were made law, millions of foreign graduates would rationally flood into the jobs which support the American middle-class.
Amid the huge current inflow of foreign graduates, salaries for college-grads have grown only by about 2.1 percent each year since 2002, amid inflation, according to a June 2018 analysis by the business-backed Conference Board.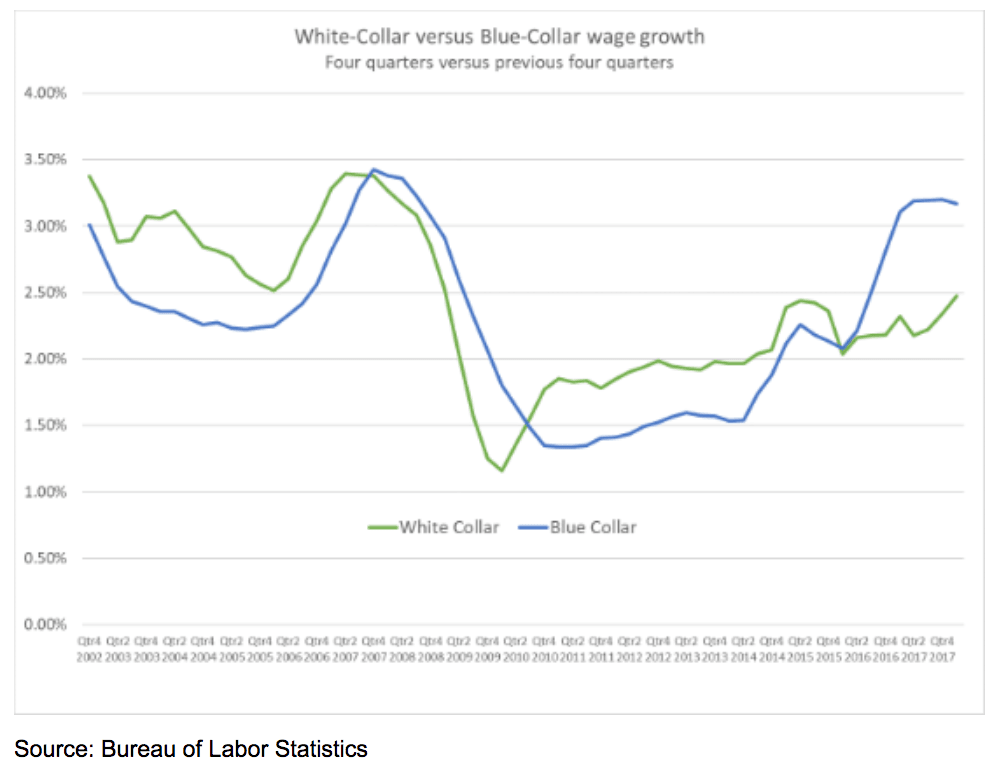 Correspondingly, stock values for major companies have risen at three times faster than salaries, at roughly 7.5 percent a year, or 5.3 percent after inflation — partly because of the reduced salaries. So $100 invested in the 2002 Standard & Poor's Index would have grown to $231 in June 2018.
Four million Americans turn 18 each year and begin looking for good jobs in the free market — but the government provides green cards to roughly 1 million legal immigrants and temporary work-permits to roughly 3 million foreign workers.
The Washington-imposed economic policy of economic growth via immigration shifts wealth from young people towards older people by flooding the market with cheap foreign labor. That process spikes profits and Wall Street values by cutting salaries for manual and skilled labor offered by blue-collar and white-collar employees. The policy also drives up real estate prices, widens wealth-gaps, reduces high-tech investment, increases state and local tax burdens, hurts kids' schools and college education, pushes Americans away from high-tech careers, and sidelines at least 5 million marginalized Americans and their families, including many who are now struggling with opioid addictions.