French satirical magazine Charlie Hebdo has become internationally synonymous with free speech after yesterday's brutal massacre at their headquarters, perpetrated by radical Islamists seeking revenge for their mockery of Muhammad. The magazine regularly mocks Muhammad, Jesus Christ, both specific Popes and the papacy in general, and other religious figures, which appears to have led to some misconception that religious satire is their only trade.
In one of the most prominent examples, the Financial Times published an editorial yesterday stating: "Charlie Hebdo has a long record of mocking, baiting and needling French Muslims." True, but limiting: Charlie Hebdo also as a long record of mocking, baiting, and needling almost everybody else, too. Below, some of the boldest examples of Charlie Hebdo's cartoonists going after secular targets from all walks of public life.
Chilean President Augusto Pinochet
Right-wing Chilean leader Augusto Pinochet was the subject of a number of covers of Charlie Hebdo (a number of others have been compiled here by Chilean newspaper La Nación). But this cover proves by far the most brutal– Pinochet, surrounded by skeletons, with the caption, "In Chile, not even a leaf moves without my knowing it." The perennial picking on Pinochet may perhaps be one of the more prominent indications of the magazine's sometime leftward tilt.
French President Francois Hollande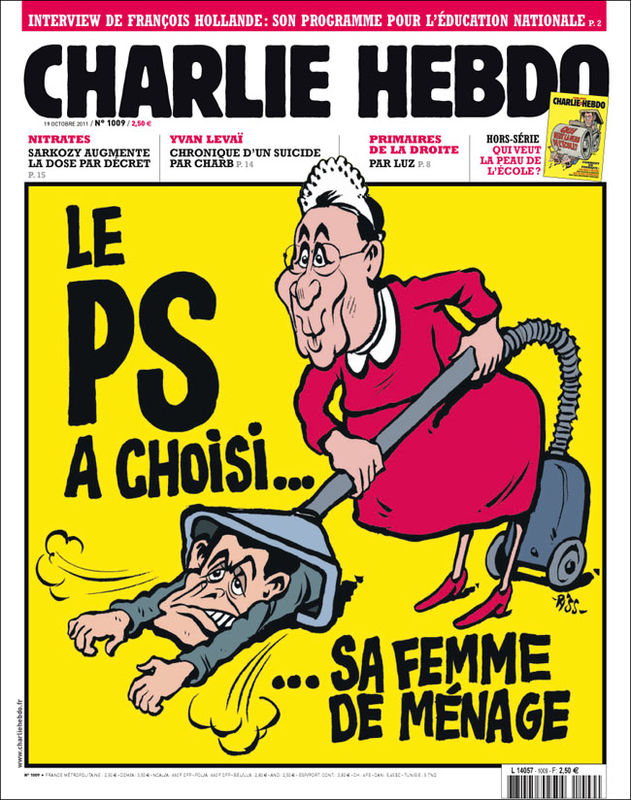 At the same time, the magazine pulls no punches against left-wing targets, either. The above cartoon depicts Francois Hollande in a maid's uniform, vacuuming up former President Nicolas Sarkozy. The caption says "The PS [Socialist Party] has chosen its maid."
Dominique Strauss Kahn
The former head of the International Monetary Fund became something of an international laughingstock in 2011 after being accused of a number of sexual crimes— initially sexually assaulting a maid in the United States and, later, ties to prostitution rings. Charlie Hebdo ran a cover calling for Strauss-Kahn to run for president, leading a parade where the confetti has been replaced with condoms. Curiously, a March 2014 poll found that DSK would, in fact, receive non-negligible support from the French people should be run for President.
Mitt Romney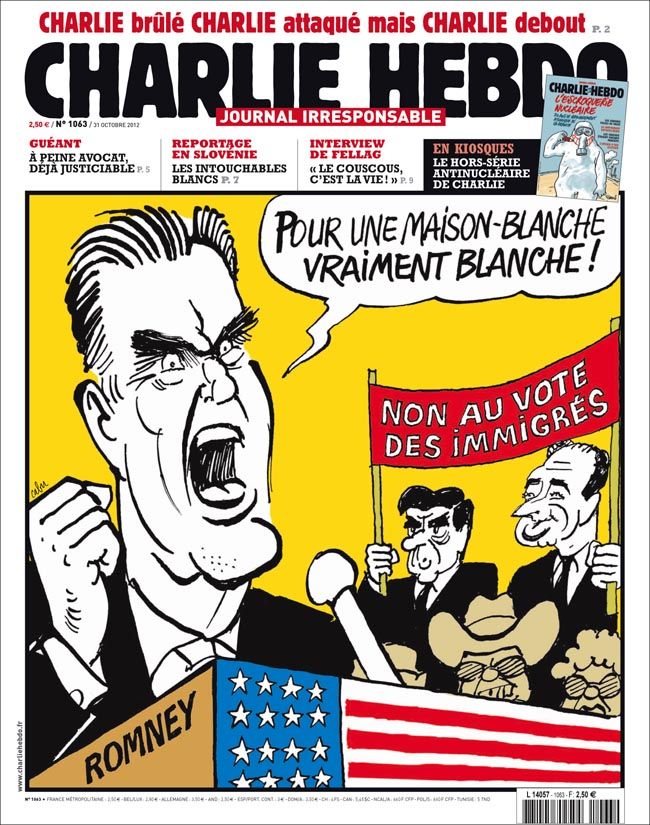 Once in a while, Charlie Hebdo would turn its eyes stateside, and inevitably dislike what they saw. In this cover, Mitt Romney appears as a ball of rage yelling a crowd of stereotypical racist Americans (one can only assume that is what the cowboy hat is there to depict). Romney is yelling "For a White House — really white!" while his fans hold up a sign reading "No to the Vote of Immigrants." Subtle.
Michael Jackson
Lest one gets the impression that the magazine targets only religious or political public figures, their particularly mean-spirited issue commemorating the death of Michael Jackson will likely remain one of their most remembered among their secular covers. Portraying the pop figure as a skeleton, the cover reads: "Michael Jackson: Finally White."