Police officers raided Turkish magazine Nokta after they published an illustration of President Recep Tayyip Erdoğan taking a selfie next to a soldier's coffin. The officers also seized remaining copies from the newsroom.
Editor-in-chief Cevheri Güven tweeted about the experience.
Translation: Police entered at 11:30PM and again at 8:30AM.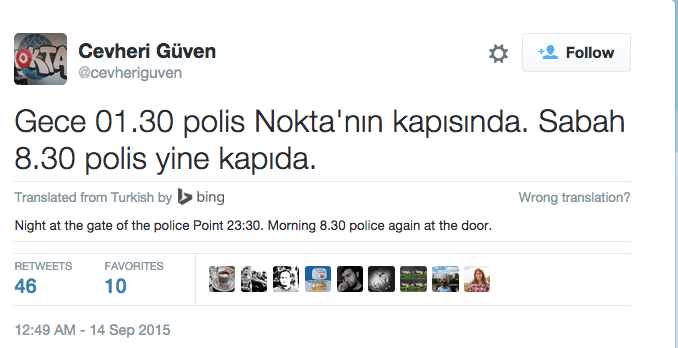 Translation: He told us "insulting" isn't enough to collect papers. He added that the decision is over "terrorist propaganda."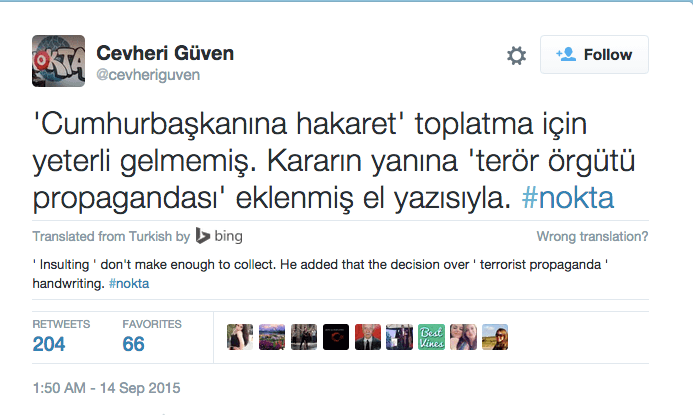 Then Nokta's Twitter account announced the police detained their editorial director.
Translation: Anti-terror teams detained our principal editor once again.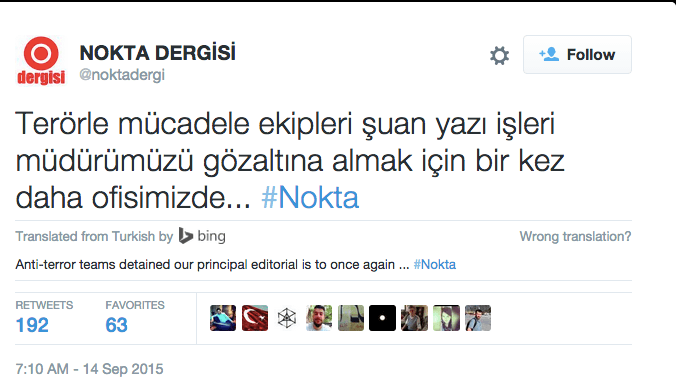 Translation: #Nokta Magazine Editorial Director Murat Çapan detained by anti-terrorism teams.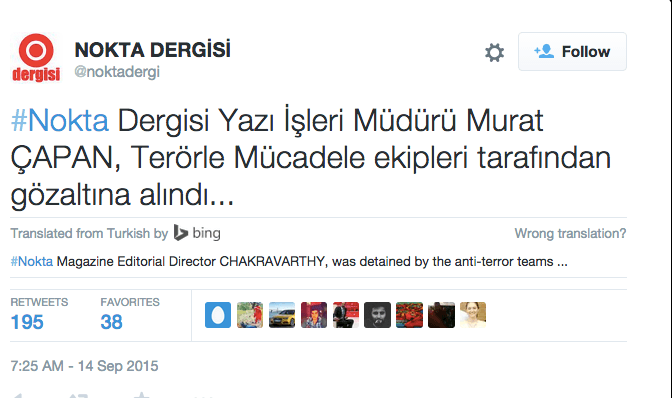 Hürriyet Daily News reported the police "filed a request with the Istanbul Public Prosecutor's Office to obtain permission" to raid the offices due to their latest issue. They also asked permission to "block access" to the magazine's Twitter account since "content of Nokta's 18th issue has been considered to be insulting to the president."
"Our cover that prompted the police raid may be harsh, disturbing or even cruel," the magazine said in a statement. "[But] these are not crimes for a media institution, this is our form of speech."
Police seized copies already sent to delivery centers. Publication coordinator Ertuğrul Erbaş said no copies will "be delivered to individual stores."
Erdoğan's government has cracked down on media since 2014, even though the president declared in December that his country has the world's freest press. Authorities and mobs have raided numerous press offices in the past month. On September 4, police ransacked the offices of opposition paper Bugün after the publication ran a story that claimed Turkey sent weapons to the Islamic State (ISIS/ISIL) in Syria. The paper included pictures that allegedly show the weapon exchange.
Only a few days later, angry supporters of the Erdoğan's Justice and Development Party (AKP) and a member of parliament attacked the officers of Hürriyet with stones and shouted, "God is great," after the publication tweeted Erdoğan's remarks about the PKK. They deleted the tweet but face a probe for allegedly insulting the president. Editor-in-chief Sedat Ergin condemned the attacks.
"Hürriyet is Turkey's most influential newspaper and a symbol of free journalism. Attacks on any newspaper should be condemned, but the attack on a paper with this kind of identity will particularly be put as a black page in Turkey's democratic history," he told CNN Türk.
Another mob attacked the offices of Hürriyet two days after the first attack. The publications said that at least 100 people showed up to the protest swinging clubs, and reporters heard four gunshots. They also claimed riot police showed up 30 minutes after the attack started.
In June, authorities arrested three journalists in the border town of Akçakale after they asked Governor İzzettin Küçük if he was concerned that ISIS militants might sneak into Turkey if Kurdish forces defeat them.