Hurriyet Daily News offers a remarkable tour of the urban battlefield between Turkey and the PKK, as Turkish tanks and infantry roll through the ruins of the southeastern city of Cizre, a majority-Kurdish city that has long been at the center of the conflict between Kurdish separatists and the Turkish government: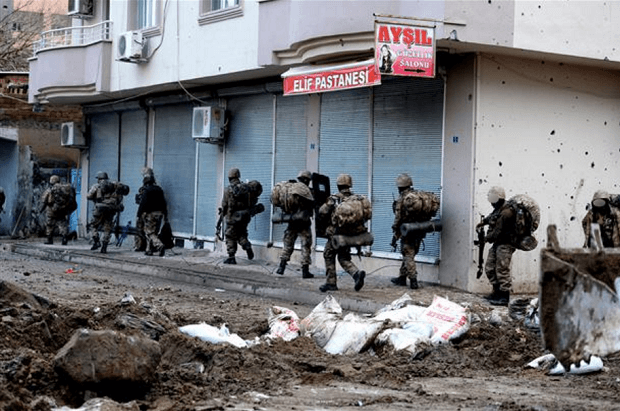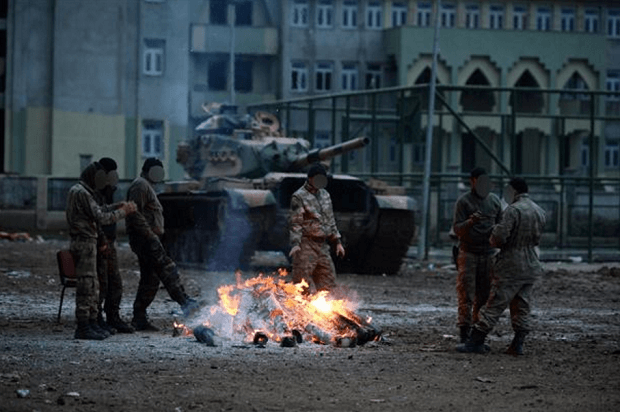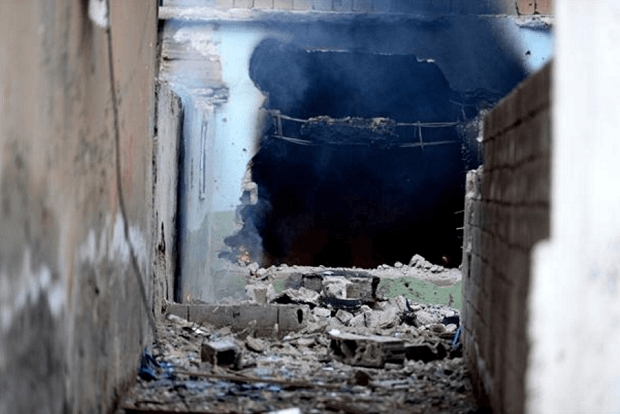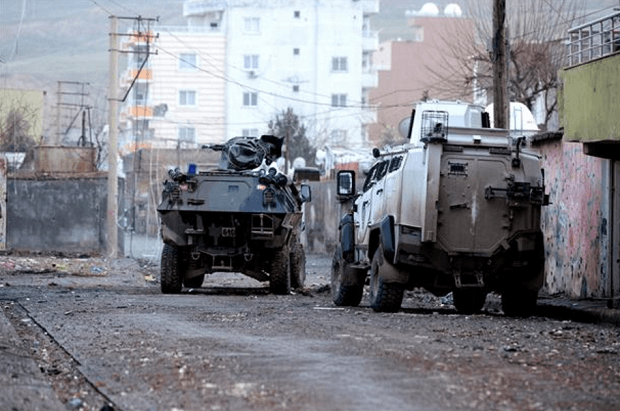 There are many more pictures of the war zone at Hurriyet, which relays official reports of 446 PKK militants killed in Cizre, while the Kurd-aligned People's Democratic Party (HDP) claims 73 civilian deaths. The civilian death toll across southeastern Turkey has been estimated at nearly 200.
On Sunday, deputies from the HDP demanded an urgent meeting with Interior Minister Efkan Ala, seeking permission for ambulances to enter Cizre to care for civilian wounded. Today's Zaman reported that continuous curfews in the city since mid-December have "made daily life unbearable for locals as many have suffered from electricity and water cuts and students have been deprived of the right to education."
HDP politicians have previously complained of being hit by gunfire from Turkish police forces while attempting to move injured and dead civilians from a Cizre neighborhood under curfew.
Turkey, meanwhile, held a funeral service Sunday for First Lt. Ugur Tasci, a soldier killed when PKK militants opened fire on his unit in Cizre.
Humanitarian concerns over the conflict led the European Union to call for an immediate ceasefire in southeast Turkey on Monday, but both the Turkish government and PKK signaled their intention to continue fighting.
"As a sovereign state, Turkey will continue its struggle against all terrorist organisations, including the PKK, which are threatening its national security.  In doing so, we try to protect the rights of our citizens," said Turkey's EU Affairs Minister, Volkan Bozkir.
"This is war orchestrated personally by Turkey's President Erdogan," a young PKK activist told the BBC in an interview published on Tuesday. "We know the state's mentality from years of bitter experience. The Kurds have been here for centuries. This is now the 21st Century, and there's actually supposed be something called 'democracy' and the government's not going to be able finish the Kurds by killing them."
Looking back beyond the ceasefire that fell apart last year, the PKK activist said Turkey had been at war against his people for 40 years, complaining that Turkey's Kurds were overlooked when the "Arab Spring" and its purported flowering of democracy captured the world's imagination.
"We are not terrorists," he insisted.  "We are just people who want their human rights."