The Brazilian Senate officially impeached socialist Workers' Party president Dilma Rousseff Wednesday, removing her from power permanently over a host of fiscal misrepresentations that severely damaged the nation's economy. Even before the vote to oust her, however, an international coalition of leftist groups have been staging violent protests and attacking police nationwide.
Holding signs reading "It's Coup [sic]" in English, waving Palestinian flags and donning Black Panther shirts, hundreds of leftist supporters of Rousseff have taken the streets every day since Monday, demanding an end to the constitutional impeachment process. In Sao Paulo, the groups have made street barricades out of fire and thrown rocks at police, refusing to disperse.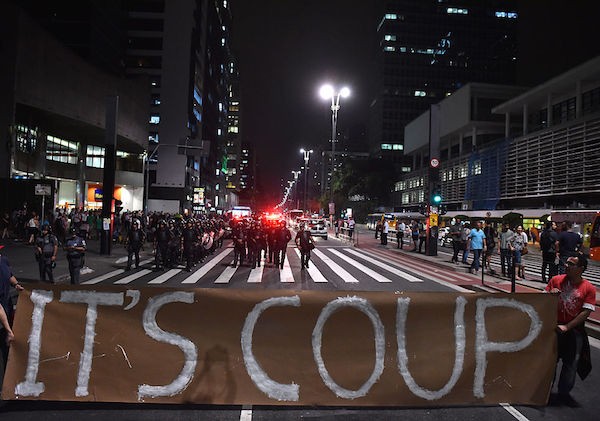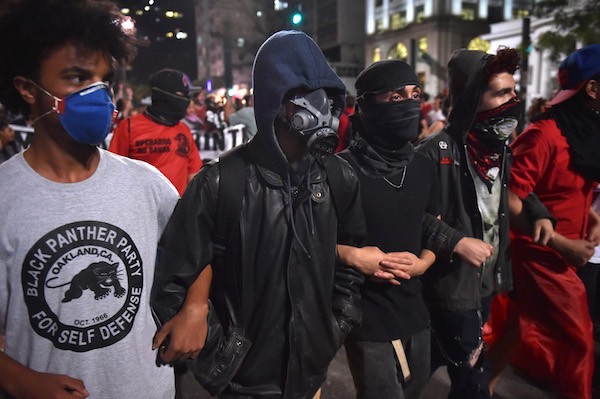 On Monday, the Folha de Sao Paulo reports, about 3,000 leftist agitators representing a variety of groups attempted to shut down Paulista Avenue, one of the city's major throughways. The group's included national groups just as Brasil Popular and Povo Sem Medo (The Fearless People). Folha notes that protesters began hurling objects at the police, resulting in police using smoke bombs to disperse the crowd. The crowd then began to burn "garbage, trash cans, and even a chair. Concrete bins were dragged into the road."
Raimundo Bonfim, a representative of one of the leftist groups, claimed that the police acted "barbarically" against a "peaceful protest."
In the ensuing chaos, a septuagenarian was arrested, confused for a protester in the crowd. "I was at the mall eating ice cream, and I went to catch the bus it started,"75-year-old Iara Rita told Folha.
Argentine news outlet Infobae estimates the Sao Paulo crowd on Tuesday to have been about 200. The group attempted to block the entrance to the Sao Paulo State Federation of Industries (FIESP) when authorities deployed tear gas to break up the crowd. In response, protesters hurled bottles and rocks at police. and began burning debris to block the street. At least ten were arrested on Tuesday and police reported the detonation of a homemade bomb.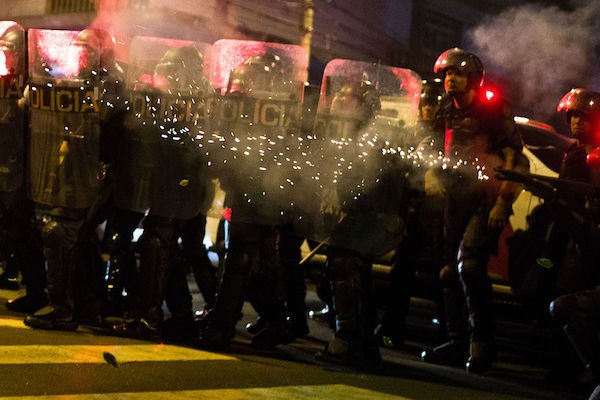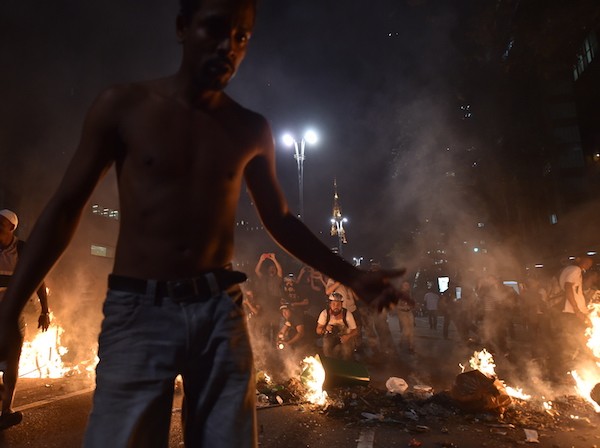 Despite being significantly smaller than the crowds of millions organizing against Rousseff, leftist rallies in her support have been notably more violent. Protests against impeachment in March also resulted in agitators physically attacking police.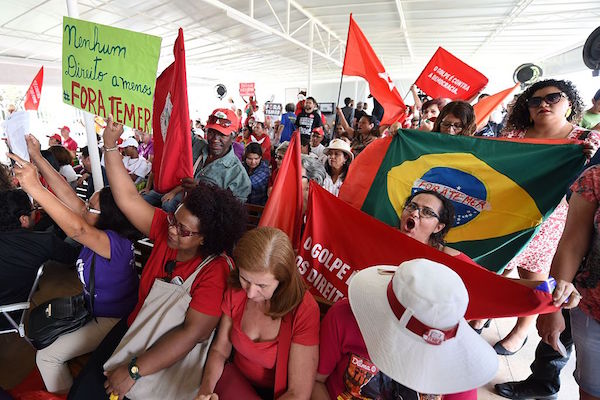 The nation's legislature voted to bring Rousseff's case to an impeachment trial overwhelmingly in May, a move Rousseff has repeatedly referred to as a "coup" despite the nation's constitution allowing for impeachment. Rousseff has also claimed the attempt to remove her from power is "sexist," noting she is the nation's first female president. Rousseff stood accused of misrepresenting the nation's budget to attract investors, a separate scandal from that which attracted millions to the streets of Rio de Janeiro, Sao Paulo, and dozens of the nation's biggest cities in March: the Petrobras scandal.
During the tenure of her predecessor, Luiz Inácio Lula da Silva, Workers' Party (PT) members established a complex illegal kickback scheme now known as "Operation Car Wash," in which Petrobras, the nation's state-run oil corporation, overcharged by millions of public projects. PT politicians pocketed the cash. Rousseff was the nation's Minister of Energy at the time. Neither Rousseff nor da Silva have been accused of wrongdoing, but da Silva has been brought into court for questioning. When investigators appeared to be close to finding evidence against da Silva, Rousseff named him her chief of staff, granting him executive immunity and blocking the investigation. Massive protests followed.
Following the impeachment, current interim president Michel Temer will remain in power until the end of Rousseff's schedule tenure in December 2018.