During his flight from Rome to Chile Monday, Pope Francis distributed anti-war postcards to journalists featuring the photo of a Japanese boy and his brother after the 1945 U.S. bombing of Nagasaki, with his personal message: "the fruit of war."
The photo on the card, which Francis had printed during the first days of January, portays a boy carrying his dead brother strapped to his back while waiting in line at a crematorium. On the back of the card are the words "the fruit of war," together with the Pope's signature "Franciscus."
As the Japan Times reported on Jan. 2, "Pope Francis has issued a card showing a 1945 photo of victims of the U.S. atomic bombing of Nagasaki in a warning against war."
A caption appearing on the reverse of the card says that the young boy's sadness is expressed only in his gesture of biting his bloodied lips. The photo was reported to have been taken by a U.S. Marine photographer named Joseph O'Donnell.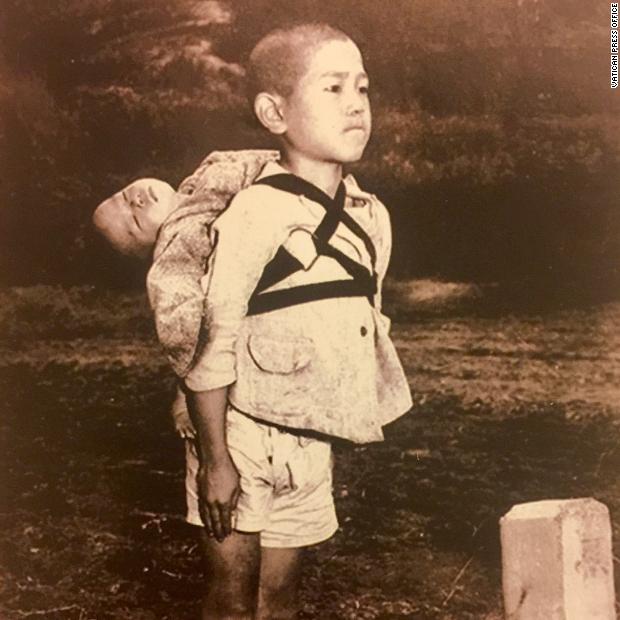 Francis originally had the picture circulated by the Vatican press office ahead of New Year's Day, when the Church commemorates the World Day of Peace.
While some have wondered why the Pope chose to single out the United States when speaking of the fruit of war, rather than circulating photos of, say, Stalin's Gulag or Hitler's concentration camps. In his brief message aboard the papal plane, Francis
One person commented, "Maybe a few pictures of the carnage which caused Nagasaki would balance opinion a bit better!!" while another similarly called for a more balanced approach. "How about pictures of Pearl Harbor AFTER the Japanese attacked? Or, pictures of the US soldiers tortured and executed by these same Japanese?"
Maybe he should have cards printed with pictures of the thousands Allied Prisoners of War tortured & murdered by the Japanese during WW2

— Mark Bunn (@MarkyBunny) January 13, 2018
Why don't they print photos of the Pearl Harbor attack or Nazi concentration camps? America didn't start WWII. But it sure finished it.

— J.M. (@HonorFirst269) January 13, 2018
Aboard the plane, Francis told reporters he is deeply frightened of war.
"Yes, I am truly afraid. We are at the limit," the Pope said after showing around the photo. "All it takes is a mishap to start a war. The situation risks precipitating from this step."
"So it is necessary to destroy the weapons, let's strive for nuclear disarmament," he added.
The atomic bomb was dropped on Aug. 9, 1945, in the closing days of World War II, three days after the U.S. atomic bombing of Hiroshima.
The United States entered World War II after surprise Japanese attacks destroyed the U.S. fleet at Pearl Harbor on December 7, 1941, killing 2,043 Americans and wiping out 188 U.S. aircraft.
The day after the attack, President Roosevelt delivered his famous Day of Infamy speech before a joint session of Congress, asking for a formal declaration of war with Japan.
"No matter how long it may take us to overcome this premeditated invasion, the American people, in their righteous might, will win through to absolute victory," Roosevelt said.
"I believe that I interpret the will of the Congress and of the people when I assert that we will not only defend ourselves to the uttermost but will make it very certain that this form of treachery shall never again endanger us," he added.
Less than an hour later Congress issued its positive response, acceding to his request and declaring war on the Empire of Japan.
Follow Thomas D. Williams on Twitter Follow @tdwilliamsrome