Researchers from the United States, United Kingdom, and South Korea published research on Wednesday demonstrating that Chinese factories have been emitting a huge volume of a greenhouse gas banned by a treaty China signed in 1987.
The treaty in question, the Montreal Protocol, was signed by all 197 member states of the United Nations. It banned a number of gases thought to be damaging the Earth's ozone layer, including trichlorofluoromethane, more conveniently identified as CFC-11. This substance is about 5,000 times more powerful as a greenhouse gas than carbon dioxide.
Researchers from the U.K.'s University of Bristol, South Korea's Kyungpook National University, and the Massachusetts Institute of Technology in the United States discovered that CFC-11 production began increasing after 2013 and China was responsible for between 40 and 60 percent of the increase.
The emissions appear to be coming largely from factories in two northeastern Chinese provinces, Shandong and Hebei. The University of Bristol used data from tracking stations in Japan and South Korea to create a graphic that rather clearly shows where the CFC-11 surge is coming from: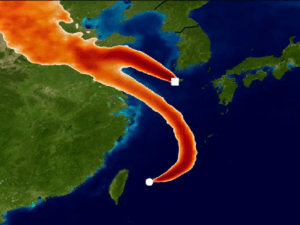 Researchers said they suspected a good deal of the gas was coming from East Asia, but were surprised by the alarming volume China has been pumping out.
It is possible that some of the remaining 40 to 60 percent of the CFC surge is coming from other parts of China. The scientists who prepared the new report said their new data has eliminated North Korea, once considered a prime suspect for using the banned materials, as a major source of the gas. South America and Africa are being investigated as alternative sources.
The possibility that CFCs are being released into the atmosphere by the demolition or renovation of old buildings, or new construction using old stockpiles of construction materials that incorporated the chemicals, was also considered and discarded. The CFC spike was so large that only new production of CFC-11 could explain it.
The most likely reason for producing more CFC-11 is creating refrigerant and foam insulation for construction and heavy industry. The environmentally acceptable substitutes prescribed by the Montreal Protocol are more expensive and less efficient than the banned material.
The Chinese government is supposedly attempting to crack down on illegal CFC-11 usage and officially denied that any serious violations of the Montreal Protocol have taken place, but researchers had little difficulty finding over a dozen Chinese companies willing to admit they were using the banned chemical. The amount of illegal material seized by Chinese authorities over the past year represents only a small portion of the tonnage that appears to have been used.