It turns out that health policy under President Obama is just wrong-headed, it's also corrupt. The Obama administration is now allowing left wing health care companies to shape policy in exchange for big campaign donations.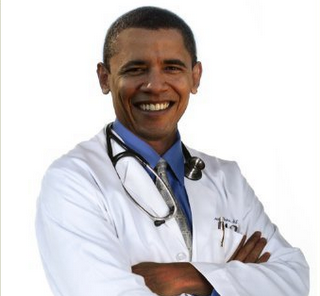 The Washington Examiner's Lachlan Markay broke news this week about the appointment of a major liberal donor, Judith Faulkner, CEO of Epic Systems Corporation, to the Health & Human Services Health Information Technology Policy Committee. Markay reports that Judy Faulkner was appointed to a stimulus-created board that is charged with disbursing billions of taxpayer dollars for health information technology adoption despite her opposition to the administration's interoperability goals, which require that health records be shareable across platforms.
Faulkner and her company oppose the president's vision for health IT, but Epic employees are massive Democratic donors. They've given nearly $300,000 to Democrats since 2006, according to the Center for Responsive Politics.
Faulkner is also the sole representative for the health IT industry on the committee, which has the power to set industry standards. Does anyone doubt that any adopted standards will work to the benefit of Epic Systems? This is a serious conflict of interest for Epic Systems and the Department of Health and Human Services. It is, however, a fairly predictable conflict of interest, highlighting one of the myriad objections to central planning known as regulatory capture. Simply put, regulatory capture is when government agencies work in the interest of specific commercial interests instead of their original charter, and is extremely common due to the fact that industry has the strongest incentive to assume control of the regulatory process. Given this, why should Americans trust any decision made by HHS on Health IT policy?
Sadly, that's not all there is to the story.
It's not surprising that the Obama administration is handing out patronage to big left wing donors. What is surprising is that the five Wisconsin legislators – including House Budget Committee Chairman Paul Ryan and new Republican Senator Ron Johnson – co-signed a letter that implicitly endorsed Faulkner's Epic Systems. As reported by Fred Dooley:

While the letter does not name a system, it urges the departments to consult with three "leading health care organizations that use [commercial off the shelf electronic health records] today…" Those three groups were: Kaiser Permanete, Cleveland Clinic, and Cedars Sinai.

What do those three clinics have in common? They all use the Wisconsin-based company Epic Systems.

… In other words, 5 members of the Wisconsin delegation sent a letter to the VA and Defense urging them to "consult" with the clients of ONE specific vendor. A vendor whose executives happen to be major political donors.
Did Paul Ryan and Ron Johnson know that they were signing an implicit endorsement of a far-left company who donates heavily to Democrats and other left wing organizations? One can only hope not. It might be smart politics to bring the bacon home to Wisconsin – but government interference in the burgeoning, innovation-driven market for health IT is a danger to patients, care providers, and ultimately taxpayers.
Sen. Johnson and Rep. Ryan should disavow this letter.
It's also worth asking how a company like Epic, that has no registered lobbyists on its payroll, even got access to an entire state delegation at the federal level. The Washington Post reported this week that Epic provided members of the Wisconsin delegation with "technical information" to ostensibly give them cover for signing the letter. However, oddly, Epic refused to respond to further inquiries.
Between the administration and the Wisconsin delegations constantly citing Epic installations, it certainly appears as if Epic Systems has been doing some lobbying.
This seems like fertile ground for the House Oversight Committee, don't you think?
Republicans MUST investigate how this liberal CEO – who backs not just the President and prominent Congressional Democrats with campaign contributions, but also a number of progressive causes in America's newest political hotbed (Wisconsin) – came to receive an appointment to such a powerful committee. As the Examiner reported, GAO will not disclose how she came to be appointed.
Perhaps a Congressional subpoena or two would get everyone's attention.