Question: when did you stop believing in Santa Claus? If you're like most people you probably stopped believing in Santa Claus when you grew up.  
But some people never grow up. They go through life putting their hopes and belief in a magical man who will arrive with sacks of presents and promises, and give them goodies for free.
In Wisconsin – and in America – there is a clear divide between those who believe in the American Dream (work hard, play hard, enjoy the "goodies" that you earned) and those who believe in magical dreams of fictional characters who will give them "goodies" for free.
Those who believe in freedom, liberty and the value of hard work tend to believe that the government should get out of our way and let us earn our own way. When government does too much, and when government overspends too much, not only do they pile up massive debts that We, the People, must pay – but they injure the very spirit that makes us independent and free Americans.
Those who believe in passively sitting by the fireplace and waiting for goodies to pour out are the same kinds of people who believe that Wisconsin should recall their book-balancing Governor and replace him with someone more akin to Santa Claus.
Like these folks: just before Christmas 2011, a group of "RECALL WALKER" activists in Wisconsin held an event with Santa Claus.
Santa declared that those who wanted to recall Scott Walker for balancing the books were on "the nice list." Who was on the "naughty list"? According to "Recall Santa," it was the Republicans and the Governor of Wisconsin.
Funny, I don't remember Santa stumping before.
Well, it turns out we weren't the only ones who saw the ridiculous humor in all of this.  
As we canvass door-to-door in Wisconsin with our grassroots Tea Party Patriots volunteers, we're seeing "RECALL SANTA" signs everywhere. These bright red signs poke fun at those who believe that government's proper role is to treat citizens like children and to give them free goodies. Emblazoned on the signs is the same whiny lament that we often only hear from children: "I didn't get what I wanted!"
Here is what the landing page looks like at www.recallsanta.org: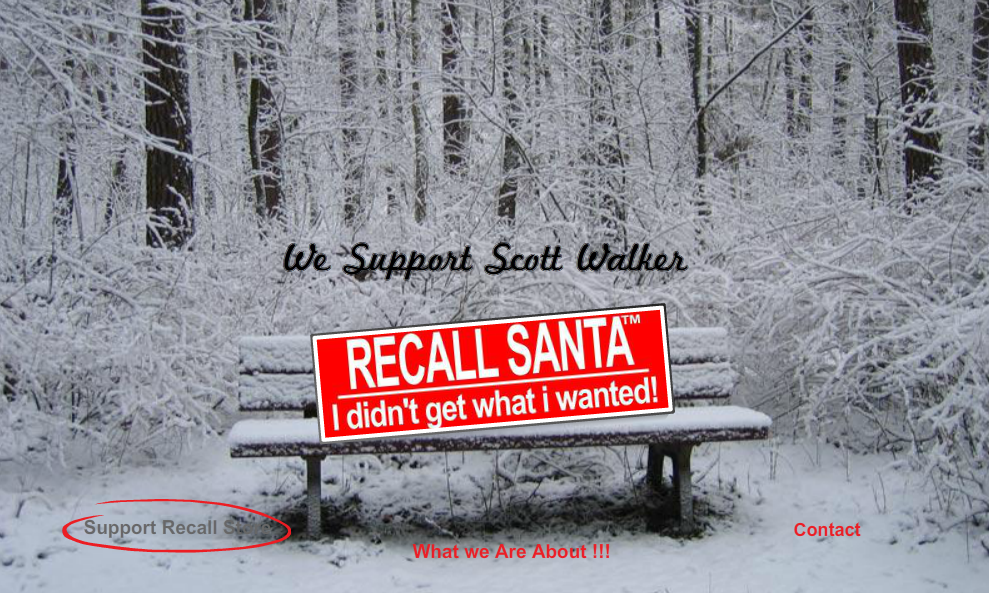 If there's anything that drives the Left up the wall more than fiscal responsibility, it's fiscally responsible Americans – especially Tea Partiers – who have a sense of humor.