Today 1,500 patriots filled up Willard Park in downtown Cleveland, Ohio for the Occupy Truth protest. Several members of Occupy Cleveland were arrested in a plot to blow up Cuyahoga Bridge and Federal Reserve. One plead guilty. The media declined to report on this. Ohio's Senator Sherrod Brown, also the deciding vote for Obamacare, praised the violent protest group on "Hardball" last year.
He has yet to condemn the Occupy Cleveland group for engaging in domestic terrorism, along with Rep. Nancy Pelosi who said of Occupy "bless them," or the President who praised their demonstrations. MSM has worked to hide the rampant criminal activity associated with this criminal movement. 
Patriots decided to remind them. Speakers included Michelle Malkin, yours truly, Jenny Beth Martin, Tony Katz, Sonnie Johnson, and organizers Jim Hoft and Andrew Marcus, of the "Hating Breitbart" documentary. 
After the rally we took to the streets and marched to the Federal Reserve. Afterwards we went to the beautiful Cuyahoga Bridge, the same bridge Occupy Cleveland members planned to bomb, and rallied there. 
Andrew Breitbart was there, too.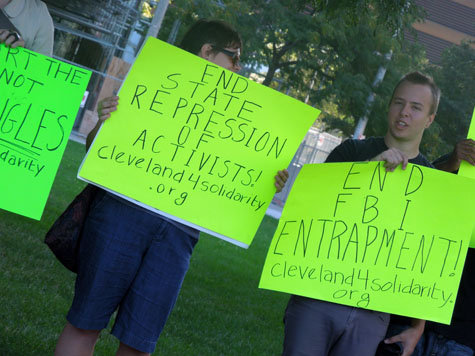 A few Occupy Cleveland members came to protest against getting caught plotting to blow up buildings and bridges. It's repression of activists, apparently, to interfere in their bomb-making and also "entrapment" to "get caught."
This Occupy Cleveland member was shouting racial slurs from the crowd at speaker Sonnie Johnson and decided to slam her as an "Uncle Tom" on camera:
Chris Loesch sang the National Anthem and passed out Andrew Breitbart face masks.
(Above: beneath the Cuyahoga Bridge.)
Jim Hoft has more photos here. Breitbart News' has more video here, including video of my speech from earlier.