Two police officers have been shot dead in Brooklyn, law enforcement sources have Breitbart News. Witnesses told WABC said they the officers were in their car when they were shot. The shooter, an NYPD source says, is dead. Hundreds of police officers are now on the scene.
The text of the Instagram post (above) reads as follows:
I'm Putting Wings On Pigs Today. They Take 1 Of Ours…… Let's Take 2 of Theirs #ShootThePolice #RIPErivGardner #RIPMikeBrown This May Be My Final Post
The suspect has been identified as Ismaaiyl Brinsley, though the spelling of his first name is in question.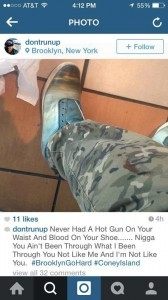 The suspect is from Baltimore and may be connected to other shootings Saturday morning. "Brinsley is believed to be a member of a Baltimore gang, Black Gorilla Family," sources told the New York Daily News. "The gang has vowed retribution for the deaths of Garner and Brown."
Brinsley reportedly shot his girlfriend in Baltimore earlier Saturday.
**UPDATE** From the Daily Mail:
One of Brinsley's friends, Paul Young, told DailyMail.com the alleged shooter is a rapper who took part in the recent anti-police protests.