The European Food Standards Agency wants to limit how much caffeine an adult can consume every day which could see adults banned from frequent visits to coffee shops.
According to a report from the European Food Standards Agency, seen by the Express,  an adult's intake should remain below 400mg, roughly the amount in the largest takeaways with four "shots".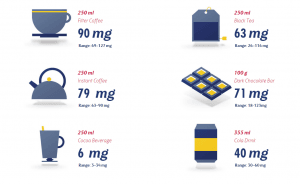 The latest draconian decision is contained in a report which says: "Caffeine intakes from all sources up to 400mg per day do not give rise to safety concerns for healthy adults except pregnant women," adding that expectant mothers should not exceed 200mg per day along with the considerable list of other banned food, drink and activities, and children no more than 3mg per 2.2lb of body weight.
An EU spokesman even admitted that the risks were not very high for people who did consume more caffeine than 400mg, saying, "Consumers must account for caffeine consumption from sources other than coffee. The health risk is not enormous but it exists."
Yet the European Parliament offers Euro MPs and staff a large cup of strong black coffee for only 1 euro per cup and meetings are frequently interrupted by waiters bringing tea and coffee.
The move was attacked by broadcaster Gyles Brandreth, who starts his day with two triple espressos which would immediately make him over the limit.
"This is exactly the sort of nonsense that drives middle-of-the-road Europeans like me into the arms of the Eurosceptics," he said.
"The one thing Europe needs like a hole in the head right now is caffeine controls. Hands off my triple-shot."
And UKIP MEP Louise Bours said the plans were a "waste of taxpayers' money" especially when so many in the EU were suffering "economic and unemployment disaster."
"This study by the EU food safety quango is absurd and wasteful. Its findings are patronising for pregnant women. They have medical advice. They don't need bossy Brussels."
The rules would also hit tea drinkers and chocolate lovers as well as people who drink energy drinks such as athletes and those on night shifts.
It could mean that a twice daily coffee and bar of dark chocolate could leave people unable to enjoy a slice of tiramisu or a cup of tea for fear of breaching yet more EU laws.