In his speech on Saturday, during which he derided the "arrogant U.S. government" and made his first public comments on the agreement over Iran's nuclear program, Iranian Supreme Leader Ayatollah Ali Khamenei was holding what appeared to be an assault rifle, yet no mainstream media outlet thought to mention it.
Journalists from the Associated Press, Reuters, Agence France-Presse and The New York Times offered analysis of Khamenei's words, as well as other circumstantial commentary, mostly in praise of what they portrayed as a victory of the Obama administration, but not one made even a passing reference to the presence of a rifle in the leader's hand or its significance.
The Ayatollah's official website, on the other hand, drove the point home by posting a closeup photo taken of the gun from beside the podium, which even showed the magazine sticking out.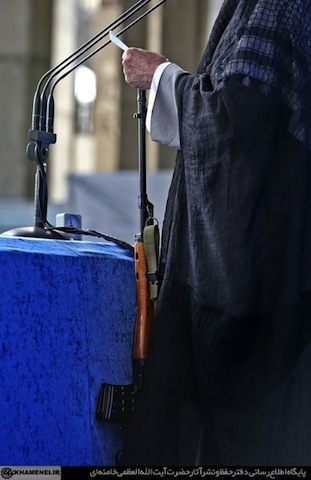 The media omission is even more confusing, given that reporters would have been all over it had an American or any Western politician been clutching a firearm during a public speech of this sort.
The AP's website even posted a photo of Khamenei holding the gun, but without making mention of it in the accompanying article.
During his speech, Khamenei said Iranian policy toward the "arrogant U.S. government" would not change as a result of the nuclear agreement.
"Our policy toward the arrogant U.S. government won't change at all," Khamenei said. "We have no negotiations with America about various global and regional issues. We have no negotiations on bilateral issues."
US Govs are supporting terrorist, child-killer #Zionist regime. How can we negotiate and agree with such policies? 2/2

— Khamenei.ir (@khamenei_ir) July 18, 2015
Khamenei said slogans of "Death to America" and "Death to Israel" chanted at demonstrations reflected public opinion and said that the nuclear agreement was an "exception."
He said that the slogans "Death to Israel" and "Death to America" would continue to be heard in Iran.
Follow Thomas D. Williams on Twitter @tdwilliamsrome.