A photo of a Virginia State Trooper saluting a fallen member of law enforcement Sheriff J.J. DellaVecchio went viral after the Virginia State Police shared the picture on their Facebook page.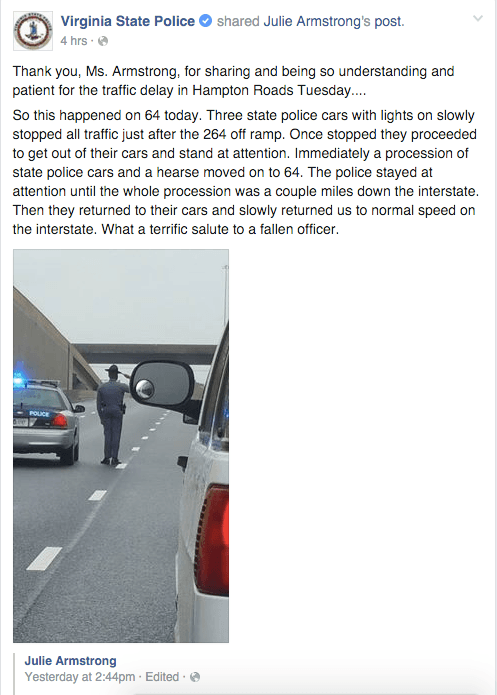 A woman named Julie Armstrong took the picture:
So this happened on 64 today. Three state police cars with lights on slowly stopped all traffic just after the 264 off ramp. Once stopped they proceeded to get out of their cars and stand at attention. Immediately a procession of state police cars and a hearse moved on to 64. The police stayed at attention until the whole procession was a couple miles down the interstate. Then they returned to their cars and slowly returned us to normal speed on the interstate. What a terrific salute to a fallen officer.
The Virginia State Police thanked Armstrong "for sharing and being so understanding and patient for the traffic delay."
The photo has been shared 4,230 times and received mostly positive comments.
"Tears of respect," wrote Robin Anne French.
"I loved reading this!!" exclaimed Teresa Pruitt. I have always pulled over for a funeral and now my daughter does the same thing. Respect the family I always say and I turn my radio off. Hats off to the officers who done this. God bless u all!"
The coverage is a change from the mainstream media, which pollutes its coverage of anti-cop stories. Some commenters welcomed this coverage.
"THIS is the support and attention our officers earn and deserve!" wrote Lisa Mullins. "If there's a bad one in the mix, sort him out and deal with him like any other profession would, but for the majority, we owe them our respect! Prayers for the troopers family and the family in blue!"
Sheriff Joseph J.J. DellaVecchio Jr. passed away unexpectedly last Wednesday. His family laid him to rest on Tuesday afternoon. From 13newsnow:
The Sheriff's Office says J.J. was a background investigations supervisor and worked for the Sheriff's Office for 11 years. Prior to that, he served 25 years as a trooper for the Virginia State Police until his retirement as a sergeant in 2004. He also honorably served the Hampton Police Department and U.S. Air Force.