MALHEUR NATIONAL WILDLIFE REFUGE, Oregon— The armed protesters who took over the administrative buildings of the Malheur National Wildlife Refuge allowed this reporter a glimpse inside their headquarters—a bunk house for federal workers. With meals being prepared and various individuals going about the business of preparing for a long-term armed occupation of the facilities, Breitbart News was granted access to see what life was like inside their occupation. Tw0 of the occupiers are a mother and a baby.
While Breitbart was present, various community members—including families with children—showed up to see what was going on and to talk with the armed protesters. A person in leadership of the group, Citizens for Constitutional Freedom, said, "Yesterday, as many as thirty different ranchers showed up from here and neighboring counties expressing support and discussing their own issues with federal overreach and mismanagement of the land and resources. The federal government's behavior is basically warfare. It's economic and social warfare against the people and industries which made Harney county the most prosperous county in Oregon in terms of gross income in 1980." He continued, "Harney county is now at the bottom of the list for gross income in the state of Oregon. Some of the ranchers who showed even requested our assistance in their own counties."
The invite was extended after this reporter simply began walking up the drive to the now-taken over federal facilities. After a decent walk, a man pulled up and kindly asked what I was doing there–inquiring if I had come to join the movement. After explaining the reasons behind my presence, I was taken to their headquarters. The building was a bunk house and kitchen with a living area. Several women greeted me and offered me food; good food consisting of eggs and salsa and thick-cut bacon.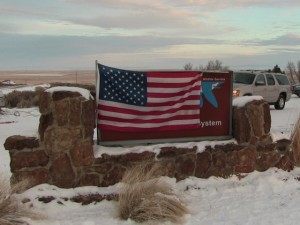 There were a series of leaders with whom I had to speak to in order to be allowed to stay embedded inside their main facility. Most of the people I spoke with didn't want to be on film; however, they didn't mind telling me about their lives and their reasons for being there.
Most of them have families, bills, and some of them described selling motorcycles or other belongings so that they could come and participate in what they described as "We the People's" protest.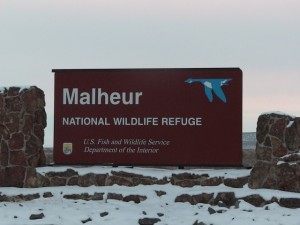 The electricity to the facilities was still on. The rooms were warm and cable or satellite television played the news in the background.
Several vehicles belonging to the federal government were being used by the protesters and were referred to as "We the People's" vehicles.
The women in the group fed me lunch consisting of grilled cheeses, crab salad, and fries. They kept the coffee coming as well. It was easy to forget that they were protesters who took up arms and seized federal facilities.
Follow Breitbart Texas Managing Director Brandon Darby on Twitter: @brandondarby