Beloved American missionary Michael Riddering, 45, from Florida, perished in the al-Qaeda attack in Ouagadougou, Burkina Faso.
Riddering planned to meet at a cafe with people who wanted "to volunteer at the orphanage and women's crisis center he ran with his wife, Ann Boyle-Riddering." But he arrived early with a pastor when al-Qaeda attacked the cafe.
The men separated when the militants attacked. The pastor took Riddering's phone and immediatly called Riddering's wife. He told Ann that they were surrounded by gunfire, but the line went dead before he could say anything else. He hid in the cafe and survived.
Another Christian missionary discovered Riddering's body in the morgue on Saturday.
"He was extremely well-loved and respected. He wasn't a hypocrite, he wasn't a two-face. He had his guiding light, and he followed it," explained his mother-in-law Carol Boyle.
He leaves behind his wife and four children adopted from Burkina Faso.
"We extend our condolences to the family of Michael James Riddering. Our thoughts and prayers are with his family at this difficult time, as they are with all those affected by this brutality," said State Department spokesman John Kirby.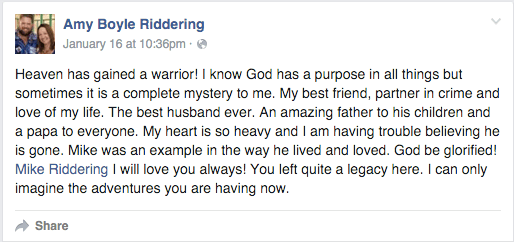 "The Ridderings and their team care for about 400 orphaned children (and) provide direct assistance to disenfranchised widows," stated the group Sheltering Wings.
Riddering managed a yacht outfitting company while his wife found employment as a graphic designer. But they "sold their property and possessions" in 2011 to move to the West Africa nation to run the Les Ailes de Refuge orphanage, which included "a clinic, classrooms, and a home for abused women and widows."
"During the Ebola crisis, when it was hard to find people to do the digging, Mike would go out and join them so they could continue doing the work," commented John Anderson, a Sheltering Wings board member. "And that's backbreaking work. He never stopped moving and never stopped helping."
Al-Qaeda militants invaded the Splendid Hotel in the nation's capital on January 15. Security forces entered the premises hours later.
"Everyone was panicked and was lying down on the floor. There was blood everywhere, they were shooting at people at point blank," described survivor Yannick Sawadogo.
The forces freed 126 hostages, but 29 died. At least 18 of the dead "included victims from 18 different countries, included the wife and young daughter of the Italian cafe owner, two French citizens, two Swiss citizens, and six Canadians." CNN reported four belonged to the "same Ukrainian family and included a 9-year-old girl."