Prediction market analyses compiled by Breitbart News show that Sen. Ted Cruz (R-TX) crashed his standing in the state of Indiana when he cut a deal with Ohio Gov. John Kasich, whereby Kasich ceded the state to Cruz.
Prediction market data shows that the Texas Senator has not recovered since, despite several bold and aggressive moves, including the naming of a vice presidential candidate in former Hewlett-Packard CEO Carly Fiorina and a tepid endorsement from the state's governor Mike Pence.
On the evening of Sunday, April 24, Cruz's and Kasich's campaigns announced a deal whereby Cruz would campaign in Indiana while ceding New Mexico and Oregon to Kasich—and Kasich would campaign in Oregon and New Mexico while ceding Indiana to Cruz. The data, from prediction markets, has proven that the deal cut by Cruz campaign manager Jeff Roe and Kasich chief strategist John Weaver has turned out to be an utter failure.
When looking at the specific chart about who, between Trump and Cruz, has the best shot at winning the Hoosier State, it is extraordinarily clear that a dramatic shift came on April 24—the same day Cruz and Kasich announced their deal—showing that this deal between the two campaigns aiming to work together against Trump seems to have failed.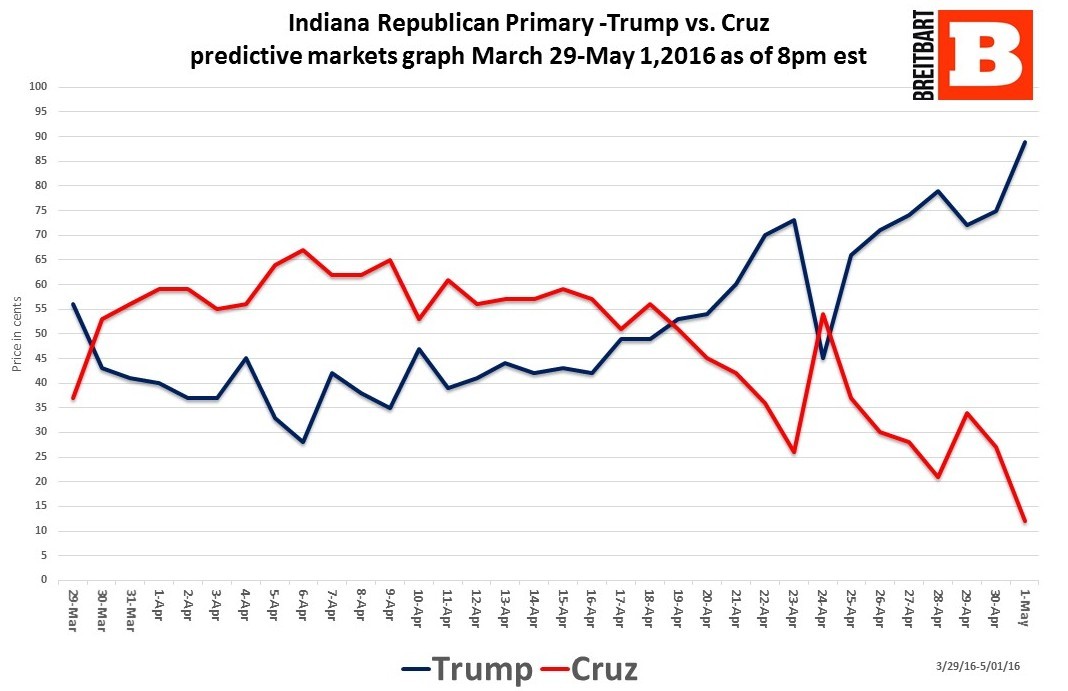 For several days leading up to that moment, Cruz was widely expected to win the state of Indiana.
The Texas senator had been above 50 cents—a payoff above 50 cents for a bet is a sign the market views a candidate as a winner—for several days leading up to the Kasich deal on the evening of April 24. But, after the deal, Cruz has crashed and despite two desperate measures—the announcement of his vice presidential pick Carly Fiorina and the Pence endorsement—has not recovered.
Almost instantly after the Pence deal, Trump took a commanding lead over Cruz. While at one point on April 24 the markets had Trump under 40 cents, by midday April 25, the markets—in response to the Cruz-Kasich deal—had corrected themselves to have Trump at over 60 cents. Since then, the markets have only benefited Trump with just small upticks for Cruz that undo themselves moments later when he announced Fiorina as his running mate and when he received the tepid backing of Pence, Indiana's governor.
Trump, with new polling showing him well over double digits ahead of Cruz in the Hoosier State, has now skyrocketed way ahead of the Texas senator there—and is widely expected by financial analysts to win the state on Tuesday. Heading into Sunday, Trump was close to 75 cents—and he is now over 90 cents projected to be the winner.
The data compiled here on Breitbart News comes from PredictIt, a betting market that creates an almost free market interpretation of what might happen in a given political election. While the U.S. government shut down InTrade—a firm that allowed U.S. citizens to bet on presidential elections, among other political developments—PredictIt emerged out of the shadows as perhaps the best such market predictor when it comes to elections.
"Even though it's only a $1 winner-take-all contract with an $850 limit," John Phillips, the chief of PredictIt said according to PBS. "It still starts to cause you to think about things."
David Rothschild, a Microsoft researcher who has been studying such prediction markets for the technology giant, added in that PBS special that the markets PredictIt creates are extraordinarily accurate.
"The markets have really been ahead of the polling and ahead of the pundits," Rothschild said. "Many of us rely on polls and pundits when it comes to presidential prognostication. But your best bet for accurate and reliable political predictions, it turns out, is actually the marketplace."
It appears as though Cruz is headed for an epic defeat on Tuesday in Indiana, if the markets are right, and that is not all: If Cruz loses in Indiana, it is widely expect that Donald Trump will win the GOP nomination for the presidency outright before the Republican National Convention in Cleveland in July—and that neither Cruz nor anyone else including Kasich will be able to stop him.
Cruz is still expected to continue his candidacy, however, regardless of the outcome of Tuesday's contest. But Trump notes that if he wins in Indiana, "it's over." Leading up to Trump's expected big day in Indiana on Tuesday—in the wake of big wins in New York and then in Pennsylvania, Connecticut, Rhode Island, Maryland, and Delaware—several members of the GOP have started falling in line behind the real estate mogul. More "dominoes" are expected to fall into place should Trump win big on Tuesday as expected, as it will become harder and harder to block the billionaire from reaching the 1,237 delegate total required for a majority to win the nomination on the first ballot in Cleveland.
What is more, in addition to the significant drop off in chances for Cruz due to the Kasich deal, the chart also shows that Cruz has gotten little to no bump at all from announcing Fiorina as his running mate—and similarly flatlined odds from getting Pence's backing.
It remains to be seen what happens on Tuesday, but the betting markets since the Pence endorsement have shifted significantly in Trump's direction as of late Sunday evening. Trump is up near 90 cents, and Cruz down near 10 cents, heading into the final hours of the Indiana race.
The betting markets are such that a bet of Trump winning worth 90 cents—when the odds are there—pays out $1 if Trump wins. A bet of 10 cents of Cruz winning pays out $1 if Cruz wins when the odds have Cruz there. The person most expected to win is the person over 50 cents. That the data shows in the final analysis here that the state is breaking significantly in Trump's direction means that it would be a shocker if Cruz ends up coming back and winning.
Listen to the discussion of this article on Breitbart News Daily on SiriusXM: