Donald Trump outperformed Gov. Mitt Romney's ballot-box support from African-Americans and Latinos.
Exit polls collected by CNN show Trump won at least 29 percent of the Latino vote in 2016, while Romney won only 27 percent in in 2012. The polls also show Trump won at least 8 percent of the African-American vote, while Romney won only 6 percent.
That's a huge increase given the establishment's hostility directed at Trump, and it also contradicts the pro-amnesty claims made in business-backed GOP reports after Romney's failed 2012 run.
The GOP's so-called autopsy report — which was drafted, reviewed and reshaped by hundreds of business-funded consultants, lobbyists and pollster, declared:
among the steps Republicans take in the Hispanic community and beyond, we must embrace and champion comprehensive immigration reform. If we do not, our Party's appeal will continue to shrink to its core constituencies only. We also believe that comprehensive immigration reform is consistent with Republican economic policies that promote job growth and opportunity for all.
In 2013, Trump ridiculed the autopsy when it was published.
.@RNC report was written by the ruling class of consultants who blew the election. Short on ideas. Just giving excuses to donors.

— Donald J. Trump (@realDonaldTrump) March 19, 2013
During the subsequent immigration debate in 2013 and 2014, the GOP's base voters blocked the amnesty bill drafted by Democrats and business leaders. Those voters also defeated the GOP's majority leader, Rep. Eric Cantor, and subsequently picked Trump in the GOP primaries largely because of his opposition to amnesty. Florida Sen. Marco Rubio was defeated during the presidential primary, chiefly because of his support for amnesty — and so he lost his chance to run against Hillary Clinton in 2016.
When Trump's turn came on Nov. 8, 2016, he beat Romney's performance.
The poll's details show that Trump won 13 percent of African-American men and 33 percent of Latino men, although he  won only 4 percent of African-American women, and 26 percent f Latino women.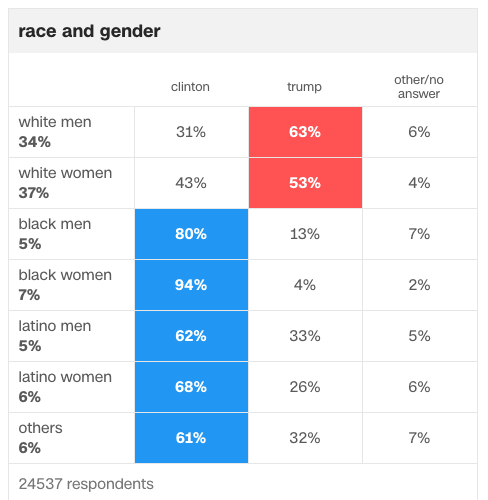 His performance may have been even higher, in part, because up to 7 percent of African-American men and up to five percent Latino men refused to tell pollsters who they voted for. In addition, people lie to pollsters. So Trump may have won 30 percent of Latinos and 12 percent of African Americans — including 16 percent of African American men — assuming that just half the undeclared vote went to Trump.
In practice, those vote shares would have boosted his national vote by one percent from African-Americans and almost three percent from Latinos.
That GOP performance among minorities is the best since 2004, when President George W. Bush won 40 percent of the smaller Latino vote during the economic bubble that had created so many temporary jobs for American Latinos and for illegal immigrants — but which eventually allowed the election of President Barack Obama in 2016.
Overall, African-Americans contributed 12 percent of the national vote in 2016, down from 13 percent in 2012, while the Latino share of the national vote nudged up from 10 percent to 11 percent, according to CNN.