Donald Trump's 2016 TV campaign advertisements were far more focused on promised policies than were the ads run by Hillary Clinton's team, which were far more numerous, negative and narrowly focused on personality claims, says a new report. 
"Over 60 percent of ads supporting Clinton were solely about candidate characteristics, while only about 25 percent were focused on policy," said the report, titled "Political Advertising in 2016: The Presidential Election as Outlier?" 
"This is a huge difference from Trump's advertising, over 70 percent of which was focused on policy," said the report, released March 6. "These strategic differences may have meant that Clinton was more prone to voter backlash and did nothing to overcome the media's lack of focus on Clinton's policy knowledge, especially for residents of Michigan and Wisconsin, in particular, who were receiving policy-based (and specifically economically-focused) messaging from Trump."
"Clinton's message was devoid of policy discussions in a way not seen in the previous four presidential contests, " said the report, which was prepared by the Wesleyan Media Project.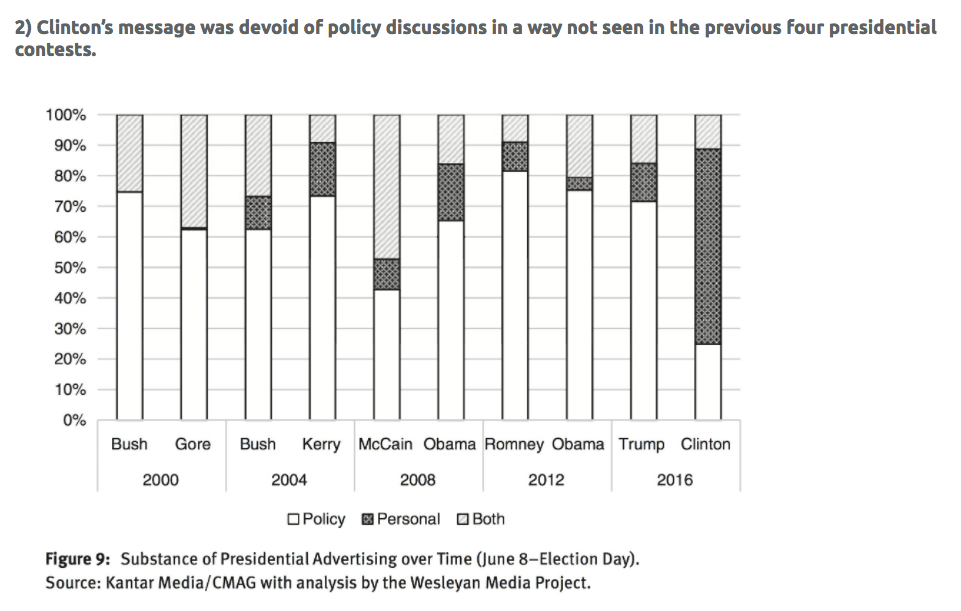 The report debunks much of the establishment media's narrative, which portrayed Trump's campaign as a personality-driven chaotic scramble, saying:
For all of the talk of the unusual advertising campaign that Trump ran in 2016, his message strategy was more traditionally policy-focused. Ironically, it was the Clinton campaign that deviated sharply from the conventional playbook when it came to messaging despite following conventional norms in terms of volume, placement and targeting of ads. Indeed, only one in four Clinton campaign ads focused on policy, which is by far the lowest percentage we have seen since data from Kantar Media/CMAG have been available.
The media narrative also ignored Clinton's far greater expenditure on TV advertising. In prior presidential campaigns, coverage by the establishment media has often bemoaned the scale and negativity of the campaign advertising, but according to the report:
Hillary Clinton's campaign (alone and with her allies) spent vastly more on campaign advertising than did Donald Trump's. And yet Trump won the election …

The Clinton campaign aired just under 200,000 ads at an estimated cost of just under $120 million during the last 9 weeks of the campaign, dwarfing the Trump campaign's 76,000 ads at a cost of $66 million. Clinton's advantage becomes even more stark when one adds in the almost 50,000 spots aired by Priorities USA Action, a pro-Clinton super PAC. There was some outside group spending on behalf of Trump, including the NRA Institute for Legislative Action, which aired about 10,000 ads on broadcast during the general election period …
Clinton's campaign also bought almost 300,000 ads on local broadcast and national cable outlets, plus almost 700,000 ads on local cable channels. In contrast, Trump's campaign funded less than 100,000 ads in both categories combined.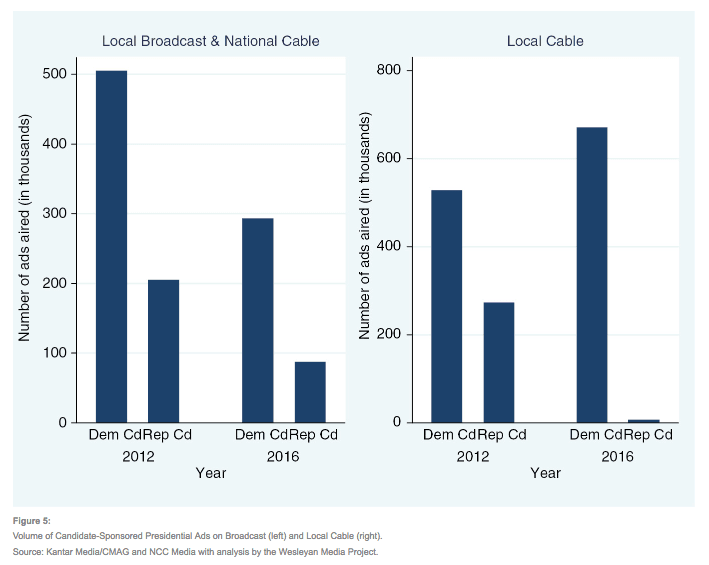 So Clinton's campaign and her allies ran at least 1.25 million TV ads, compared to Trump's score of 186,000 ads.  Overall, said the report:
There was a huge imbalance in advertising at the presidential level in 2016, with Clinton and her allies pummeling Trump and his allies in almost every media market in the country. Pro-Clinton advertising dominated on local broadcast, national cable and even local cable television. Decades of research (e.g. Zaller 1992) suggests that in the face of such imbalanced message flows, the advantaged candidate should benefit at the polls. And yet in spite of those advantages, Hillary Clinton lost many of the states that saw the most political advertising. 
However, Trump media strategy put more attention on Wisconsin, which Clinton's team almost entirely ignored until the last two weeks. The report includes a map showing how Clinton's blue-themed TV ads were far more numerous in nearly all media markets than were Trump's red-themed ads.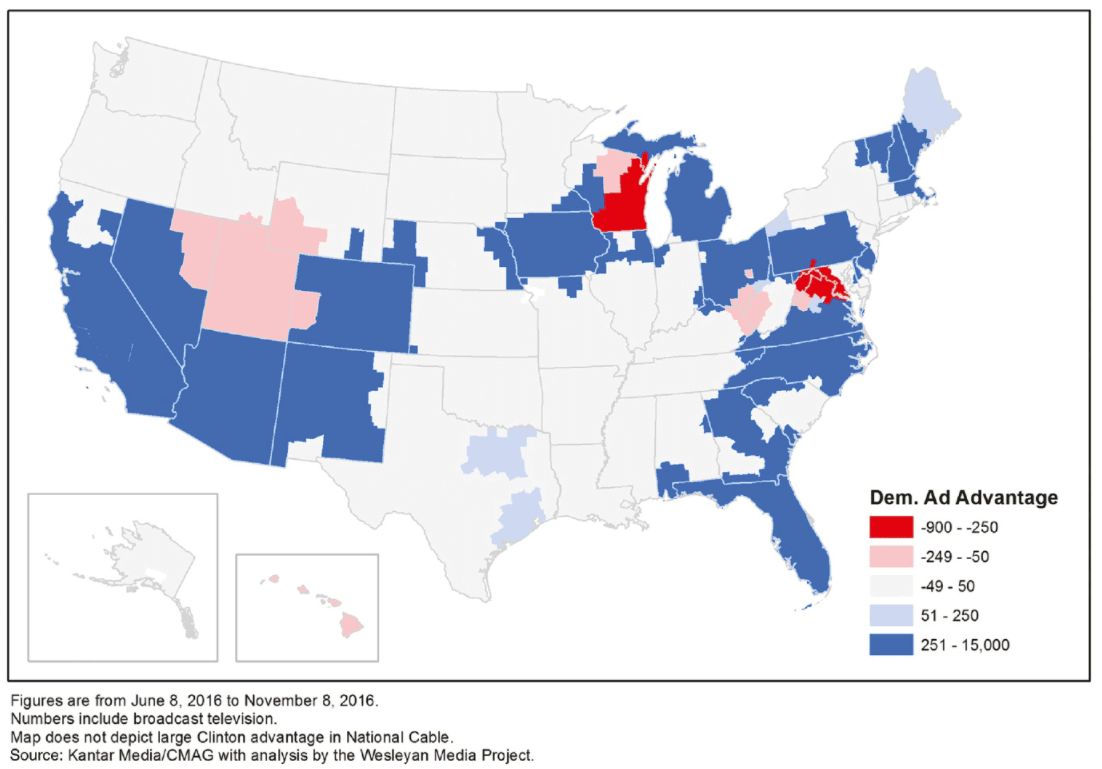 Trump's use of Twitter may have canceled out Clinton's huge advantage in campaign funds, the report said, saying "perhaps the intense media coverage in 2016 was driven less by the messages of political advertising as it has been in the past and more by Donald Trump's Twitter account."
Read the entire report here.