Members of Congress angrily shredded President Trump at a Leftist think tank confab on Tuesday. "Mean," "heartless," and "immoral" were just some of the insults hurled at President Trump and his budget during the discussion at the Center for American Progress in Washington.
The event, titled "How Trump and Congressional GOP Budgets Leave Behind the Forgotten Man and Woman," attempted to reach out to working class Americans who largely rejected the Democrat platform in the 2016 election.
Congresswoman Pramila Jayapal predicted the destruction of "drinking water systems in rural areas that voted for Trump" due to EPA funding cuts. She continued to unload on the budget, classifying it as "wreaking havoc" on Trump supporters and Trump opponents alike.
Congresswoman Barbara Lee associated President Trump with a country "more polarized and more divided as you look at what is taking place in terms of the emergence of more hate crimes, nooses being found in the Museum of African American History and Culture. You see many people being threatened with violence unfortunately because of who they are, their religion, their background, their race. It's almost as if it's alright now to be mean-spirited, to be racist, to be homophobic, it's okay to be one who will say that Muslims should not be allowed to come into this country."
While Congresswoman Lee recognized division, she saw it as one-sided, as she made no mention of the documented rise in violence against Trump supporters.
"I was shocked when I learned that Special Olympics was eliminated, that program for disabled children has been zeroed out. That is mean," she continued in her excoriation of the Trump budget.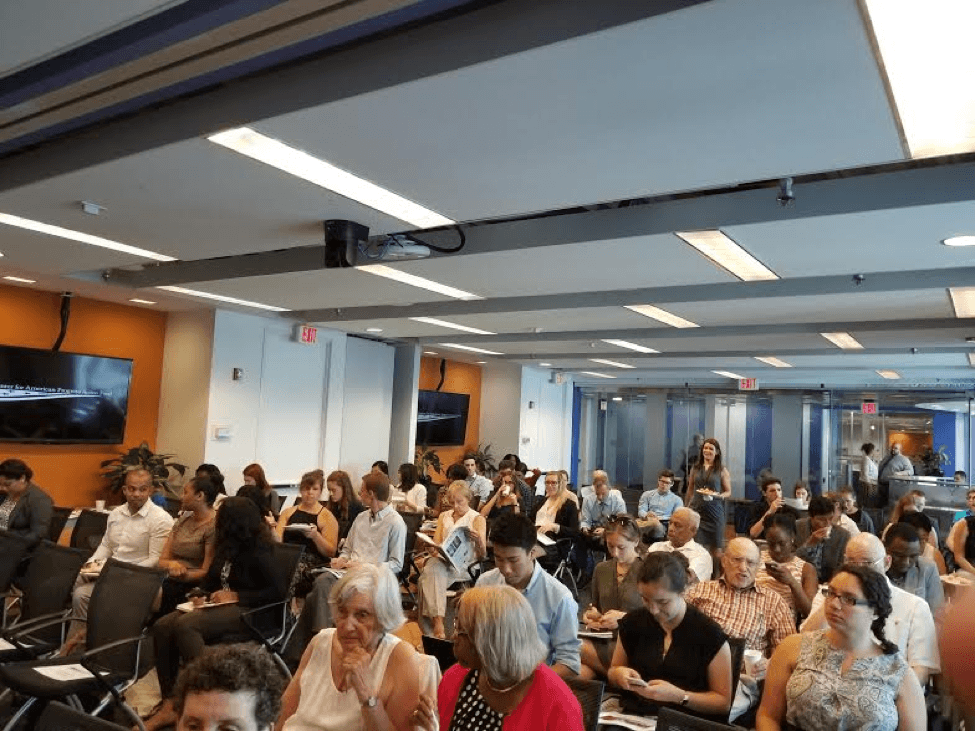 Above: Attendees at The Center for American Progress
Despite this implication that the Special Olympics would cease to exist under Trump's budget, the Washington Post reported that the Trump budget merely cuts $12 million allocated to Special Olympics education programs, not the entire program.
The Trump Administration's agenda is "to eliminate the public sector," she alleged.
"It really is heartless. It's immoral," she continued, referring to Trump's proposed budget cuts to after-school programs.
The gathering at the left-wing DC-based think tank included Congress Representatives Rosa DeLauro, Pramila Jayapal, Barbara Lee and John Yarmuth. Carmel Martin, Executive Vice President of Policy at the Center for American Progress Action Fund moderated the discussion
Pictured above: Left to Right – Representatives Lee, DeLauro, Yarmuth and Moderator Carmel Martin at the Center for American Progress
Photos by Alex Clark for Breitbart News