Sen. Luther Strange is running from questions about his possible support for the Democrats' huge "Dreamer" amnesty, which would provide citizenship to at least 3.3 million illegals and also cut wages in his home state of Alabama.
Strange's campaign website ducks the high-profile issue, saying only that:
It is our duty to uphold and enforce immigration law. Individuals who enter our country illegally should not receive the benefits that taxpaying Americans do. Immediate deportation of criminal aliens, building President Trump's border wall, and cutting off funding for sanctuary cities are all effective means to enforce America's laws and strengthen its borders.

Enforcing immigration law is also crucial to protecting Americans from terrorists seeking entry into our country under false pretenses. Luther Strange stands with President Trump and supports banning refugees in terrorist countries from entering our borders.
One Alabama constituent received a similarly evasive answer, according to a report in Alabama Today:
Jack Kemp of Fosters, Ala. posted Strange's email response on his Facebook page Tuesday, concerned that the Senator supports the Dream Act as he did not outright refute it in the email.
The reported response from Strange's office says "Currently, this [amnesty] bill is in the Senate Judiciary Committee. I do not serve on that committee, but if this bill comes to the Senate floor for debate and a vote, I will keep your views in mind." The Facebook post did not say Strange would oppose a DACA amnesty.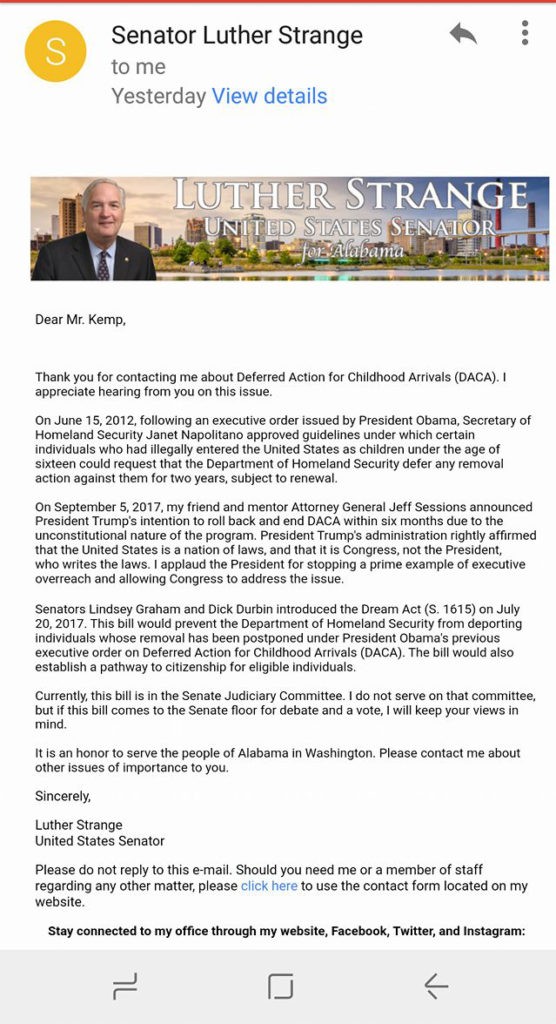 Strange offered a similarly vague description of his DACA-amnesty views in a radio ad which criticizes Judge Roy Moore, his primary rival, for not knowing about the "dreamer' program. The radio ad declared that Strange "is proud to stand beside President Trump who understands how serious it is to stop illegal immigration and enforce our nation's laws." The ad did not say that Strange would oppose a DACA amnesty.
Strange's campaign did not respond to messages from Breitbart News.
The Senator's evasiveness is notable because top Senate Democrats — including New York Sen. Chuck Schumer and California Rep. Nancy Pelosi — are pushing President Donald Trump to accept their unpopular Dream Act legislation without offering any exchange, such as a border wall, penalties on employers who hire illegals or passage of the popular merit-immigration RAISE Act.
The DACA issue blew up September 13 when the two Democrats declared that Trump had agreed to accept a DACA amnesty without getting funds for a border wall.
The cost of the Dream Act is far bigger than the Democrats or their media allies admit. Instead of covering 690,000 younger illegals now enrolled in former President Barack Obama's 2012 "DACA" amnesty, the Dream Act would legalize at least 3.3 million illegals, according to a pro-immigration group, the Migration Policy Institute.
Once provided with amnesty and citizenship, the 3.3 million illegals would be able to get Obamacare grants — at an estimated cost of roughly $115 billion per decade —  and also sponsor many of their foreign-based relatives to join them in the United States, so inflating the scale and cost of the amnesty.
Strange's silence on the issue has prompted critics to say he has quietly agreed to support the amnesty, which is backed by a large swath of companies who stand to gain from the increased inflow of immigrants, who double as cheap workers and welfare-aided consumers.
https://twitter.com/Cernovich/status/910576003952517120?ref_src=twsrc%5Etfw&ref_url=https%3A%2F%2Fwww.breitbart.com%2Fwp-admin%2Fpost-new.php
For example, the amnesty is boosted by the U.S. Chamber of Commerce, which has endorsed Strange. The companies pushing for the DACA amnesty include Walmart and Target. Walmart has more than 130 stores in the state, and Target has at least five stores. Both firms profit from the growing immigrant population in the state.
The state is home to roughly 150,000 immigrants, both legal and illegal, who are working in roughly 84,000 jobs. Fewer than 2,000 of these legal and illegal migrants work as agricultural workers, while at least 35,000 are working middle-class jobs in construction or the food sector, or as teachers, according to a pro-immigration lobbying group founded by billionaire Mike Bloomberg.
The number of DACA illegals in the state is roughly 4,300, but many similar-aged illegals would be eligible for the bigger Dream Act amnesty.
In July, at least 96,251 unemployed Alabamans were looking for jobs.  Many other state residents have given up looking for jobs.
The inflow of extra foreign workers helps keep wages low in the state. In December 2016, for example, the federal Bureau of Labor Statistics reported:
[The] average weekly wages advanced in five of Alabama's largest counties from the second quarter of 2015 to the second quarter of 2016. Shelby's 2.8-percent wage increase ranked 107th among the nation's 344 largest counties and was the only large county in Alabama to rank in the top third of the national ranking. Average weekly wage growth in Alabama's four other large counties ranged from 2.3 to 0.1 percent. (See table 1.) … When all 67 counties in Alabama were considered, 23 reported average weekly wages under $650, 24 had wages from $650-$749, 12 had wages from $750-$849, and 8 had wages above $850.
When serving at the state's Attorney General in 2011, Strange sought to weaken the state's draft HB 56 law curbing the employment of illegal immigrants. He initially failed, but when Obama's federal government later sued the state to stop enforcement of the law, Strange used his power as Attorney General in October 2013 to stop defending the law and allow most of it to be eliminated.
Reportedly, Strange also has a one-sixth share in a company which effectively trades EB-5  visas and green cards to wealthy Chinese people who want to live in the United States. On September 19, his campaign staff told WHNT that "Luther agrees with the Trump administration that there are serious concerns over the EB-5 visa program, which is not being used as originally intended. It's time for Congress to get to work on these issues." The Strange statement did not propose to eliminate the often-criticized EB-5 program.