Ryan "Birdman" Parrott's connection to military service goes back to his high school days when a teacher and retired Marine inspired him to take on the challenge of becoming a Navy Seal.
But the grueling test required to become an elite warrior could not prepare him for what unfolded during his first deployment to Iraq in 2005. His team was hit by an improvised explosive device (IED), and Parrott and his teammates suffered burns and other injuries.
"It shot me out of the turret," Parrott said in a video in which he describes his experience. "That's how I got my nickname 'birdman' — from going for a little flight."
Parrott was fortunate that his burns were only first and second-degree, both levels of burns that can heal.
"I was lucky," Parrott told Breitbart News.
But many members of the U.S. military, first responders, and even civilians are not so lucky and face years of surgery and recovery, not to mention the emotional and mental struggles these injuries can inflict.
Still, Parrott did not give it much thought after his own recovery and over the course of his remaining eight years of service.
That changed when Parrott met a veteran who had suffered third-degree burns from an IED during his service in Afghanistan. The vet told Parrott how hard it was to get treatment and other support he needed.
"I've been through three dozen surgeries and this is as good as it gets," the Army Ranger told Parrott.
"I was pissed," Parrott said, adding that he tried to think of how to help his brother, but "I came up short."
Parrott decided to channel his anger into passion for a new mission: helping burn survivors get the treatment and support they need to gain back some of the quality of life they had lost.
"I decided I could continue to serve my country away from the battlefield," Parrott said.
In 2012, he founded Sons of the Flag, a nonprofit organization that has helped more than 1,000 burn survivors connect to medical treatment.
Omar Avila is one of them.
"I was laying there on fire," Avila said, describing his burn injury that took place when he was deployed with the United States Army.
Avila has undergone 97 surgeries but is grateful for the support he's received from Sons of the Flag.
Avila has now joined Sons of the Flag as its Burn Survivor Ambassador.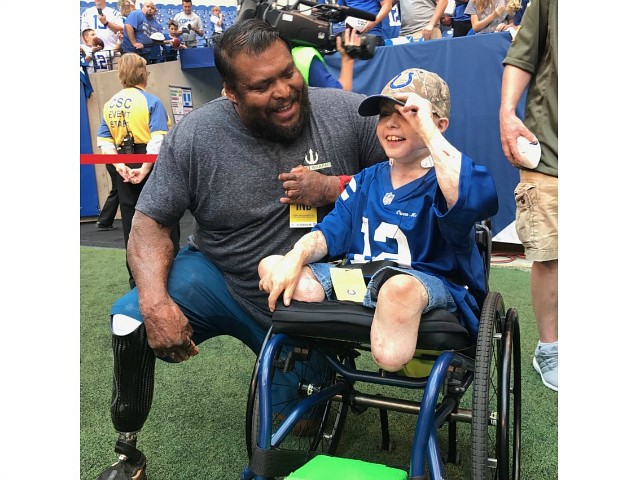 Army veteran and burn survivor Omar Avila meets with a young burn survivor at an event connected to Sons of the Flag. (Photo courtesy of Sons of the Flag)
But Parrott says the overarching goal of Sons of the Flag is greater than just connecting burn survivors with treatment. His organization is on the forefront of pushing for the same kind of research and innovation that has taken place in the prosthetics field over the past several decades.
This push is at the core of the organization's new Mission Reconstruct Freedom initiative that will take its support for burn survivors to the next level.
As the website states:
The ultimate goal of Sons of the Flag is to accelerate the process of testing leading technologies and pushing them into circulation for immediate use. This will aid the recovery and lives of burn survivors across the nation.

We bring together passionate community leaders, pioneering physicians, experienced military service members, dedicated first responders and purposeful civilians to complete our mission.

The need is immense, the injuries are life-long, and our commitment is unwavering.
Bobby Halton, editor and chief of Fire Engineering Magazine, is also featured in a video posted on the Sons of the Flag website. He said that in just a few short years the organization has made great strides.
"It's now the go-to place when someone's been burned," Halton said in the video.
Today, Sons of the Flag has teams in 20 states and some 1,000 volunteers, or "boots on the ground," as Parrott calls them.
James Connor, Captain at the Little Elm Fire Department in Little Elm, Texas, says in the video that Sons of the Flag offers the best of both worlds for burn survivors.
"They bring a lot of hope," Connor said. "And not just hope, but real resources."
Learn more at sonsoftheflag.org.
Follow Penny Starr on Twitter @pennystarrdc.