Army veteran Stephanie Kemplin told left-wing CNN Thursday that Sen. Al Franken (D-MN) groped her breast in 2003 while the two of them took a photo together. At the time, Kemplin was stationed in Kuwait during the Iraq War. The married Franken was on a USO tour.
"When he put his arm around me, he groped my right breast. He kept his hand all the way over on my breast," Kemplin told CNN. "I've never had a man put their arm around me and then cup my breast. So he was holding my breast on the side." She said Franken held his hand there for at least 5 to 10 seconds.
Kemplin is now the fifth woman to accuse the Democrat of touching her inappropriately. All four of Franken's previous accusers also claim that the groping occurred while taking a photograph with the disgraced senator. One of the women, though, Leeann Tweeden was asleep when the groping occurred, also during a USO tour: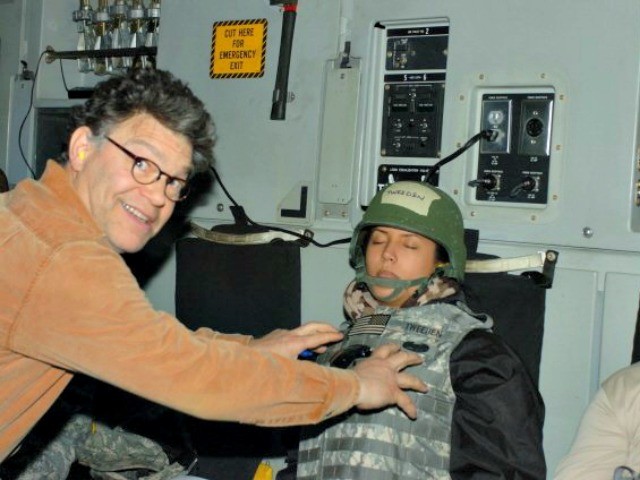 Two of Franken's accusers claim he groped them at campaign events while Franken was either a sitting senator or running for that office.
Kemplin appears to be a whole new low for Franken. Allegedly groping an active duty woman in the military while she is deployed overseas is undoubtedly beyond any decent person's comprehension. CNN reports:
In one of multiple lengthy phone calls with a CNN reporter this week, Kemplin repeatedly broke into sobs.

"I was in a war zone… You were on a USO tour — are you trying to boost the morale of the troops or are you trying to boost your own?" she said. "I just feel so sorry for that young girl in that picture."
She added that she felt "ashamed" and "embarrassed."
Franken has so far refused to even consider resigning the U.S. Senate seat he has held since 2008.
As Breitbart News noted earlier this week, Franken has hid behind the idea that he accidentally groped these women during photo-ops:
With four separate women accusing Al Franken (D-MN) of groping them, the defiant U.S. senator went underground for the long weekend only to sit down for two disastrous interviews Monday morning.

In an interview with Minnesota Public Radio, when asked if additional women will come forward with accusations of groping, Franken admits, "I don't know. I can't say."

In a second interview with WCCO, when asked if he ever groped a woman's butt, Franken admitted, "I can't say I haven't done that."

"With all due respect, people are going to find it hard to believe that someone such as yourself wouldn't know that they were grabbing someone's butt," WOCO's Esme Murphy asked.

"I can understand how some people would see it that way," Franken replied.

"But have you ever placed a hand on some woman's butt?"

"I can't say that it hasn't happened. In crowded chaotic situations, I can't say I haven't done that. I am very sorry if these women experienced that," Franken admitted.
Follow John Nolte on Twitter @NolteNC. Follow his Facebook Page here.
Photo: file