Tells of millions of Americans are likely to get 4 percent wage raises this year, likely helping President Donald Trump and his pro-American immigration policy win a huge political victory in the 2018 midterm elections. 
But establishment GOP leaders want their congressional tax cuts to get the credit for wage increases, even though the expected pay raises are only possible because Trump's immigration policies pressure companies to hire Americans at higher wages instead of hiring more immigrants at lower wages.
According to Politico:
"Scott Jennings, a Republican political strategist and former McConnell aide … and other McConnell allies say the party can focus on selling a still-unpopular tax law to the American public and picking up Senate seats in states President Donald Trump won in 2016.
The White House, however, wants to get credit for wage increases. Gary Cohn, Trump's top economic aide, told Bloomberg on January 5:
As the economy continues to grow, and as the labor market continues to tighten … we are going to see real wage pressure in here. I've been telling you for the last year that the one disappointing number that we've seen month after month after month is [low] wage growth… That's just not good enough, and we are committed to get real wage growth in-country, and we do believe you will see it over the course of the next year or two.
The stakes are high because Trump's pro-American immigration agenda will get the credit if the public recognizes that reduced immigration raises Americans' wages, regardless of the additional gains from middle-class tax cuts. If voters recognize the tie between rising wages and declining immigration, then the GOP may make gains in the House and Senate — and force Democrats' to accept Trump immigration reforms in 2019.
"Presumably a lot of things are responsible, but less immigration and the expectation for tighter enforcement are probably helping to bump up wages," said Mark Krikorian, director of the Center for Immigration Studies. He continued: 
It seems rising wages are almost certainly going to be helping the Republicans in the November elections. Whether it will help enough to stem Democratic gains is unclear — but it is definitely going to help. My concern is that too many Republicans will see rising wages as a reason to loosen immigration rules … [even though] from the perspective of the Trump administration, it is an opportunity to pull millions of [unemployed] working-age people back into the world of work.
So far, Trump's immigration policies are popular because the public recognizes they are intended to help Americans, not companies, investors, and migrants.
A new immigration-priorities poll shows that voters strongly prefer (4:1) higher wages for Americans over the option of more jobs for immigrants. Poll also shows Hispanic voters most hostile to cheap-labor migration. Billionaires, Democrats hardest hit. https://t.co/EX4qj8OMXL

— Neil Munro (@NeilMunroDC) January 4, 2018
But if the public can be pushed to credits their rising wages to the GOP's tax cuts, but not immigration, then both Democrats and the GOP's business-first wing may be able to block Trump's immigration agenda in 2019. According to a Washington Post reporter:
There is a widespread belief among D sources that congressional Rs are eager to head into midterms running on tax bill, not as party that engaged in showdown over dreamers. That's where Ds see leverage. And they are ready to ask, "Wasn't Mexico supposed to pay, not taxpayers?"

— Robert Costa (@costareports) January 6, 2018
Several years of after-inflation wage increases would be a massive change in the nation's economy, which has largely aided investors — not wage-earners — since the mid-1970s.  For example, Americans' wages have been flat since the mid-1970s, while the investors have gained enormously as the stock market rose, according to the U.S. Census Bureau.

So far, Trump is shaking off GOP pressure to discard his wage-boosting immigration priorities. For example, this weekend, he insisted that Democrats have to back his immigration priorities if they want to get work-permits for the 700,000 'DACA' illegals. On Monday, he ended TPS status for 200,000 migrants from El Salvador. His deputies are pressure companies which employ roughly 1 million foreign white-collar employees via the huge H-1B and L-1 programs.
"We want the wall. The wall is going to happen or we're not going have DACA. We want to get rid of chain migration & lottery system..We need additional border security" -Pres Trump on immigration. "We all want DACA to happen but we also want great security for our country." pic.twitter.com/haBQR3sGU6

— Craig Caplan (@CraigCaplan) January 6, 2018
The December jobs report prompted several analysts to predict strong wage gains in 2018. Some of the gains come from the 18 states where minimum-wage laws have been enacted, but other gains come as employers start to compete with each other for skilled workers.
The Washington Post reported:
"By spring and summer, I think you'll see a lot more action from companies on wages" and more training, DS Economics' Swonk said. "I think this is the pivotal year. It's good news for workers."

CEOs are complaining they can't find enough good workers to fill all of their job openings. Talented workers have largely figured out that the best way to get a raise in this economy is to change jobs. ADP, a company that processes payroll for many of America's largest corporations, tracks wage and salary data. For years, ADP has pointed out that people who change jobs get a bigger pay bump than people who stay put.

If CEOs don't want their best workers to leave, they are likely going to have to pay more.
CNBC  reported;
"The increase of average hourly earnings at a 2.5 percent rate on a year ago basis likely understates the true pace of wage and compensation growth due to a tight labor market," said Joe Brusuelas, chief U.S. economist at RSM.

"With the major narrative going forward is likely to be where firms will get the skilled workers necessary to boost productivity and meet demand it is likely that wages will accelerate in 2018," he added. "With wage gains in metro areas starting to pick up, and minimum and livable wages slated to rise starting in January we think that wages and overall compensation will accelerate in 2018 reaching 4 percent by the end of the year."
According to Reuters:
Economists are optimistic that annual wage growth will top 3.0 percent by the end of this year. The December employment report incorporated annual revisions to the seasonally adjusted household survey data going back five years …

Economists believe the jobless rate could drop to 3.5 percent by the end of this year. That could potentially unleash a faster pace of wage growth and translate into a much stronger increase in inflation than currently anticipated.
The New York Times reported that 4 percent and 5 percent wage increases have begun arriving:
In areas where unemployment has dipped below the national rate, pay has begun to accelerate. Cities where joblessness is 3.5 percent or lower have had an impressive 4 percent year-over-year increase in earnings, said Ian Shepherdson, chief economist of Pantheon Macroeconomics.

In Indianapolis, where unemployment reached 3.1 percent in November, wages for jobs in the private sector rose by nearly 5 percent in the second quarter compared with a year earlier.
Truck drivers are getting wage increases, according to the New York Times:
Bob Peterson, the chief executive of Melton Truck Lines, said he had no choice but to increase pay for his 1,600 drivers this year. "With unemployment this low, anyone worth their salt has got a job and probably a darn good one," Mr. Peterson said. Melton operates in 48 states and has offices in five …

Mr. Peterson has not given out raises in two years, he said, because when he has asked his clients to increase their rates, they have threatened to hire another trucking company. He is planning to increase salaries by 10 percent in 2018.
Construction workers are also gaining, according to Bloomberg: 
Like most places, Las Vegas is facing a shortage of construction workers. And here, we're seeing wage growth respond. Average hourly earnings for Las Vegas construction workers are up by 8.2 percent over the past year. And the only way Las Vegas will be able to increase its construction activity in 2018 will be by keeping wage growth strong and finding more workers from somewhere, whether it's training local workers or attracting construction workers from somewhere else.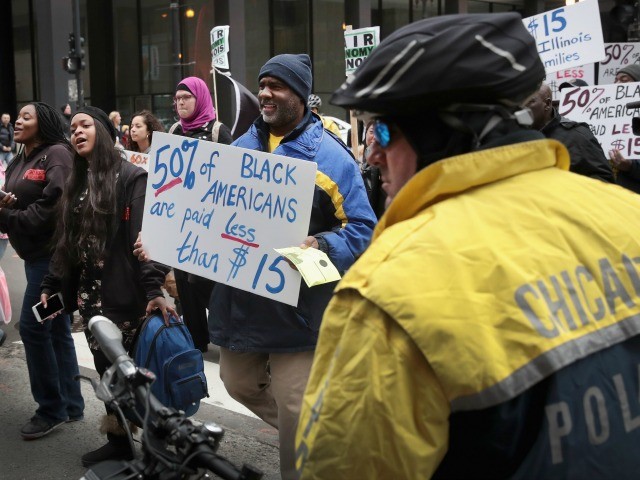 Many employers are trying hard to avoid granting raises, partly by offering once-off bonuses and non-cash benefits to employees. For example, AT&T  CEO CEO Randall Stephenson granted $1,000 bonuses to 200,000 employees, declaring: 
Tax reform will drive economic growth and create good-paying jobs. In fact, we will increase our U.S. investment and pay a special bonus to our U.S. employees.
But that opposition to wage increases may crumble as Trump continues to enforce immigration law. For example, 300,000 'DACA' work permits for illegals expire before November, and enforcement officials have visited companies to penalize executives and investors who hire illegals.
More shocking non-news: Trump's immigration enforcement drives up wages for Chicago bakery workers. Cuts company profits from 16% to 9.5%. Of course CEOs & Wall St. oppose Trump's pro-American immigration reforms. https://t.co/nz0na1TPFg

— Neil Munro (@NeilMunroDC) November 27, 2017
The gains from any wage-competition will be offset by inflation, now running around 2 percent.
Also, the pressure on companies will be reduced if the hidden army of nine million non-working American men begins to look for work after years of staying out of the job market. 
Nine million American men have been pushed out of the workforce by the federal government's policy of lowering wages, says Obama economist. But he can't mention the cause — the federal policy of goosing economic growth via cheap-labor immigration. https://t.co/OUs2C2idNT

— Neil Munro (@NeilMunroDC) December 19, 2017
Four million Americans turn 18 each year and begin looking for good jobs in the free market.
But the federal government inflates the supply of new labor by annually accepting more than 1 million new legal immigrants, by providing work-permits to roughly 3 million resident foreigners, and by doing little to block the employment of roughly 8 million illegal immigrants.
This Washington-imposed economic policy of mass-immigration floods the market with foreign labor, spikes profits and Wall Street values by cutting salaries for manual and skilled labor offered by blue-collar and white-collar employees. It also drives up real estate prices, widens wealth-gaps, reduces high-tech investment, increases state and local tax burdens, hurts kids' schools and college education, pushes Americans away from high-tech careers, and sidelines at least 5 million marginalized Americans and their families, including many who are now struggling with opioid addictions.
The cheap-labor policy has also reduced investment and job creation in many interior states because the coastal cities have a surplus of imported labor. For example, almost 27 percent of zip codes in Missouri had fewer jobs or businesses in 2015 than in 2000, according to a new report by the Economic Innovation Group. In Kansas, almost 29 percent of zip codes had fewer jobs and businesses in 2015 compared to 2000, which was a two-decade period of massive cheap-labor immigration.
Because of the successful cheap-labor strategy, wages for men have remained flat since 1973, and a large percentage of the nation's annual income has shifted to investors and away from employees.