Pro-open borders Senator Jeff Flake (R-AZ) says he will attempt to "force a vote" in the U.S. Senate on a plan that would extend a temporary amnesty program in exchange for minor funding for a border wall.
After business-first Republicans and Democrats blocked a plan backed by the White House to give amnesty to roughly 1.8 million illegal aliens enrolled and eligible for the President Obama-created Deferred Action for Childhood Arrivals (DACA) program in exchange for a reduction in overall legal immigration levels, Flake now says he is backing a security funding-for-DACA extension plan.
The plan touted by Flake, an ardent supporter of mass immigration and a never-ending flow of cheap, foreign labor for the big business lobby, would give amnesty to the nearly 800,000 DACA illegal aliens enrolled in the program.
In exchange, Trump would be granted a meager $7.6 billion to begin building his proposed wall along the U.S.-Mexico border to end illegal immigration. The minor wall funding would only fund the border security measures for three years.
Flake says he will try to "force a vote" on the plan, writing online:
Lots of questions about next steps on DACA. For me, it'll be frequent trips to the Senate floor to try to force a vote on a #3for3 compromise to give DACA recipients a 3-year extension & the Admin 3 years of full funding ($7.6 billion) for its #BorderSecurity plan

— Jeff Flake (@JeffFlake) February 16, 2018
Additionally, the plan would not include any of the illegal immigration reforms that the Trump administration has demanded, including provisions that would close legal loopholes to more swiftly and effectively stem illegal immigration at the border.
As the Department of Homeland Security (DHS) has explained previously to Breitbart News, without closing the legal loopholes outlined by the agency in an immigration deal, a border wall would stand alone trying to deter illegal immigration without any other major reforms to keep illegal aliens from entering the country.
Also excluded from Flake's plan is reductions to legal immigration levels to raise the wages and quality of life for America's working and middle class. Instead, the Flake plan would amnesty nearly a million illegal aliens, while also continuing to import more than 1.5 million illegal and legal immigrants every year.
Mass legal immigration to the U.S., a policy supported by the GOP billionaire mega-donors, the Koch brothers, has come at the expense of America's working and middle class, which has suffered from poor job growth, stagnant wages, and increased public costs to offset the importation of millions of low-skilled foreign nationals.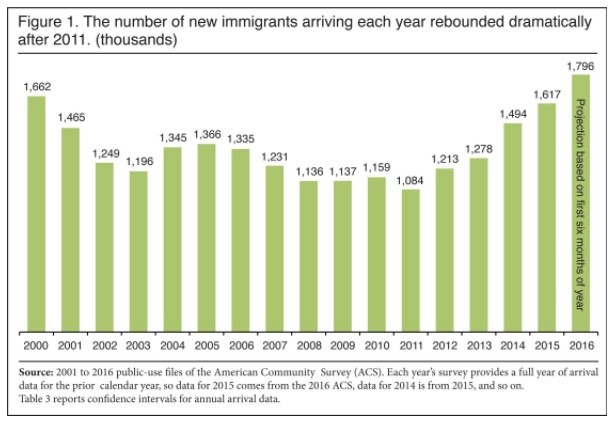 For blue-collar American workers, mass immigration has not only kept wages down, but in many cases, decreased wages, as Breitbart News reported. Meanwhile, the U.S. continues importing more foreign nationals against whom working-class Americans are forced to compete. In 2016, the U.S. brought in about 1.8 million mostly low-skilled immigrants.
For white-collar American workers, mass immigration has become a tool for the big business lobby, cheap labor industry, and Silicon Valley elites to replace U.S. citizens with cheaper foreign workers. For example, as Breitbart News reported, 71 percent of tech workers in coveted high-paying, white-collar Silicon Valley jobs are foreign-born, while the tech industry in the San Francisco, Oakland, and Hayward area is made up of 50 percent foreign-born tech workers.
The growing foreign-born population dominating the workforce in Silicon Valley comes as nearly 500,000 Americans graduate in the STEM fields every year. Overall, four million young Americans enter the workforce every year, but their job opportunities are further diminished as there are roughly two new foreign workers for every four American workers who enter the workforce.
Median earning of full-time, year-round workers, 15 years and older, 1960 to 2016