Job Creators Network, one of the nation's largest pro-jobs grassroots organizations, released an ad this week slamming House Minority Leader Nancy Pelosi (D-CA) for calling the $1,000 tax cut bonuses being doled out to millions of working Americans "crumbs."
"Calling bonuses and pay raises for middle-class Americans 'crumbs' was obtuse, says the Job Creators Network, but calling the tax cuts that produced them 'unpatriotic' crosses the line," reads a JCN press release.
Indeed, Nancy Pelosi called the Tax Cuts and Jobs Act "unpatriotic" during a town hall in Arizona on Tuesday.
"We could have, as we've done before, written a tax bill in a bipartisan way that had transparency that people could see what it was about," Pelosi said, adding, "If what you're doing is cutting the taxes at the high end and therefore not being allowed to invest in the future, you're doing a grave disservice to our country."
"It's unpatriotic," Nancy Pelosi continued. "I wish we could have come together to do a fair tax bill, but it is about our country."
JCN CEO Alfredo Ortiz called Pelosi's comments a "pretty low blow" to working American families.
"People of good faith can disagree over the economics. We believe that tax cuts boost the economy. She has a different view. But questioning the patriotism of people who want lower taxes is a pretty low blow," Ortiz said.
"I think rooting against the economy isn't very patriotic," said Ortiz. "Millions of Americans have bigger paychecks because of the tax cuts. Businesses everywhere are hiring more people, paying better wages, and growing the economy. Those are all things that should be celebrated, not denigrated."
The JCN ad also features a video of Pelosi attending a glitzy event, with a caption that reads, "One Person's Crumbs are Another Person's Cake."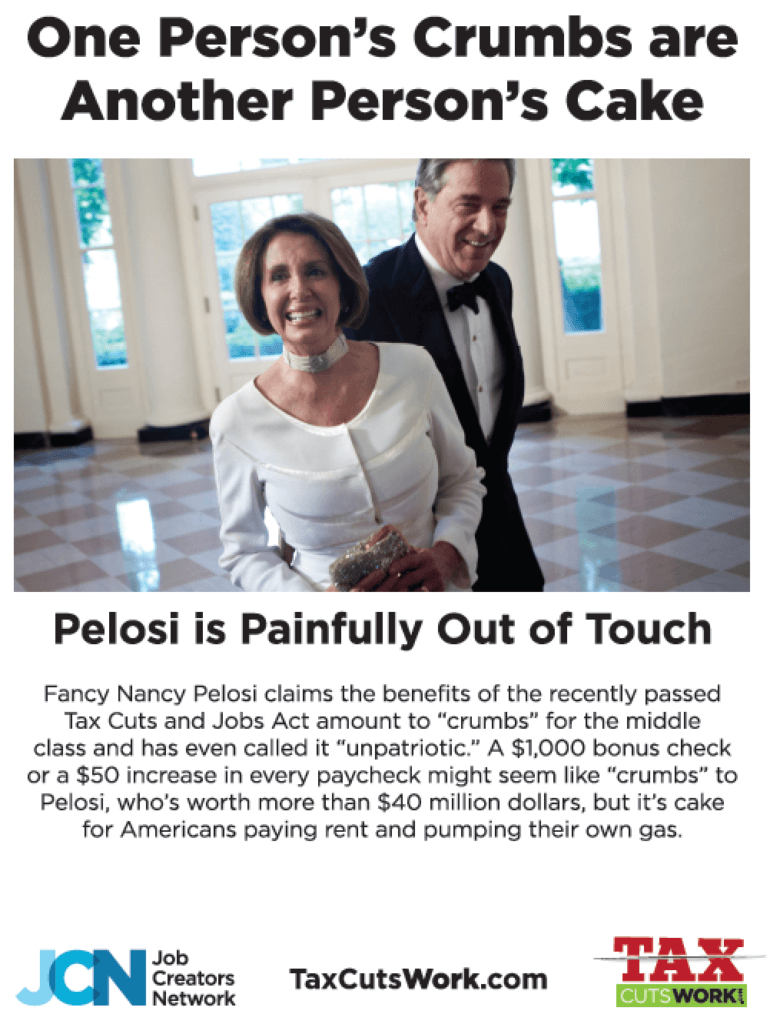 From Boeing to Wal-Mart to Fed Ex to Apple the tax bonuses and other benefits have reached over 3 million Americans, so far, according to Fox Business, which keeps a running list of all the business that have offered tax cuts-related perks to their employees.
Last September, JCN launched a multi-million dollar advocacy campaign urging Congress to pass small business tax cuts package.
A public opinion poll released this week revealed that 51 percent of Americans approve of the Tax Cuts and Jobs Act. On Tuesday, President Trump tweeted,  "Main Street is BOOMING thanks to our incredible TAX CUT and Reform law. 'This shows small-business owners are more than just optimistic, they are ready to grow their businesses.'"
Follow Jerome Hudson on Twitter @jeromeehudson