Nearly 60 percent of American voters say imposing tariffs on Chinese steel and aluminum is crucial to the United States' economic relationship with China.
In a Morning Consult poll, 59 percent of Americans say it is "important" that President Trump place tariffs on imported steel and aluminum, specifically from China, showing a wide range of support for the White House's economic nationalist agenda.
About 66 percent of voters said shrinking America's more than $375 billion trade deficit with China was key, as well as 56 percent who said they wanted to see the Trump administration challenge China's leaders on intellectual property protection, and 44 percent who said they want China labeled as a currency manipulator.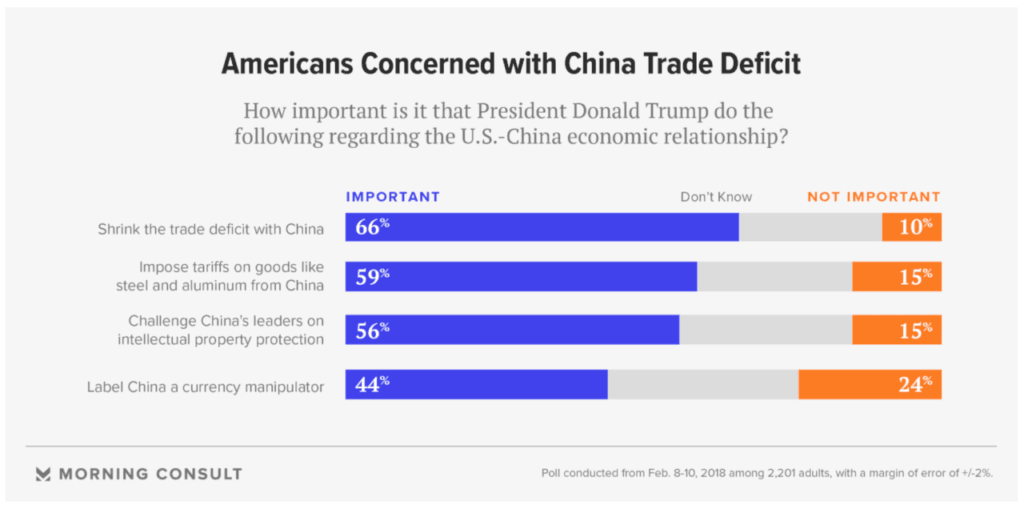 Trump's cracking down on China when it comes to trade is supported by 67 percent of Republicans, though trade globalists inside the White House — such as Gary Cohn and Steve Mnuchin — have attempted, but failed, to prevent the populist president from taking a tough stance on China.
On, Trump announced that he would eventually be putting a 25 percent tariff on imported steel and a ten percent tariff on imported aluminum, a move that is backed by the majority of Americans, according to the Morning Consult poll.
Multinational free trade agreements have been responsible for massive manufacturing outsourcing and job loss over the last two decades. For example, the KORUS free trade agreement has displaced at least 60,000 American workers since its enactment in 2007.
Meanwhile, since the North American Free Trade Agreement (NAFTA) took effect in the 1990s, at least one million net U.S. jobs have been lost because of the free trade deal. About five million manufacturing jobs were lost across the country after NAFTA was signed.
One former steel town in West Virginia lost 94 percent of its steel jobs because of NAFTA, with nearly 10,000 workers in the town being displaced from the steel industry.
John Binder is a reporter for Breitbart News. Follow him on Twitter at @JxhnBinder.