A movement sparked by the shooting deaths of 17 people at Parkland High School in Florida morphed into an adult-led anti-Second Amendment protest using the March for Our Lives teens to register voters.
The "Road to Change" bus tour started in Chicago on Friday and includes dozens of events in more than 20 states over the summer, including Iowa, Nebraska, Wisconsin, North Dakota, and Minnesota.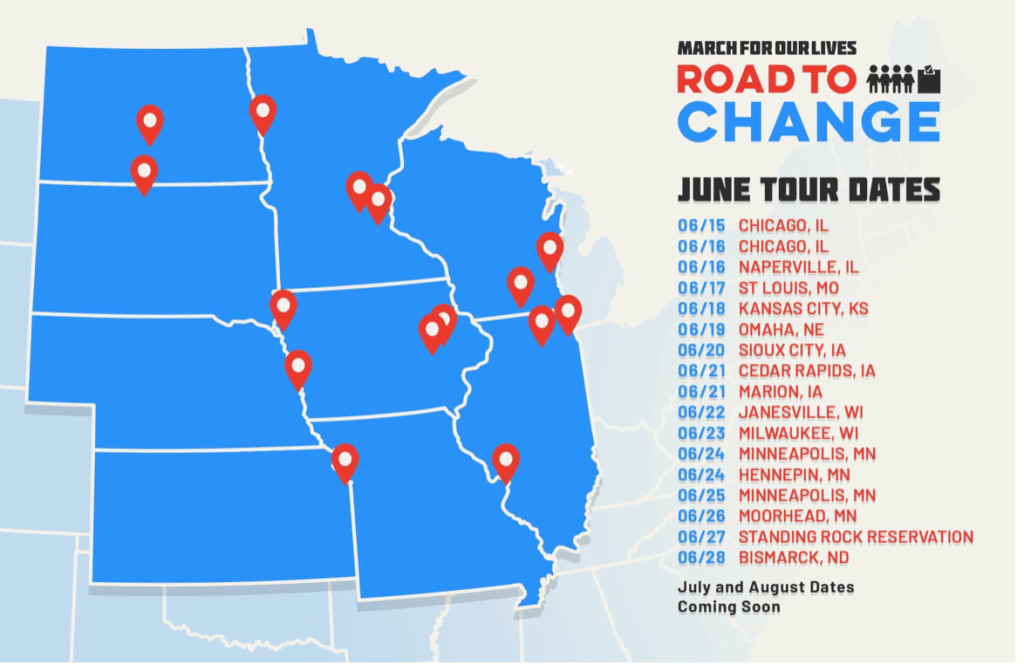 "This summer, we're going on a nationwide bus tour to get as many young people as possible educated, registered, and motivated to vote," the March for Our Lives website states. "It's time to turn our energy into action. Join the millions that marched for change, and march with us to the polls this November."
Come out tomorrow for some fun, food, and voter registration! Free barbecue for the first 500 people! #RoadToChange pic.twitter.com/R0LA12gurQ

— March For Our Lives (@AMarch4OurLives) June 16, 2018
The website seeks to recruit "supporters and partners" to advance an agenda that includes blaming the National Rifle Association (NRA) for the mass shootings and targets elected officials who support the Second Amendment's guarantee to protect citizens' right to bear arms.
But while it does not name any supporters or partners, March for Our Lives' mission statement does include language that implies adult involvement and lists demands also promoted by groups and individuals who share the same left-wing agenda.
"March For Our Lives was created by, inspired by, and led by the students of Parkland, but has since curated student allies of all ethnicities, religions, and sexualities across the country," the mission statement states.
The demands include:
— Universal, comprehensive background checks
— Requiring the Bureau of Alcohol, Tobacco, and Firearms (ATF) to have a"digitized, searchable database."
— Taxpayer dollars appropriated to the Centers for Disease Control and Prevention (CDC)  to "research the gun violence epidemic in America."
— Bans on "high-capacity magazines" and "semi-automatic assault rifles."
"The mission and focus of March For Our Lives is to assure that no special interest group or political agenda is more critical than the timely passage of legislation to effectively address the gun violence issues that are rampant in our country," the website states. "We demand morally-just leaders to rise up from both parties in order to ensure public safety."
Since the Florida attack, Breitbart News has reported how left-wing adults — from politicians to activists — have been using the teens' misfortune to advance their agenda, starting with the March for Our Lives rally in Washington, DC, in March.
Breitbart News reported that BuzzFeed News spoke with some of the "major players" behind the rally,  including Everytown and Women's March LA.
The groups told BuzzFeed News they were helping with the logistics, strategy, and planning for the rally.
Giffords, an organization started by former Rep. Gabrielle Giffords (D-AZ) that fights "gun violence," worked with Everytown and Moms Demand Action for Gun Sense in America to plan the main march in D.C. and sister rallies across the country.
A spokesperson for Giffords told BuzzFeed News that it is "lending support in any way the students need, especially helping to operationalize these marches from logistics to programming."
"We applaud these students for demonstrating incredible leadership and demanding that our lawmakers do more to help protect Americans from gun violence," the Giffords spokesperson said in the BuzzFeed News report.
Planned Parenthood and the George Soros-funded MoveOn were also in the mix of left-wing groups behind the rally.
BuzzFeed News reported, "MoveOn said it will encourage its millions of members to follow and promote the March for Our Lives movement on social media and attend the rally" and would help with security and other logistics.
A spokesperson for Planned Parenthood said it is "teaching and hosting trainings" for teens "to keep momentum going so they don't get burned out," BuzzFeed News reported.
At the annual end-of-year peace march in Chicago, organized by St. Sabina Catholic Church, Grammy-winners Chance the Rapper and Jennifer Hudson, along with former U.S. Rep. Gabrielle Giffords, joined the Parkland survivors to launch a bus tour called Road to Change.

The movement will not be endorsing any candidates on the tour. Organizers plan to stop in places that have been affected by gun violence and also areas where there is a strong pro-gun culture.
"The main purpose of this tour is not just to educate people on gun violence and what we can do to prevent gun violence, but is also to register more people to vote," Matt Deitsch, chief strategist for March For Our Lives told NPR.
"We're making voting something that is not just checking a box," Deitsch said. "It's literally you being a hero and you saving lives."
Follow @PennyStarrDC on Twitter