Former President George W. Bush says he's "disturbed" by the immigration debate occurring under President Trump, where after decades, Americans are speaking out against mass immigration to the United States.
During a panel discussion alongside former President Bill Clinton, Bush said the current immigration debate "doesn't recognize" the "valuable contributions" of foreign nationals.
"I'm disturbed by the debate that's taking place because I think it undermines the goodness of America," Bush said. "I think it doesn't recognize the valuable contributions that immigrants make to our society. And it obscures the fact — the rhetoric does — that the system is broken and needs to be fixed."
Since the 1990's, the U.S. has been admitting on average more than 1.5 million legal immigrants to the country every year — the vast majority of which are arriving from Central America and Mexico and are unskilled workers who compete for scarce blue collar jobs with working and middle class Americans.
Trump has sought a merit-based legal immigration system that reduces the number of immigrants admitted to the U.S. every year to about 500,000 and gives priority to those who speak English. This plan is designed to raise the wages of American workers and increase the quality of life for U.S. citizens.
Currently, the legal immigration system to the U.S. prioritizes foreign nationals who have foreign relatives already living in the country. This process is commonly referred to as "chain migration" and it makes up more than 70 percent of all legal immigration to the U.S.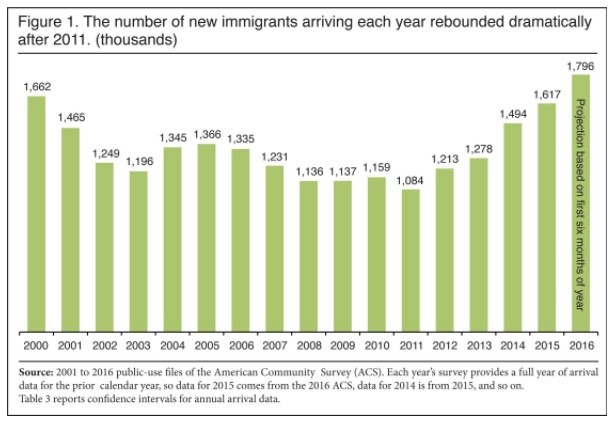 In the next 20 years, Breitbart News reports how chain migration is expected to import between seven to eight million new foreign-born voters, the Center for Immigration Studies (CIS) Director of Research Steven Camarota revealed.
The chain migration importation of eight million new foreign-born voters in the next two decades would be double the size of the annual number of U.S. births; about four million American babies are born every year.
Though Bush remained quiet about public policy during President Obama's tenure, he spoke out in February against the Trump administration seeking to prioritize Americans over foreign nationals in the immigration debate.
At the time, as Breitbart News noted, Bush claimed that the U.S. needs cheap labor immigration from developing nations because there are "jobs that Americans won't do."
"Americans don't want to pick cotton at 105 degrees (Fahrenheit), but there are [migrant] people who want to put food on their family's tables and are willing to do that. We ought to say thank you and welcome them."
Mass legal immigration to the U.S. has come at the expense of America's working and middle class, which has suffered from poor job growth, stagnant wages, and increased public costs to offset the importation of millions of low-skilled foreign nationals.