The House Appropriations Committee has approved a 2019 budget that would fund another 200 miles of border barrier, plus small increases in the number of detention beds and ICE enforcement officers.
The July 19 bill "provides the resources to begin building a wall along our southern border, enhance our existing border security infrastructure, hire more border patrol agents, and fund detention operations," said a statement from Kansas Rep. Kevin Yoder, who chairs the Homeland Security panel of the House Appropriations Committee.
The bill is expected to pass the House but be blocked in the Senate, where the 49 Democrats can block any legislation until the GOP's leadership meets some of their demands. So far, Senate Democrats have bitterly opposed President Donald Trump immigration programs and reforms, especially his plan to build a border wall.
The Senate bill, announced June 19, provides $1.6 billion to build only 65 miles of fencing in the Rio Grande Valley.
Democrats are also being pushed by their left to block funding for domestic enforcement of the immigration laws, even though the "Abolish ICE" goal is very unpopular.
The House bill includes $5.5 billion in an account for building the wall – but also for buying various boats and aircraft, so it is not clear how much can be spent on the wall.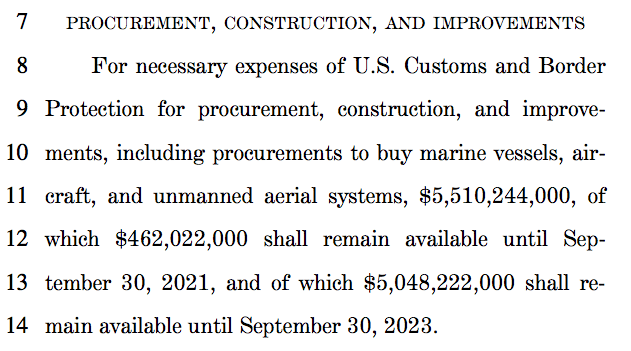 In March, Congress approved $1.6 billion for border fencing in 2018 but added so many conditions and additional spending priorities that the bill actually funded only about 50 miles of new border fence.
The Senate bill for 2019 also denies Trump's request for funding to keep 52,000 detention beds for illegal migrants and denies extra funds to hire 3,300 new ICE enforcement officers. Instead, it funds the 2018 level of 40,520 detention beds.
The House bill funds a small increase in detention beds — up to 44,000 — and allows for the hiring of just 400 new iCE officers.
According to the House committee, the 2019 bill includes extra funding for the two primary border enforcement agencies.
Customs and Border Protection (CBP) – The bill contains $17.8 billion in discretionary appropriations for CBP – an increase of $3.8 billion above the fiscal year 2018 enacted level. These resources ensure our borders are protected by putting boots on the ground, improving infrastructure and technology, and helping to stem the flow of illegal goods both into and out of the country. Within this total, the legislation includes:

$5 billion for border security assets and infrastructure, for over 200 miles of new physical barrier construction along the southern border and $126 million for border technology.
$223 million for new non-intrusive inspection equipment and 140 new CBP canine teams to initiate a five-year strategy towards achieving 100 percent scanning on the southern border.
375 new CBP Officers above the request.
$108 million specifically for opioid detection at international mail and express consignment facilities.
$142 million for new aircraft and sensors to include one new large unmanned aircraft system and three multi-role enforcement aircraft.

Immigration and Customs Enforcement (ICE) – The bill provides $7.4 billion for ICE – $328 million above the fiscal year 2018 enacted level. Within this total, the legislation includes:

$78 million to hire over 400 additional law enforcement officers and support staff.
$1.9 billion – an increase of $275 million above the requested level – for domestic and international investigations programs, including efforts to combat human trafficking, child exploitation, cybercrime, visa screening, and drug smuggling.
$4.1 billion for detention and removal programs, including 44,000 detention beds, an increase 3,480 beds over fiscal year 2018.