U.S. companies will be able to outsource even more healthcare jobs via the little-known L visa program if Kansas GOP Rep. Kevin Yoder successfully removes "country caps" from the green-card rules, say immigration experts.
White-collar outsourcing "is terribly problematic for college graduates because these changes will lead to the displacement of Americans who are doing these jobs now, in the same way which happened in the technology sector," said Jessica Vaughan, policy director at the Center for Immigration Studies. The outsourcing "is guaranteed to expand into healthcare, financial services, teaching ….  perhaps the legal field."
"A lot of this is about American employers doing what they can do to get the cheapest workers," said Rosemary Jenks, government-relations director at NumbersUSA.
Roughly 1.5 million visa-workers already are holding U.S.-based college-graduate jobs after getting work-permits via the H-1B, L-1, OPT and J-1 visa-worker programs. Many of those resident Indian visa-workers are funding their own advocacy campaigns — such as Immigration Voice — to change immigration rules so they can also get green cards and citizenship.
Leon Fresco, the immigration lawyer and former Democratic staffer and official who is helping the Indians lobby against the country caps, says outsourcing will not rise if Yoder's plan is approved by Congress."My contention is … there are as many [outsourcing workers] here as there ever will be," he told Breitbart News.
Yoder's country-caps amendment was approved July 25 even without an on-the-record vote by the GOP-run House appropriations committee, and it is being applauded by firms which prefer to hire cheap Indian college-graduate workers instead of young American graduates.
Yoder's green-cards amendment was included in his 2019 homeland security appropriations budget which also revived President Barack Obama's catch-and-release program, expanded the H-2A and H-2B visa-worker programs and denied budget-increases for enforcement agencies.
That package was indirectly slammed by President Donald Trump, who tweeted:
We must have Border Security, get rid of Chain, Lottery, Catch & Release Sanctuary Cities – go to Merit based Immigration. Protect ICE and Law Enforcement and, of course, keep building, but much faster, THE WALL!

— Donald J. Trump (@realDonaldTrump) July 30, 2018
The U.S. government accepts 1 million green-card legal immigrants each year, including 140,000 people sponsored by companies, just as four million Americans turn 18 and begin looking for jobs.
The award of the 140,000 "Employment-Based" green cards which are sponsored by companies must comply with a "country cap" rule. The cap rule says that no more than 7 percent of the 140,000 green cards can go to people from any one country.
In practice, the cap means that only 23,000 people per year from India can get green cards — even though India is by far the largest source of mobile English-speaking outsourcing labor. India's population of 1.35 billion is four times larger than the United States' population of 317 million, not counting 11 million illegal immigrants in the United States.
Many U.S. employers recruit college-educated, English-speaking outsourcing workers from India, so there is now a huge population of Indians working in the United States. They are visa-workers, not immigrants, but their employers often sponsor them for the green cards because they want to avoid returning home or to become legal immigrants. This Indian rush for green cards bumps up against the country caps, and so has created an apparent backlog of 600,000 Indian workers and family members, which will take decades to clear away under current country-cap rules.
Yoder's July 25 amendment to the 2019 appropriations bill kills the 7 percent country-cap as an unfair form of national discrimination. It is discrimination, he argues, because Indians have to wait decades for green-cards while companies can get green cards for some non-Indians in a few months:
Mr. Chairman, that is discriminatory, it is wrong, it is unjust, and we have a chance here today in this committee in a bipartisan way to put a stop to that, to make this a first-come, first served basis and to quit this horrible discriminatory practice.
If the cap is removed, the 600,000 Indian visa-workers and family members — plus up to 200,000 backlogged Chinese and Filipinos — will be placed at the head of the green-card line, while all other applicants wait for several years.  "Just imagine the ethnic train-wreck which will occur… What are all the ethnic lobbyists going to do when for six years no-one gets an EB [green] card unless they are from India," said John Miano, an immigration lawyer.
Miano quit the software business in the 1990s when American companies reduced the hiring of freelance American software-experts in favor of hiring people via the Indian subcontractors.
Removing the cap would also force U.S. employers to wait five or six years to get green-cards for recruits from other countries, Miano said. "If this passes, it will impossible [for employers] to sponsor a worker as a [direct] immigrant … it forces everyone to be a visa-worker before being an immigrant."
Most importantly, Yoder's removal of the country cap will also allow U.S. and Indian outsourcing companies to annually sponsor up to 140,000 Indian visa-workers for green-cards per year.
This promise of more green cards for Indians will allow companies to recruit more Indian workers for very low-wage visa-worker jobs in the United States, so dragging down salaries for Americans, Jenks said:
Obviously, [citizenship] is valuable to them because they're already willing to take lower wages [than Americans], work longer hours, be shuffled around in contract jobs and be willing to displace Americans workers. What is more valuable than American citizenship?"
The promise of green cards is also driving the Indian push to change the law, she said:
Look at who is pushing for it. It is not American workers at all pushing for it — it is foreign workers who want to stay in America. If that's the case, the obvious desired outcome is for more foreign workers to stay in America doing Americans' jobs.
The low wages acceptable to the Indians — plus the promise of a quick green-card — will help the companies hire more Indian recruits to win more U.S. outsourcing contracts from a wide variety of U.S. banking and insurance firms, from airlines and ocean cruise companies, and from engineering and fast-food firms, said Miano.
Also, if the green-card timeline is kept short, it will allow firms to offer green cards to participants in the uncapped L-1 visa program, not just to H-1B workers, Miano said. H-1B workers can get repeated extensions to their H-1B visas while they work in the United States, but L-1 visa-workers have to go home after seven years, for at least one year.
"The computer industry has been colonized [by Indian companies] at this point — it is unbelievable and our leaders have no idea how bad it has gotten," Miano said. If the companies can promise quick access to green cards to more recruits, I think they will move into other sectors," he said.
That trend clashes with one of Trump's major priorities — that employers should "Hire American."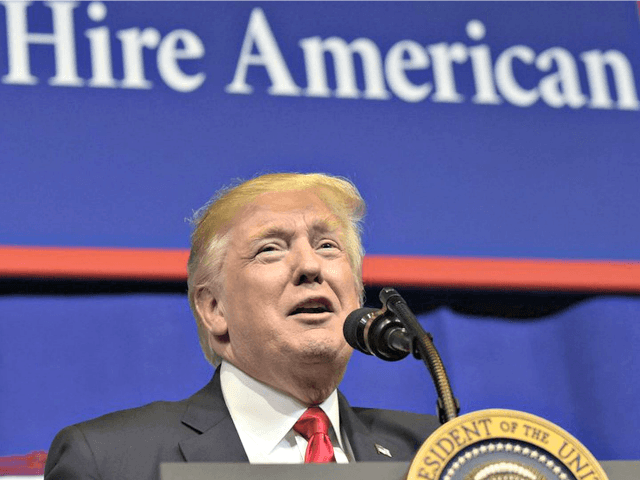 The outsourcing companies target U.S. jobs which require little contact with Americans, and jobs where much of the work can be done in India, Miano said. One clear target for additional outsourcing is accounting where a corps of U.S.-based, English-speaking outsourcing workers could also be used to outsource more work to U.S.-based and India-based workers, he said. Back-office work at hospitals are another obvious target, he said.
In 2017, for example, the federal government approved requests by U.S healthcare-outsourcing companies for 8,256 H-1B visas, according to federal data presented by MyVisaJobs.com:

The visa-workers were slated for jobs in many states, including New York and Massachusetts. The jobs included therapists, dentists, doctors, and pharmacists. Many of the employers are non-profit universities and hospitals, which are exempt from the 85,000-a-year cap on H-1B visas.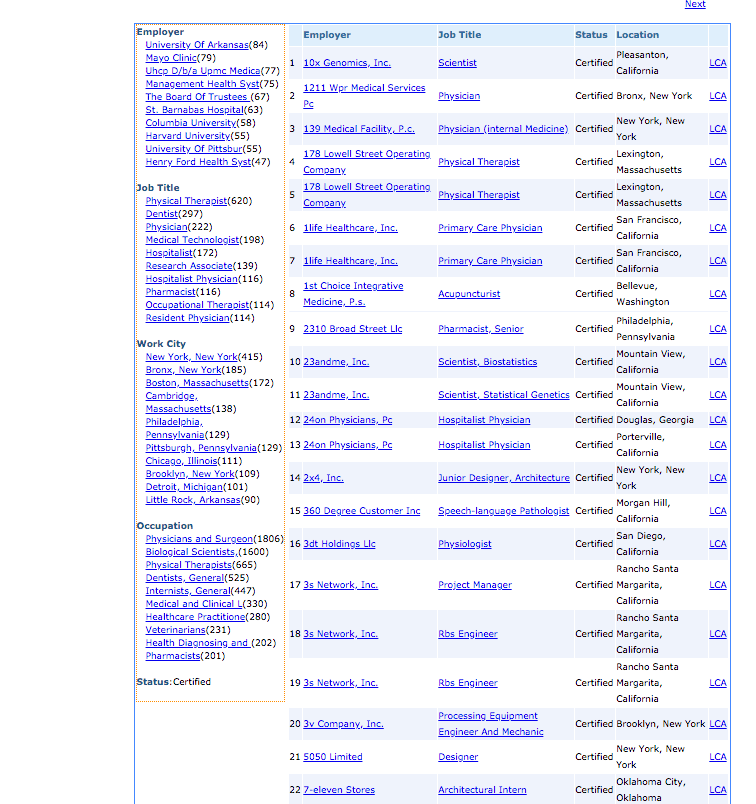 For example, Management Health Systems is a Florida-based company which imports H-1B visa-workers to replace American physical therapists: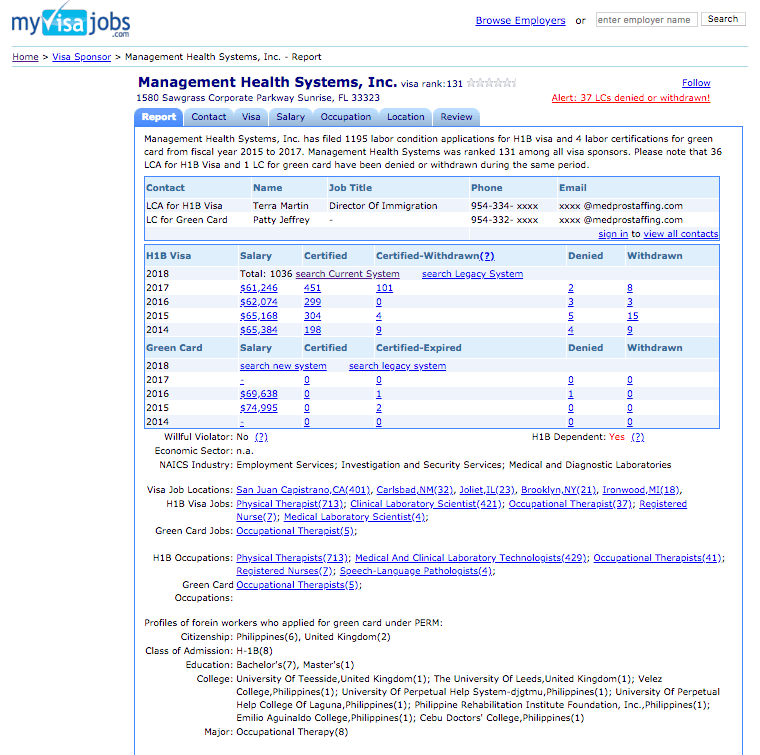 The firm promised the federal government it would pay its imported therapists a salary far below the current average salary of $69,482.
In 2017, outsourcing companies asked for 146 H-1B for healthcare jobs in Yoder's Kansas, according to MyVisaJobs.
MyVisaJobs also showed that companies and universities put an additional 2,984 healthcare visa-workers — including 1,102 Indians — into the green-card line during 2015: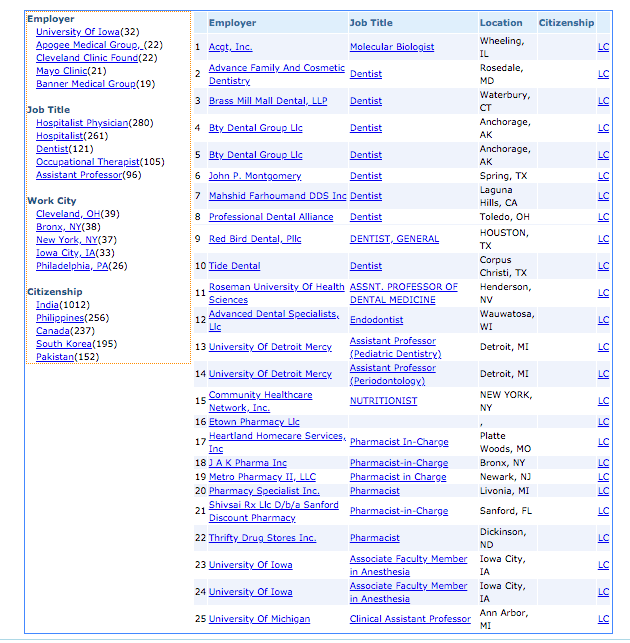 Business-backed migration advocates are claiming that the U.S. healthcare sector needs more immigrant workers, even though many Americans want well-paid jobs in the sector: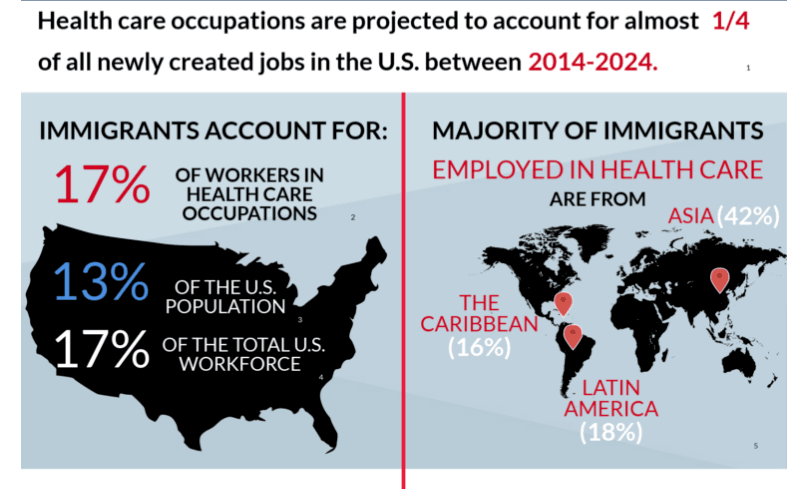 Multiple industry groups have backed Yoder's amendment. One group is FWD.us, an advocacy group for Silicon Valley investors, including Mark Zuckerberg, and it pushes for greater use of foreign white-collar labor:
NEW on our blog: Analysis of the House Appropriations Committee's FY2019 DHS Appropriations Bill, which included amendments addressing DACA-recipients, asylum-seekers, and employment-based immigrants https://t.co/WY99G8lnfy

— FWD.us (@FWDus) July 31, 2018
The FWD.us group supported Yoder's amendment, saying:
The amendment, which was approved by the Committee on a voice vote, aims to reduce the green card backlog for highly-skilled immigrants and help individuals and families caught in decades-long backlogs based on where they were born, and which keep their lives in limbo. The bill on which the amendment is based, H.R. 392, has over 300 bipartisan co-sponsors and is the most popular bill in Congress.

The bill is an important proactive step toward protecting our legal immigration system and making life easier for tens of thousands of hardworking people, while boosting our economy and helping to create American jobs. This is particularly critical given the Trump Administration's continued efforts to restrict even legal immigration pathways to the United States, making it more challenging and burdensome.
A D.C.-based group which tracks lobbying, Open Secrets, shows 122 lobbying reports by people working on Yoder country-cap legislation, which is titled "H.R.392: Fairness for High-Skilled Immigrants Act of 2017." At least 12 of the report were from people associated with health-care businesses.
Industry's lobbying for cheap visa-workers has been successful in helping minimize wage-growth for U.S. professionals: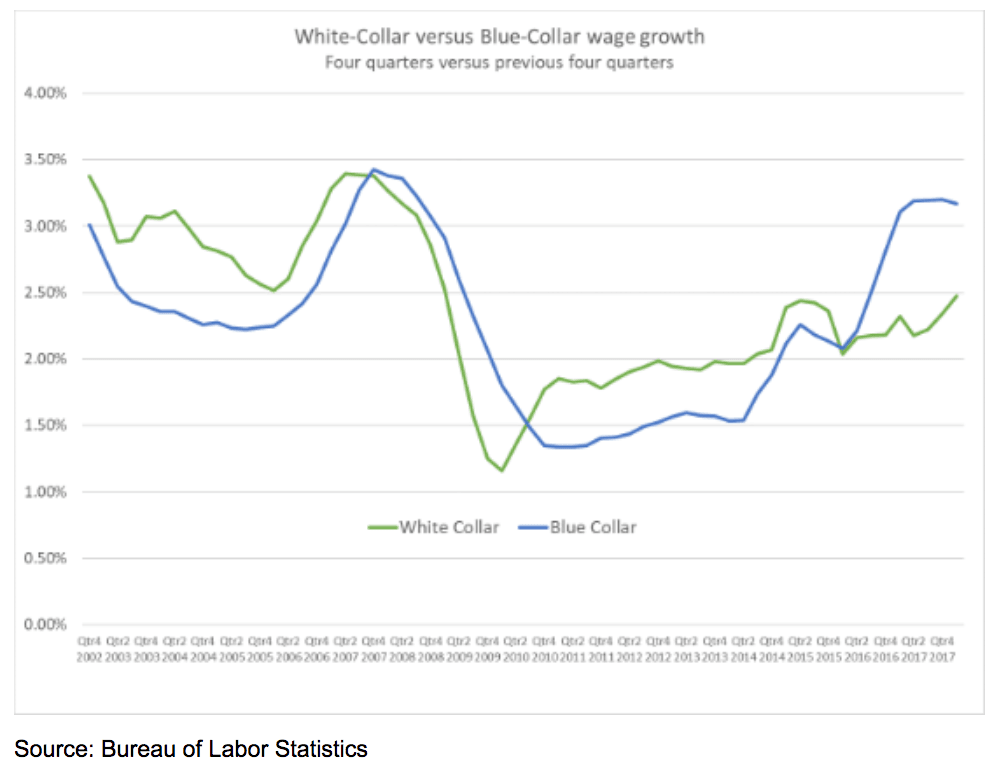 Most of the Indian visa-workers arrive in the United States via the H-1B program, which brings in about 100,000 workers each year and keeps a population of between 460,000 and 900,000 workers in the United States. The H-1B program is not growing, partly because the annual inflow for companies is capped at 85,000, but also because officials are pushing Trump's "Hire American" policies.
The uncapped Optional Practical Training program kept roughly 266,793 foreign graduates in U.S. jobs during 2017 and is growing rapidly because it is a cash cow for universities and for companies. The 266,793 number is based on data provided to Breitbart News by the Department of Homeland Security:

The chart shows that 148,889 foreign graduates got 12-month OPT work-permits in 2o17 and that an additional roughly 117,904 students had three-year "STEM OPT" work-permits for technology jobs in 2017. Many of these "STEM OPT" workers will join the H-1B program when their OPT permits expire.
The J-1 program imports many foreign doctors for training, partly because U.S. doctors groups oppose greater federal support for U.S. doctor-training internship programs in the United States.
The uncapped L-1 visa program keeps a population of more than 300,000 workers in a variety of U.S. jobs, but federal agencies provide very little information about their numbers, locations, and jobs. A cautious 2017 study by the Economic Policy Institute says the population of L-visa workers in 2013 was 311,000. Department of State data says that 78,000 L-1 workers were issued visas in 2017, suggesting a resident population of roughly 400,000 L-1 visa-workers. Also, almost 60,000 L-1 workers got green cards between 207 and 2013, said the report. The visa program also provides work-permits to L-1 workers' spouses, many of whom also work in white-collar jobs.
Industry lobbyists have made repeated efforts to sharply raise the inflow of foreign white-collar workers, such as the 2012 "Gang of Eight" amnesty bill, and Sen. Orrin Hatch's "Innovation Squared" proposal. That proposal would allow an unlimited number of foreign college-graduates to get jobs in the United States.
But Yoder's country-caps amendment won't expand outsourcing in the United States, says Fresco, the political advisor to the Indians' lobbying group, Immigration Voice.
The amendment won't expand outsourcing because the H-1B program is capped, and candidate workers for the uncapped L-1 program are screened by officials at the State Department and the Department of Homeland Security, he said. For example, companies won't be able to use the offer of more green cards to recruit even cheaper L-1 workers because the low-ball salaries would violate the L-1 rules, he said:
How you can you say "I'm paying my [L-1] executive $30,000" or someone with "specialized knowledge" for $30,000? That won't work.
Some companies and individuals may lie to hide the low salaries they pay their visa-workers, he said, but agency officials "check the W-2s so you'll never get to the green card stage if you lie during that [L-1] process."
"The status quo will prevail … [because companies] have already lowered [the salary level] to the minimum possible in order to get visas," he said.
But outsourcing companies have some freedom to pay very low wages to L-1 workers. In April 2017, the Department of Homeland Security DHS  rejected a company's plan to place a Malaysian engineer in an Oregon job at a salary of $13,468 in home-country currency, and instead required that all L-1 visa-workers be paid at least minimum wage:
If the [immigration offical] determines that the total compensation offered meets or exceeds the required minimum wage, but that compensation is significantly lower than the Beneficiary's peers or the particular industry, the Director may also consider that fact when re-evaluating the totality of the evidence relating to the Petitioner's specialized knowledge claim.
In addition to deep-seated nepotism, U.S. officials have reported extensive fraud by Indians the H-1B programs. "In the 18 months prior to the start-up of consular operations in Hyderabad, FPU Chennai investigated 150 companies in Hyderabad, 77 percent of which turned out to be fraudulent or highly suspect," said one 2009 U.S. embassy report from India.
In 2013, a company in California "paid several employees from India as little as $1.21 an hour to help install computer systems at the company's Fremont headquarters," the San Jose Mercury News reported in 2014:
Some employees worked up to 122 hours a week. The unlawful employment began Sept. 8, 2013, and concluded Dec. 21, 2013 …Investigators from the division's San Jose office learned that the technicians were flown in from the employer's office in Bangalore, India.
Congress should stop Yoder's changes until they study the likely consequences, said Miano. "Legislators make changes to the nation's immigration laws changes with almost zero understanding," Miano said.
For example, in 1990, Congress said H-1B temporary workers could become immigrants, and in 2000, Congress said H-1B workers could get visa extensions until they receive a green card. Those two decisions carelessly converted the H-1B program for temporary workers into a mechanism for Indian companies to dominate the supply of workers into the U.S. software industry, he said.
Also, the Indian backlog exists largely because Congress briefly expanded the H-1B program in the 1990s and 2000s, causing a delayed surge of Indian green-card applicants that clogged the green-card line, said Fresco. "It is a pig-in-the-funnel problem … [and] that is what actually caused the problem."
Now, Yoder's plan to removing country caps would "make it easier to use the green card as an inducement for people to become workers through the [uncapped] L-1 program," he said.
When dealing with immigration, said Miano, "politicians cannot think one move ahead … [and] Yoder can't even imagine anything beyond the [existing] backlog."
Silent sufferings of legal immigrants is so subtly captured in this Vice News article. I hope congress takes notices and does somethinghttps://t.co/lf8vPSCJGM pic.twitter.com/ngJYbQycA8

— #HR392-fairness 4all (@pp2014gc) December 10, 2017