The government should allow farm companies to import an army of minimum-wage foreign workers to pick and process the fruits preferred by upper-income consumers, according to an op-ed in the Washington Post.
The article was posted by editors working for Jeff Bezos, the owner of Amazon Corp. and the Whole Foods Market grocery chain, who is also the world's richest man.
The op-ed, "Our fruit is rotting in the trees as laborers are kept out of the country," was signed by Bruce Talbott, who co-owns Talbott's Mountain Gold, which is an orchard and fruit-processer in Palisade, Colo.
Talbott wrote his article with support from the billionaire-created "New American Economy" group which lobbies for laws which import more customers, workers, and renters. The NAE founders, including Michael Bloomberg, Rupert Murdoch, and other billionaires, support the proposed H-2C visa-worker program which would bring in roughly 1 million cheap workers for the farming and meat-processing sectors. The group also wants to raise the inflow of foreign college-graduates into U.S. jobs.
Talbott wrote:
We lack an efficient, farmer-friendly guest-worker program. The current one for temporary H-2A visas was created more than three decades ago; it's outdated and can't cope with increasing demand for workers. The labor shortage is so severe that farmers have overwhelmed the system, which had to issue nearly 135,000 visas for seasonal agricultural workers in 2016. That's nearly double from five years ago.

It's also expensive. In addition to wages, farmers have to pay, on average, $2,500 per worker every season in visa-processing fees, transportation and housing costs. Yet every year since 2014, there have been delays. According to the American Farm Bureau Federation, 72 percent of growers said that workers arrived, on average, 22 days after the "date of need." When workers arrive late, crops are lost.
The current H-2A visa-worker program is also inadequate, Talbott said, because it denied him just one of the 42 visa-workers he sought in 2018 and delayed the arrived of eight other workers:
In our case, I requested 42 workers this year, but eight were delayed more than five months, and one was denied altogether. We tried bringing in workers from out of state or hiring labor contractors, but neither of those efforts was successful.
The article declines to say what wages Talbott offered to persuade Americans to work in his fields and fruit-processing facility.
To get his cheap labor, Talbott wants Congress to create the draft H-2C program, which would allow farm companies to pay their workers less than workers hired under the current uncapped H-2A visa-worker program. The H-2C program would also end the H-2A requirement that employers pay their workers'  transport and accommodation costs.
According to Talbott's op-ed in the Washington Post:
The attempt [to create the H-2C program] by Rep. Bob Goodlatte (R-Va.), which failed this summer, was a good start. But the Western Growers lobby rightly opposed it, saying it didn't adequately protect undocumented workers who had been living and working in the United States for decades. Lawmakers must quickly revisit this issue when they return from their August recess.
The H-2C program would create massive visa-worker labor force in American agricultural states, so dragging down salaries for Americans and legal immigrants.
The recruitment of farm labor in the United States is difficult because other U.S. employers offer higher wages than offered by fruit farmers who face growing foreign competition from cheaper-labor rivals.
Also, many – but not all — U.S. fruit companies have been reluctant to develop labor-saving machinery, and prefer hand-picking of fruit by cheap labor.
The H-2C bill is also stalled because the Western Growers Association says it wants Congress to also provide its army of illegal workers amnesty, residency, and citizenship.
GOP leaders have said they plan to push the combined E-Verify and H-2C package through the House after the August break.
The farm industry's push for more cheap labor comes U.S. customers buy more fruit from cheap-labor suppliers in Mexico and other poor countries. For example, Mexico supplies almost half of U.S. fruit imports, partly because Mexican employers can pay their workers far less than the American minimum wages. In response, many American fruit companies have created farms in Mexico to use the cheap Mexican labor.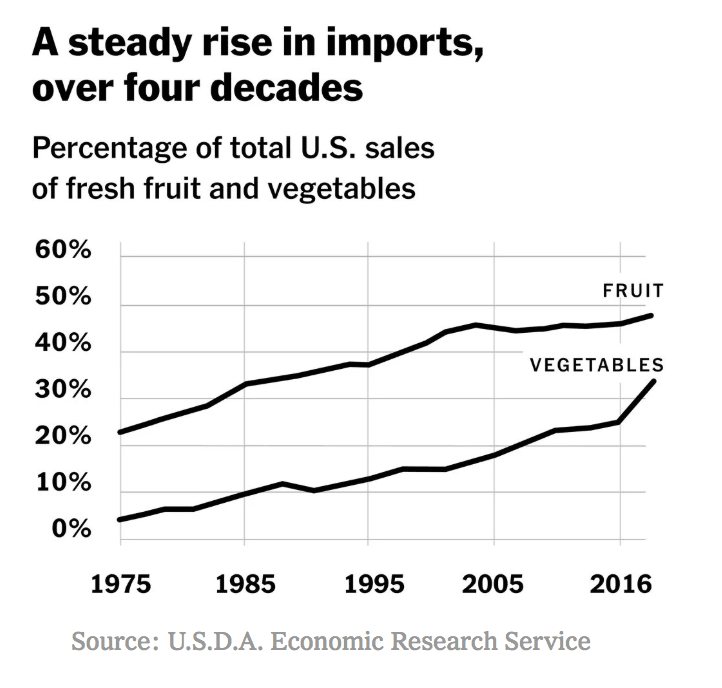 According to the New York Times:
the proportion of the imported fresh fruit eaten in the United States rose to 53.1 percent in 2016, from 23 percent in 1975, according to the Agriculture Department's Economic Research Service. Fresh vegetable imports rose to 31.1 percent from 5.8 percent. (Still, the United States remains a net agricultural exporter, with grains, soybeans, meat and nuts accounting for most of the trade surplus.)

Greater availability has led to a huge increase in per-capita consumption of many crops, including mangoes (up 1,850 percent from 1975 to 2016), limes, avocados, grapes, asparagus, artichokes and squash. Yet consumption has fallen for other crops — like peaches, oranges, cabbages and celery — that are still primarily grown in America …

Whatever the drawbacks or advantages, imports are likely to continue growing. According to a recent Agriculture Department report, fresh produce imports will rise 45 percent from 2016 to 2027, implying that a decade from now, three-quarters of our fruits and almost half of our vegetables will be imported.
The Post's decision to print Talbott's demand for an army of cheap temporary foreign workers reflects the newspaper's continued support for cheap-labor migration. In March 2018 article about the meatpackers' shortage of low-wage workers, a Post reporter wrote:
finding workers remains a perpetual struggle. JBS USA, a Brazilian conglomerate that now owns the plant … survived by finding a different set of foreigners to do jobs that used to be filled by illegal workers: refugees …

"We don't really see American people in these jobs," said Lian Sian Piang, 34, a meat quality inspector and ethnic Chin who ran away from conscription in the Burmese army as a teenager, living for years in a Malaysian refugee camp. During his 10 years at the Cactus plant, he said, he has seen only "two or three white guys" cutting meat …

"The Administration has made a concerted effort to grow the economy and help businesses thrive through tax reform and a common-sense approach to regulation," [JBS spokesman Cameron] Bruett said in a statement. "We believe it will adopt a similarly pragmatic approach to workforce availability in agriculture and other labor-dependent sectors."

It was an acknowledgment that a remedy for the labor shortage — "workforce availability" — would come from abroad.
The Post's endorsement of industry's low-wage/high-immigration strategy is a notable development, partly because the media has long prided itself as "muckrakers" and opponents of worker exploitation. In fact, many American journalists point to Upton Sinclair's 1905 book about the meatpacking industry, "The Jungle" as an inspiration to their careers.
U.S. companies also keep a population of roughly 1.5 million foreign college-graduates in U.S. jobs sought by American college graduates.
This video shows the low-tech operations at Talbott's farm:
High-tech apple picking in high-wage Germany, likely for apple juice: