America's working class is benefitting the most when President Trump tightens the country's labor market through illegal and legal immigration controls, new data reveals.
Bureau of Labor Statistics data outlined by American Enterprise Insitute (AEI) scholar Michael Strain reveals the extent to which working-class Americans are benefitting in the Trump economy.
For example, the bottom ten percent of American workers were delivered 4.5 percent wage growth in their usual weekly earnings in 2017, which is more than double the wage growth that the country's top ten percent of American workers saw.
In 2018, working-class Americans are continuing to see more wage growth than the top ten percent of workers in the American labor market.
Likewise, Americans without a high school degree have seen their wage growth jump nearly 6.5 percent in 2018 thus far, the largest hike among all educational demographic groups.
The median usual weekly earnings of workers who didn't complete high school grew faster than 6 percent in 2018, significantly outperforming all other education groups. In 2017, this group of workers also saw the fastest growth in weekly earnings. pic.twitter.com/5JGav4WYOm

— Michael R. Strain (@MichaelRStrain) October 29, 2018
The Trump administration has sought to increase wages for America's working and middle class by reducing the inflow of more than 1.5 million mostly low-skilled foreign workers who are admitted to the country every year.
This importation of low-skilled illegal and legal foreign workers has left the country's bottom line of workers with stagnant wages since the 1970s and forces them to compete with foreign workers for blue-collar jobs.
Last year, the Trump administration successfully increased the number of deportations of illegal aliens living across the U.S. — oftentimes holders of blue-collar jobs that could otherwise go to working-class Americans — by nearly 40 percent.
More specifically, Trump has doubled worksite immigration enforcement, deterring businesses and employers from hiring cheaper illegal aliens over Americans. Between October 2017 and May 2018, the Immigration and Customs Enforcement (ICE) agency opened 3,510 worksite immigration investigations, initiated 2,282 immigration audits, and made 594 criminal and 610 administrative worksite-related arrests.
As Breitbart News's John Carney has noted, reducing legal immigration to the U.S. — by signing the RAISE Act into law — would greatly hike wages for America's working and middle class. Carney's economic analysis found that if legal immigration levels were cut to about 600,000 admissions a year, growth domestic product (GDP) would be about $61,500 per person.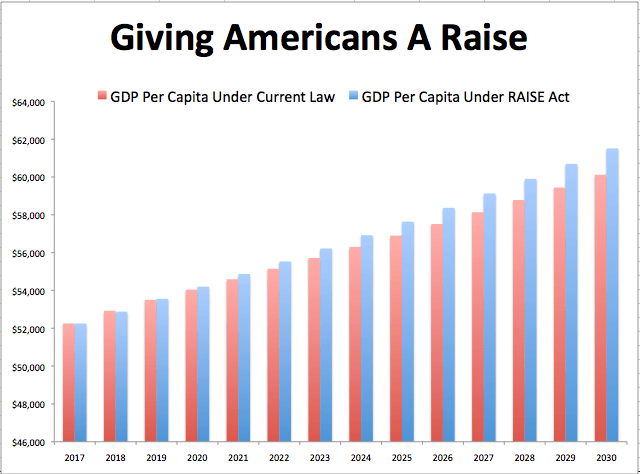 Most recently, the tight labor market helped reintegrate retirees back into the workforce. Breitbart News has also reported extensively on how the tight labor market in Trump's "hire American" economy has brought new job opportunities for Americans with disabilities, helped lower the demographic group's unemployment rate, and drove multinational corporation Amazon to raise hourly wages for their workers to $15 an hour.
There has also been history-making wage growth for American workers in the construction industry, the garment industry, for workers employed at small businesses, black Americans, and restaurant workers.
The tight labor market has also secured higher wages for overtime workers and high-paying, coveted white-collar jobs for American teenagers. Breitbart News reported that the construction industry has had to recruit women to take jobs at higher wages rather than hiring illegal aliens. A Chick-Fil-A in California has even raised wages to $18 an hour to retain workers.