On Tuesday, during a visit with Gov. Chris Christie to the Jersey Shore, President Barack Obama went 0-for-5 throwing a football in an arcade game, while the New Jersey Republican nailed a touchdown on the first toss.
President Obama often boasts about his passion for sports. He is an obsessive golfer, and played basketball on a state championship team in high school. Yet when called to perform, his skills and knowledge often disappoint. 
Here are President Obama's other major sporting disasters, in chronological order.
Bowling: 37 – March 2008
On the campaign trail in Pennsylvania, then-Sen. Barack Obama bowled an incredibly awful 37. He later compounded the damage by referring to his performance as worthy of the "Special Olympics."
Baseball: Wild Pitch – April 2010
President Barack Obama, wearing a White Sox baseball cap with a Washington Nationals jacket, threw the ceremonial first pitch at a Nationals game–a floating arc so far off the mark it would have gone over a batter.
Shooting: 'Skeet' – January 2013
Obama claimed, for the first time, that he went skeet shooting "all the time." The White House backed the claim up with a photograph–in which the president was probably not skeet shooting, as Liz Sheld explained.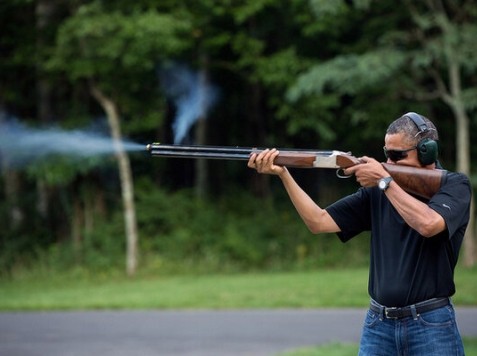 Basketball: 2-for-22 – April 2013
The president invited children to join him on the White House basketball court–and promptly missed nearly every single shot he attempted, including a lay-up. Even the mainstream media could not ignore his "bricks."
Honorable Mention: Losing at Golf – May 2013
On this occasion, the president was somewhat unlucky: Sen. Saxby Chambliss (R-GA) scored a hole-in-one to lift his GOP pair over Obama's Democratic team. Something about the president inspires his opposition. (File photo)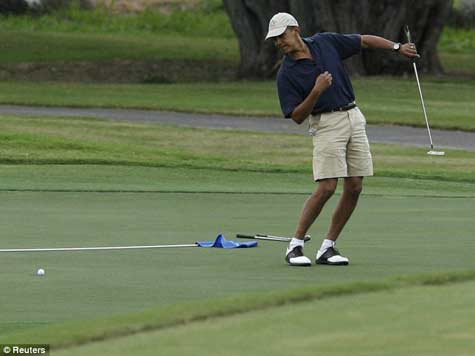 It would be unfair to the president not to acknowledge his great–and so far, only–sporting achievement on the national stage: a three-point shot that he drilled while visiting the troops in the Middle East in 2008.