Fifteen years ago, a drunk driver left Ben Rothwell for dead. The Kenosha cage fighter–34-9 in mixed-martial arts (MMA), 1-0 against the Grim Reaper–now fights for a shot at the UFC heavyweight title.
The long, rocky road to stardom started on the road to his parents' house. "He was driving a Ford 250," Rothwell remembers. "I was driving a Hyundai Elantra. I didn't stand much of a chance."
Tomorrow looked bright the day Ben Rothwell went dark. Three weeks earlier, the 17-year-old had entered, and won, his first amateur MMA tournament. In Cedar Rapids that summer, he witnessed his future at UFC 21, meeting several fighters and hearing his life's calling over the roar of the crowd. After screwing around in high school, martial arts had screwed Rothwell's head back on straight. He was coming from a good place, literally and figuratively, that terrible night.
"We were coming home from, of all things, a church festival," Rothwell tells Breitbart Sports. "I was turning into my driveway at my parents' house. He was driving a Ford 250 approximately 110 miles-an-hour. He knocked down a tree. On that impact, my friend was on the wrong side." The crash sent Rothwell into a coma, broke several ribs, and left his head battered. Ben's buddy wasn't so fortunate, subsequently dying from his injuries.
The car that killed Ben's friend stopped. Passengers swiftly surveyed the scene. And just as hastily, they departed it. They unwittingly left a souvenir from their death ride for the police. Rothwell notes, "The license plate fell off in my yard."
At 17, after being abandoned on the side of the road, Ben faced a crossroads. "I was desperately searching for something," the heavyweight remembers. "I knew then what I know now. I knew I was going to be one of the best fighters in the world. To not show the world that–it bothered me so much. As hurt as I was, I got back into training." 
In 2001, less than two years after surviving a deadly automobile accident, Rothwell debuted professionally. He coaxed a first-round corner stoppage after administering punishment. "I was happy making a $1,000," the 260-pounder reminisces about his early fights on the MMA circuit. He fought for low to next-to-no pay and made ends meet working in a body shop, in construction, and waiting tables. Not until 25 fights into his career, when the pay enabled him to quit his day jobs, did Ben consider himself a professional. He made $10,000 knocking out Dan Bobish in Columbus, Ohio in 2006. "Guys are complaining about working 40 hours a week," Rothwell says of up-and-coming MMA fighters. "Cry me a river. I paid my dues."
After wins over Krzysztof Soszyński, Roy "Big Country" Nelson, and former UFC heavyweight champion Ricco Rodriguez in the International Fight League, Rothwell heard the UFC's call. His up-and-down performances in the promotion's violent and volatile heavyweight division made him a decided underdog earlier this month against Alistair Overeem, a hulking Dutchman owning dominant victories over Brock Lesnar, Frank Mir, and Fabricio Werdum. Rothwell had faced long odds before.
Overeem would look comfortable on the cover of Muscle & Fitness; Ben, on a tractor shirtless wearing overalls. Whether based on their body of work or their bodies, pundits counted Ben Rothwell out before he even stepped in the octagon with Overeem. He insists, "I've got to be the guy who shows everyone: don't judge a book by its cover."
When the pair meet in the octagon on September 5, Overeem initially affirms the predictions of commentators with jabbing kicks to Ben's legs, a knee to Ben's midsection, and several punches that crash into Ben's face. After Big Ben awkwardly blocked an Overeem kick, both fighters assume it broken. Without the cage fighting allowing timeouts or substitutions like other sports, Ben did what he has always done: fight. About the busted-up limb, Rothwell believes: "Everything happens for a reason." Sensing his opponent's right side vulnerable, Overeem went to work. Rothwell explains, "He claims he heard the snap, which enticed him to throw his left, which led me to throw my right." Rothwell landed a massive overhand right to the side of the head which felled the former Strikeforce champion. Ben followed him to the mat with hammerfists that convinced referee Keith Peterson to call a halt. The same right arm unanimously believed broken by the combatants dramatically delivered the knockdown blow.
The Wisconsin contingent that traveled to Foxwoods Resort Casino for the fight erupts. Big Ben dances an awkward jig. His wife, seated behind press row, fights back tears of joy when her husband dedicates the victory to her. "She was fighting too," Rothwell tells Breitbart Sports. "She put in as much into my training camp as I did."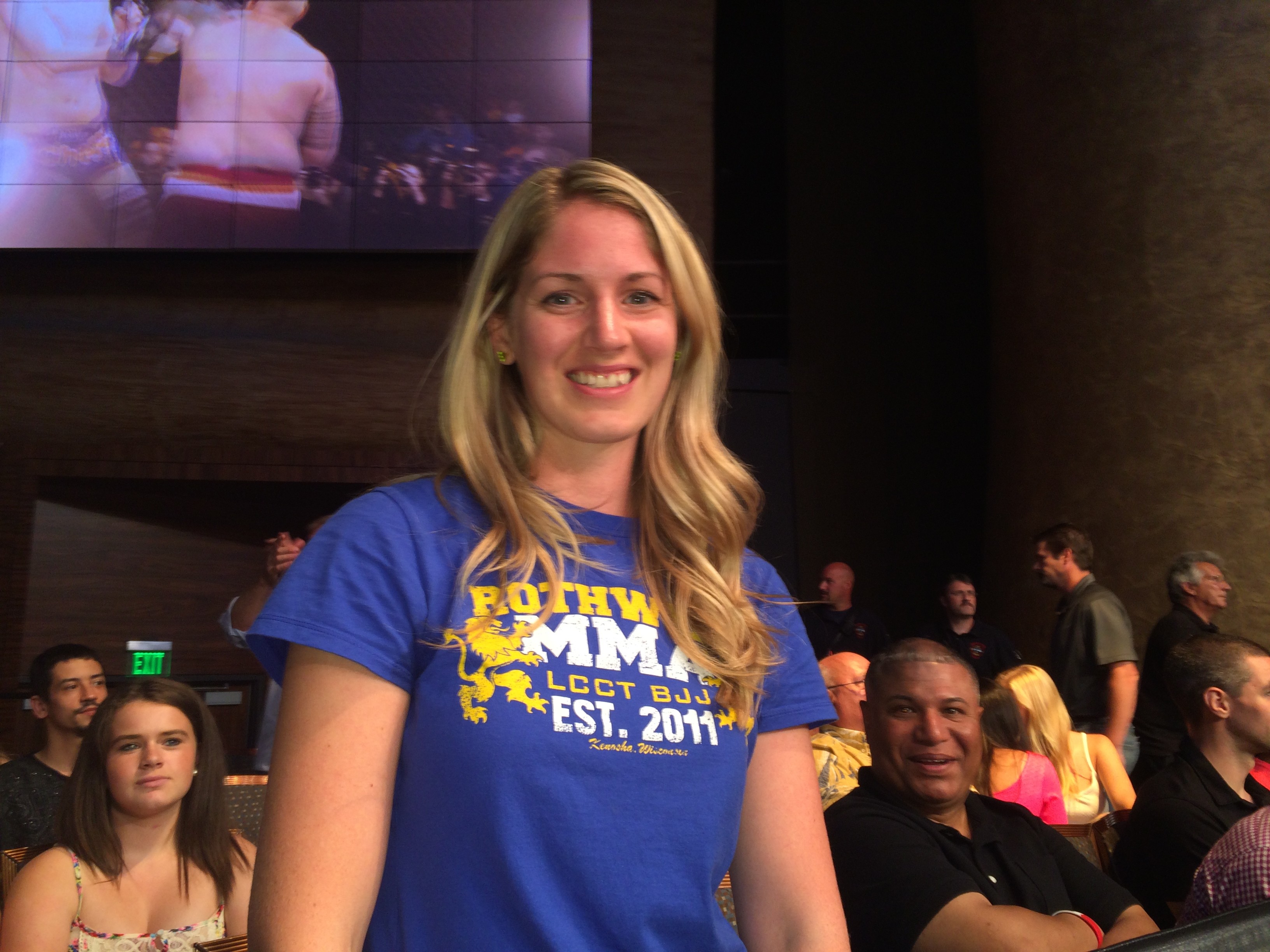 And the training partners and fighting enthusiasts in attendance from Rothwell MMA appear only slightly less overcome than Ben's wife. "That's why they're there," the gym's namesake explains. "I built a gym based on a family atmosphere. It's positive energy. I believe in it."
That positive energy, adrenaline in the victor's case, helped fuel Ben after his body tried to hit the brakes. "After the fight, I had some pretty weird looking swelling," Rothwell explains. "The doctor there immediately said it was broken." But an x-ray overruled the assessments of the two professional punishers and the one professional healer. "I've got strong bones."
The Badger State brawler, and a considerable number of those covering the sport, figure he stands one win away from a championship fight. "The fight that intrigues me the most, the only fight that I want is JDS," Rothwell tells Breitbart Sports. "Beating [Junior Dos Santos]," he gathers, "there's no dispute. To me, that's the only fight that makes sense." Should injuries or matchmakers prevent the only man to knock out Cain Velasquez from knocking on Rothwell's door, he sees another up-and-coming Midwestern heavyweight, Stipe Miocic, as a challenger with the credentials to put him in a title fight. "Stipe would be my next pick."
Rothwell clearly relished proving the pundits wrong in his stunning, Cinderella Man victory against Overeem. But he thinks it's time for the mixed-martial-arts world to recognize that it's his time. "I guarantee I'm not going to be a five-to-one underdog again no matter who I fight," Rothwell reasons. But should the oddsmakers discount his chances, Ben has grown accustomed to the role of underdog: "I've been counted out lots of times."
Daniel J. Flynn, the author of The War on Football: Saving America's Game (Regnery, 2013), edits Breitbart Sports.
Photo credits: Daniel Flynn, Todd Monaghan