Conor McGregor does not face UFC featherweight champion Jose Aldo until December 12. But the timing failed to stop King Conor from unveiling a grand plan for his title reign on the UFC 194 conference call.
"I will KO Jose Aldo, and I will face the winner of the lightweight belt," McGregor says of a potential fight between him and the Rafael Dos Anjos-Cowboy Cerrone victor.
But he concedes the possibility of a second date with Aldo. "If [Aldo] can give me a war, and he can earn a rematch, then we can do a rematch," the Irishman proposes. "I just don't see him answering the bell for the second round."
Then again, he can't discount the possibility of taking on the winner of Frankie Edgar-Chad Mendes. "If that can be an exciting fight," he reasons, "maybe that's the one."
And the man Arnold Schwarzenegger dubs "one of the greatest athletes probably of all times" expressed an interest in following his friend's footsteps in making a killing in "action movies." McGregor insists, "Hollywood is screaming for me."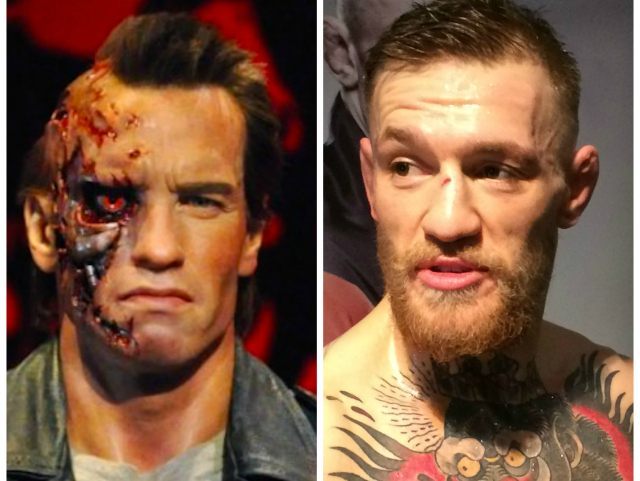 "I would love for the Croke Park event to happen," the Dubliner says of a potential fight in an open-air stadium in his hometown. "It would be a dream come true. But I respect good, clean business." He plans to conduct that business over whiskey with UFC officials.
But before the Notorious Conor McGregor can conquer Hollywood, the lightweight division, and a bottle of Jameson, he must conquer Jose Aldo. The champion, of course, envisions an alternative outcome. "Don't worry," the featherweight champ assured on Wednesday's conference call. "Wherever I hit, he's gonna go to sleep."
The challenger champion in waiting remains unsure whether the Brazilian shows up in Las Vegas for the Conor coronation. He envisions a scenario in which Aldo ditches UFC 194 at the 11th hour as he bailed on UFC 189.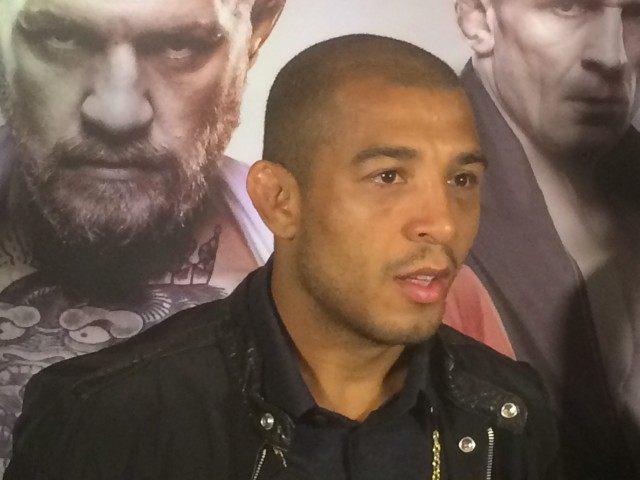 "If an exit presents itself for my friend Jose," McGregor maintains, "he's gonna take it." But the only featherweight champion in UFC history calls his appearance in the cage "more certain than all of our deaths in the future."
The 25-1 fighter who last lost before McGregor first won seems as much amused as annoyed by the verbal haymakers thrown his way. "The guy has worked for me," Aldo says of his adversary promoting the fight. "He's basically making me money. How could I be angry with that?"
Aldo, vanquisher of Urijah Faber, Chad Mendes, Frankie Edgar, Mike Thomas Brown, and Kenny Florian, regards the extroverted Irishman as just "another opponent" and a "joker."
Conor McGregor may play an Irish Arnold Schwarzenegger on the silver screen and a lightweight against the much larger Cowboy Cerrone in the octagon. But playing the court jester and King Conor leaves the Brazilian critic in his audience not sold on McGregor's royal role.