Call it the luck of the Irish. Or maybe just concede the skill of the Irishman.
Conor McGregor essentially boasted a one-for-one landed punches-to-knockout ratio on Saturday night. He hit Jose Aldo once in the jaw in his featherweight championship bout at UFC 194. That ended the champ's night—and his title run.
King Conor clocked Aldo with a left cross in his first connected punch of he fight that left the champion limp. McGregor dropped a couple of hammerfists on the Brazilian before John McCarthy intervened. But his first thrown punch that landed knocked out his opponent.
The fast finish stunned Aldo as much as the Irish audience. Once the heavily-Irish crowd in Las Vegas understood what had just transpired it exploded in a frenzy.
The perfect punch that landed flush on the Brazilian's jaw came so quickly as to require slow-motion to grasp precisely what occurred. In real time, the fight looked more like a fix. But upon replay, the southpaw clearly threw a tight left that nailed a lunging Aldo. His legs went stiff immediately. And despite the viewing audience asking what just happened, Big John McCarthy deliberated for merely a second before saving the Brazilian from further gratuitous blows.
"Nobody can take that left-hand shot," McGregor declared. "He's powerful and he's fast. But precision beats power, and timing beats speed."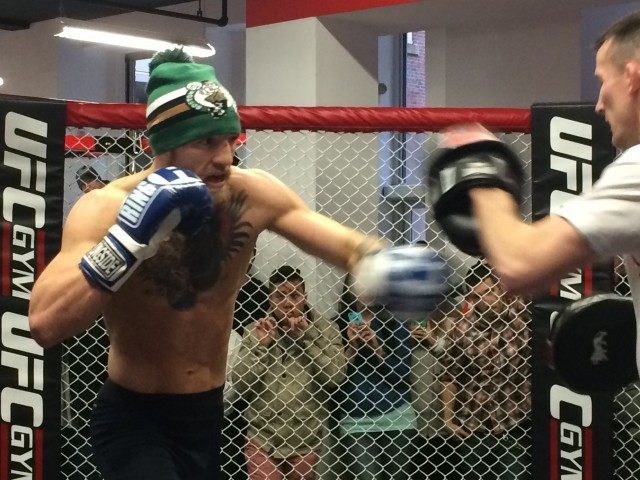 The finish came 13 seconds into round one. The knockout stands as the fastest title finish in UFC history.
"I think we need a rematch," Aldo contended after the fight. "That really was not a fight."
McGregor enjoys many options. He says he wants to fight the lightweight champion, whether Cowboy Cerrone or Rafael Dos Anjos, in his next fight to collect a second belt. But Frankie Edgar made his case for a featherweight title shot in a dominant stoppage of Chad Mendes Friday night. Aldo's wish for a rematch, despite his reign serving as the only featherweight one in UFC history until late Saturday night, looks unlikely to be fulfilled any time soon.
"What I say happens, happens," the new champion informed after the fight. "I felt like last fight week was gone before I could embrace it, but this time I took it in. The Irish are making the fight game what it is today. I think Aldo should reassess himself while I look to maybe go for the 155-pound belt or maybe I look at Frankie [Edgar], so there are options. I showed up tonight and put a stamp on the real belt, there is no doubt now."