Conor McGregor defeated a man unbeaten in ten years in just 13 seconds.
The Irishman's swift and stunning Saturday-night knockout of Jose Aldo, hitherto the only featherweight champion in UFC history, follows a March promotional world tour that stopped at Rio, London, New York, and points beyond, a cancelled UFC 189 bout that only elevated UFC 194's main event, and a year's worth of hype that included Aldo showing up to McGregor's Boston bout this winter with a sign depicting King Conor as the Joker, champion-in-waiting McGregor toting a fake belt while occasionally stealing the real one this spring, and Arnold Schwarzenegger proclaiming, "Conor is one of the greatest athletes probably of all times."
In other words, McGregor, and the fight he promoted, could not help but convey a Y2K-bug quality, give off an opening-of-Al-Capone's-vault vibe, and hearken back to the ever-imminent arrival of killer bees. McGregor set everyone up for a letdown. Yet he delivered beyond the unrealistic expectations he publicly laid out for himself by knocking out with his first landed punch a man never heretofore knocked out. The loudest talker in mixed-martial arts turns up the volume when communicating with his fists.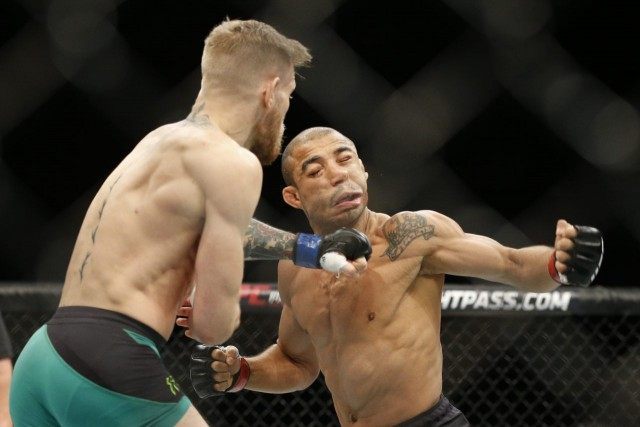 Three years ago, McGregor willed himself from the welfare rolls to the UFC roster. More recently, he said he would finish Jose Aldo in the first round. Now he talks collecting another belt in the lightweight division and conquering Hollywood. Who can gainsay him?
"Everything that happens began in the mind," Conor McGregor told Breitbart Sports in March. "So for me, of course I visualized this. I visualized this success. I visualized this belt. I visualized multiple belts. Now it is forming into my reality."
Dana White did not create Conor McGregor. Norman Vincent Peale did.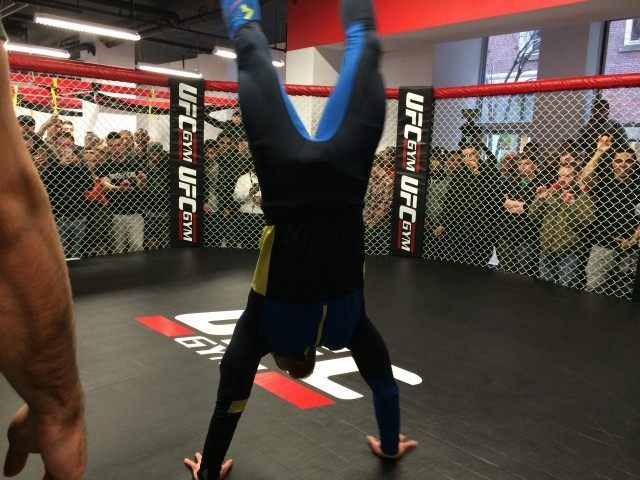 The featherweight displayed this mental approach to the physical game when Breitbart Sports observed a workout back in January. Whereas other fighters shadowboxed or hit mitts, McGregor crawled about the cage, in full-body spandex no less, like a leopard. He walked on his hands. He engaged in bizarre movements looking like a cross between tai chi and yoga. He mimicked fighting situations with a handful of training partners in tow. Throughout, he looked taut and tight—no fat and not a single inefficient beach muscle on his body. He showed more grace than power, stretched rather than flexed his muscles, and appeared cerebral even when partaking in the most taxing bodily activities. All the while, the fighter wore a smile and not a scowl.
To paraphrase The Kinks, Conor McGregor's not like everybody else. And he may become bigger than everybody else who came before him.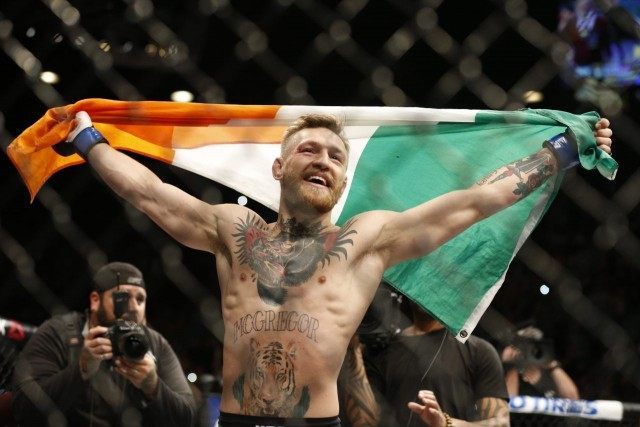 With Brock Lesnar and Georges St. Pierre retiring, Anderson Silva destroyed by Chris Weidman and disgraced by PEDs, Ronda Rousey run over by her own hype train, and Jon Jones getting beat by Jon Jones, a void appeared in the UFC the size of King Conor's mouth. McGregor filled it and became the face of mixed-martial arts. But he rejects the notion that the fall of others led to his rise. "Whether Anderson would be here, Brock would be here, GSP would be here—this is my time," he explained to Breitbart Sports in March. "This is the McGregor time. It does not matter who's here. I would still be where I am and doing what I am now."
What's he's doing right now has never been done before—except a million times in Conor McGregor's mind.