Dallas Mavericks owner and outspoken Donald Trump critic Mark Cuban tweeted, and then deleted, a critical comment of President Trump after a raucous 90-minute White House press conference on Thursday.
Cuban tweeted: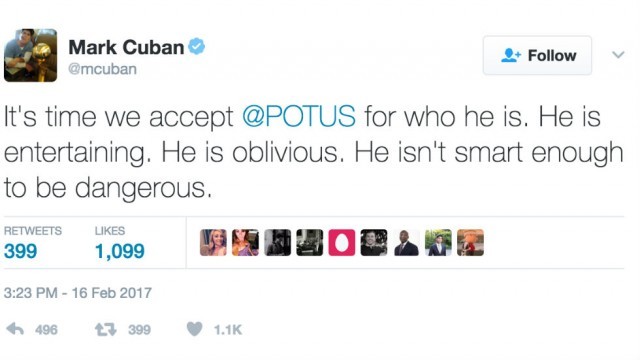 This is far from the first time Cuban and Trump have launched salvos at each other on Twitter. In fact, Cuban's "not smart enough to be dangerous" line appears to be a response to a tweet from President Trump last week, in which Trump opined that Cuban wasn't "smart enough to run for president."
Cuban initially supported Trump's bid for the presidency, then pulled his support and backed Hillary Clinton. Trump feels Cuban pulled his support due to frustration with him for not taking Cuban's phone calls. Cuban says the decision was based on substance, and Trump's lack of seriousness.
Follow Dylan Gwinn on Twitter: @themightygwinn