Britt McHenry sure seems to think that she was laid off by ESPN because she's a conservative.
In response to a tweet from Fox Sports' Clay Travis, where he highlighted a feeble attempt from ESPN to show that they're not liberal, McHenry implied that she was laid off for political reasons: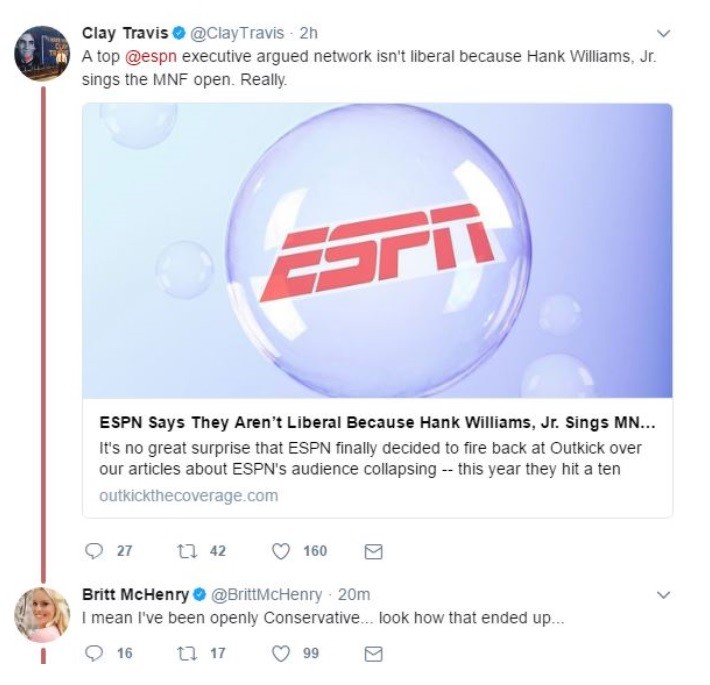 While McHenry certainly wasn't as openly conservative at ESPN as someone such as Rush Limbaugh, Mike Ditka, or Curt Schilling, she has subtly displayed her political leanings.
According to the New York Post, "(McHenry) attended a GOP event last December, for example, and captured the night in a photo of her and Paul Ryan she posted to her Instagram account—which she subsequently deleted.
"Last week, McHenry subtly 'liked' another reporter's tweet mocking Colin Kaepernick for speaking out against the recent acquittals of police officers in the shootings of black men."
Perhaps McHenry made her politics better known in the corridors at Bristol, but barring that her political activism seems quite tame. Nor, it must be said, can any discernible political trend be recognized among those ESPN laid off.
Granted, none of ESPN's prime liberal offenders found themselves on the chopping block, though many liberals did. More importantly, a ton of sideline reporters, analysts, and other non-host, content contributors like McHenry did get laid off.
So, long story long, it's impossible to know whether McHenry was laid off due to her politics. However, if she did and she has proof of that, I'd love to read the book.