Media outlets have been fooled by a joke photo long in circulation into believing that a Photoshopped picture of notorious anti-GamerGate critic Veerender Jubbal was one of the suspects responsible for the recent Paris terrorist attacks that occurred on Friday.
The original picture of Jubbal featured him standing in a bathroom in front of the mirror, taking a selfie with his iPad. This was then changed and edited by trolls to add a suicide-bomb vest to Jubbal, change the iPad into a Koran, and add a dildo into the corner of the photo. A group of trolls then spread the picture around with the sole purpose of fooling the media, and the picture was picked up shortly after.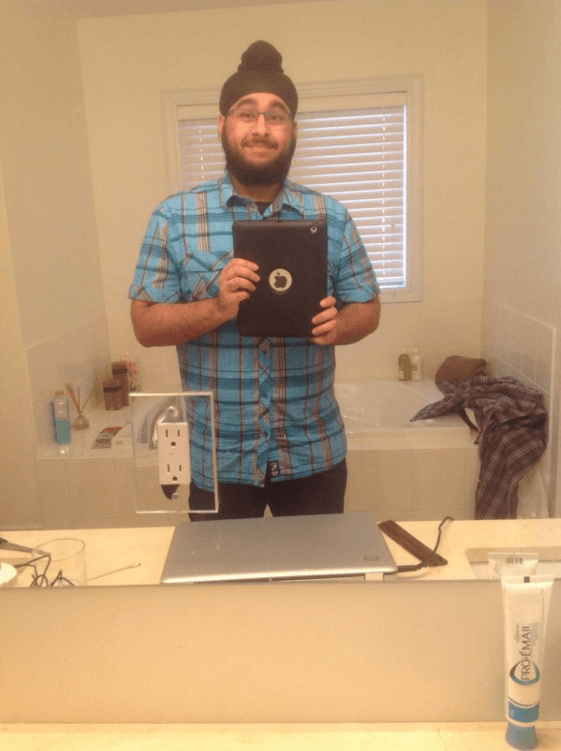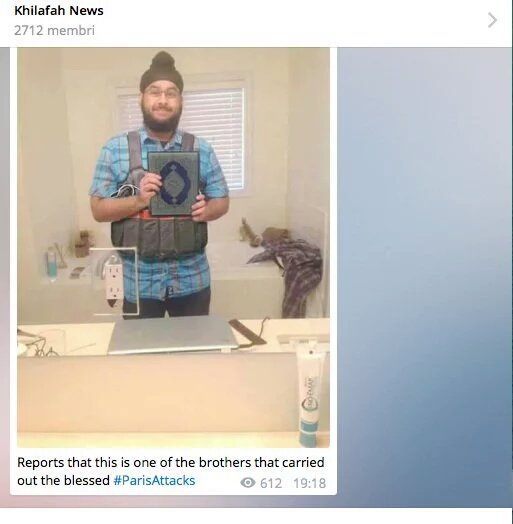 Sky TG24, an Italian news channel offshoot from the mega telecommunications company Sky, was among the list of media outlets that fell for the hoax, tweeting the picture out to over 1.98 million followers, as well as featuring the picture in a live news video which described Jubbal as a kamikaze. The picture of Jubbal was visible live on the left-hand side of the screen, whilst live reporter footage was broadcast on right. The photoshopped dildo in the corner of the photo was visible throughout the full 5 minutes and 30 seconds of airtime.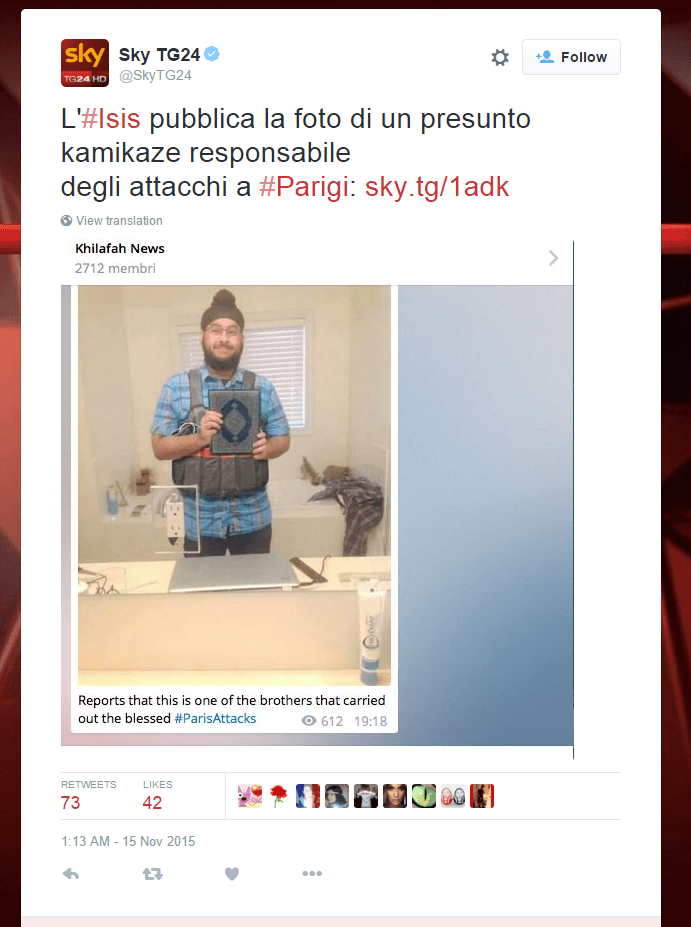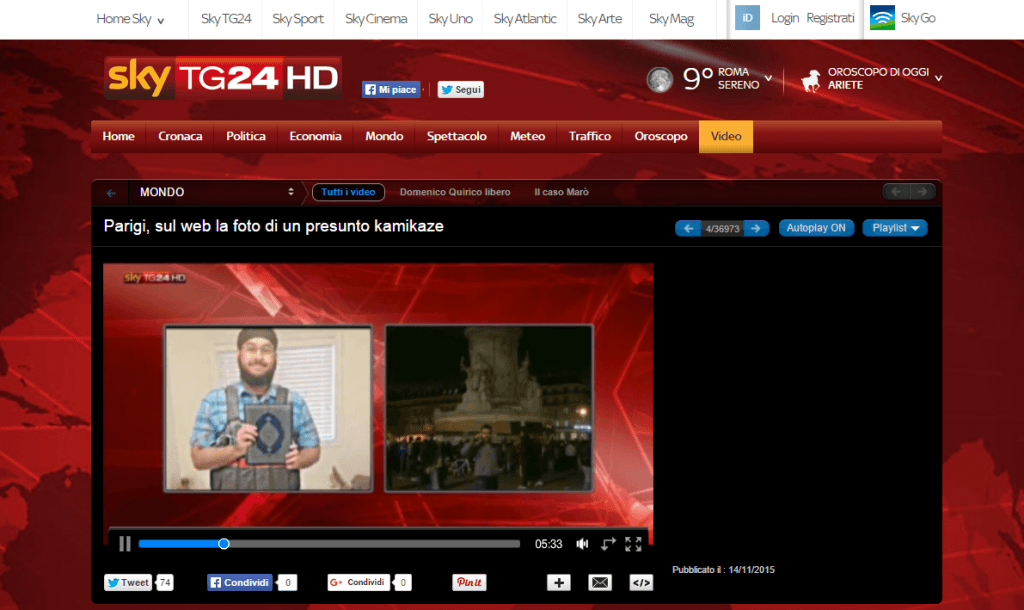 Jubbal has since taken to Twitter to defend himself and criticise the media outlets that have used the picture.
People are editing, and photoshopping my selfies as if I am one of the people causing the issues/problems in Paris.

— Veerender Jubbal (@Veeren_Jubbal) November 14, 2015
You can all check the last retweets.

Let us start with basics.

Never been to Paris.

Am a Sikh dude with a turban.

Lives in Canada.

— Veerender Jubbal (@Veeren_Jubbal) November 14, 2015
Learn the difference between me being a Sikh, and a Muslim.

Cry in mug, while I use your tears to water my garden.

I am valuable, and rad.

— Veerender Jubbal (@Veeren_Jubbal) November 14, 2015
Other users have also attempted to defend Jubbal and create awareness about the hoax.
#Media une fausse photo présentée comme un des jihadistes des attaques de Paris circule pic.twitter.com/AZVo39glyl

— Gilles N. (@VegetaMoustache) November 14, 2015
That's an iPad, not a Quran, and the Dastar (turban) is worn by Sikhs. pic.twitter.com/xkKzJ0G65f

— Grasswire Fact Check (@GrasswireFacts) November 14, 2015
This man was reported to be one of the Paris attackers. He is not. https://t.co/Vjd726sUC5

— Grasswire (@Grasswire) November 14, 2015
Problems w/ image: Man in Sikh turban, iPad photoshopped to look like a Qur'an, US electric outlets on wall, photoshopped dildo in corner 2/

— Ellie Hall (@ellievhall) November 14, 2015
But a large majority of the internet has found the situation hilarious, especially due to the irony of Jubbal's previous comments that have painted entire innocent communities as terrorists and hate-mongers. Jubbal frequently tweets about whiteness and the problems with white people, and has tweeted such gems as:
If we learned anything from the current situation–white people are garbage allies to PoC, and do not know their place, whatsoever. Sit.

— Veerender Jubbal (@Veeren_Jubbal) June 14, 2015
@RaygunBrown White people are the worst.

— Veerender Jubbal (@Veeren_Jubbal) November 12, 2015
@BeccaCanote White folks need to stop.

— Veerender Jubbal (@Veeren_Jubbal) November 8, 2015
@kunikos White Star Wars nerds are so garbage.

— Veerender Jubbal (@Veeren_Jubbal) October 18, 2015
Happy White People are the Worst Day!

— Veerender Jubbal (@Veeren_Jubbal) October 12, 2015
Ugh.

White folk.

— Veerender Jubbal (@Veeren_Jubbal) October 8, 2015
In fact, just a simple Twitter search will show you hundreds of derogatory references to white people made by Jubbal almost daily.
But it's not all he likes to tweet about. When Jubbal is not tweeting about how to solve the white problem, he likes to say hello to the 'cuties' on Twitter, call out gamers as garbage, and have conversations about masturbating into socks.
@winnersusedrugs Masturbating with a sock over a penis helps clean up the mess easier, and then you can put the sock in the wash.

— Veerender Jubbal (@Veeren_Jubbal) February 6, 2015
Breitbart Tech staff have taken to Twitter to defend and offer condolences to Jubbal as well.
https://twitter.com/117Baz/status/665700995167625216
https://twitter.com/Nero/status/665698379368919040
https://twitter.com/echolman/status/665650705995186176
Media Protip: If a suspect's photo on social media has a giant dildo in it, and the crime was not dildo related, it's probably not legit.

— Will Ross (@SawmillLoris) November 15, 2015
The trolls also furthered the hoax by creating fake accounts to make it look like ISIS themselves believed Jubbal to be one of the terrorists responsible for the Paris attacks, with one post made to look like a screenshot from a fake ISIS chat group reading "Reports that this is one of the brothers that carried out the blessed #ParisAttacks," attached to the photoshopped picture of Jubbal. A twitter user familiar with the Jubbal situation was able to point this out.
https://twitter.com/istheguy/status/665705858882473984
This is not the first time that major news outlets have been fooled by an online hoax, and it is highly unlikely to be the last. Just last month, music reviewer Anthony Fantano had his photo shared by trolls who claimed him to be the Oregon shooter, after people noted physical similarities between the two. Fantano's picture was displayed on multiple high profile news channels and websites next to reports about the shooting, and news outlets did not pick up on error until Fantano and his fans tried to spread awareness about the mistake on social media.
Luckily for Jubbal, there are many women that love serial killers and the foulest dregs of society serving life sentences, so an online reputation as a suicide bomber should be more than enough to earn him the female company that so far has eluded him.
Breitbart has reached out for comment from Veerender Jubbal but has not received a response.
https://twitter.com/Nero/status/665716568781926400
Charlie Nash is a British libertarian writer, memeologist, and child prodigy. You can follow him on Twitter here @MrNashington.