The world's biggest YouTube celebrity was unverified and then suspended on Twitter, and no one seems quite sure why.
UPDATE: @PewDiePie is no longer suspended. No explanation has been offered by Twitter or the streamer himself. This seems likely to be the most we're going to get for now:
https://twitter.com/pewdiepie/status/771052428850503681
Curiously, now that he's back, he seems to have decided to follow just one account…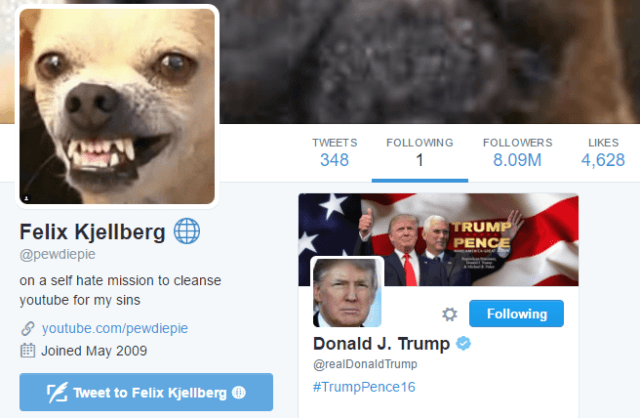 As for why his account was unverified, Kjellberg posted a video to his channel today explaining (somewhat) that he chose to have his account unverified.
ORIGINAL STORY:
Yesterday, Felix "PewDiePie" Kjellberg lost his Twitter verification checkmark. As of today, he doesn't have an account at all. The news is already spreading like wildfire on the social network, but no one seems to know exactly what's going on.
Yesterday, PewDiePie joked that his verification loss was due to joining ISIS. And while I'm fairly certain that Islamic radicalization isn't Twitter's actual reason, so far no official comment has been provided.
Kjellberg is easily the biggest YouTube star of all time. At last count, he had more than 47 million subscribers to his channel and had amassed more than 13 billion total views for his videos.
Now he's among the very few public figures who Twitter has first unverified, and then subsequently banned from the platform. One of the other prominent members of that particular club is Breitbart's own Milo Yiannopoulos after he criticized Ghostbusters (2016) actress Leslie Jones.
Myriad news outlets continue to insist that Milo "incited" abuse against Jones, but she was already hours into a nearly 14-hour fight with random users criticizing her and the film before he ever interacted with her.
We reached out to Twitter for comment and will update as more information becomes available.
Follow Nate Church @Get2Church on Twitter for the latest news in gaming and technology, and snarky opinions on both.