Facebook has banned pages run by the far right Britain First group across their platform.
BBC News reports that Facebook has removed the pages of the far right group Britain First, stating that the group violated the site's community standards on multiple occasions. The group's leaders, Paul Golding and Jayda Fransen, were recently convicted of "racially aggravated harassment" in a case relating to the trial of four Afghan males who were convicted of gang-raping a lost 16-year-old girl in Kent, England, in 2016. Golding and Fransen were convicted of leading a "campaign" of harassment against the four rapists and others "not directly involved in the rape case."
Facebook issued a statement on the banning of Britain First from the platform claiming that the group violated Facebook's terms of service despite multiple warnings:
People come to Facebook to express themselves freely and share openly with friends and family, sometimes this can include their political views. Some political opinions might be controversial, but it is important that different views can be shared and we are very careful not to remove posts or Pages just because some people don't like them.

We are an open platform for all ideas and political speech goes to the heart of free expression. But political views can and should be expressed without hate. People can express robust and controversial opinions without needing to denigrate others on the basis of who they are.

There are times though when legitimate political speech crosses the line and becomes hate speech designed to stir up hatred against groups in our society. This is an important issue which we take very seriously and we have written about how we define hate speech and take action against it in our Hard Questions series. We have Community Standardsthat clearly state this sort of speech is not acceptable on Facebook and, when we become aware of it, we remove it as quickly as we can. Political parties, like individuals and all other organisations on Facebook, must abide by these standards and where a Page or person repeatedly breaks our Community Standards we remove them.

Content posted on the Britain First Facebook Page and the Pages of party leaders Paul Golding and Jayda Fransen has repeatedly broken our Community Standards. We recently gave the administrators of the Pages a written final warning, and they have continued to post content that violates our Community Standards. As a result, in accordance with our policies, we have now removed the official Britain First Facebook Page and the Pages of the two leaders with immediate effect. We do not do this lightly, but they have repeatedly posted content designed to incite animosity and hatred against minority groups, which disqualifies the Pages from our service.
London's Mayor, Sadiq Khan also issued a statement saying, "Britain First is a vile and hate-fuelled group." He continued,"Their sick intentions to incite hatred within our society via social media are reprehensible, and Facebook's decision to remove their content is welcome."
Britain First also made headlines when President Trump retweeted videos posted to Twitter by Fransen. The tweets appeared to feature videos of migrants attacking people across Europe, one video was titled "VIDEO: Muslim migrant beats up Dutch boy on crutches!"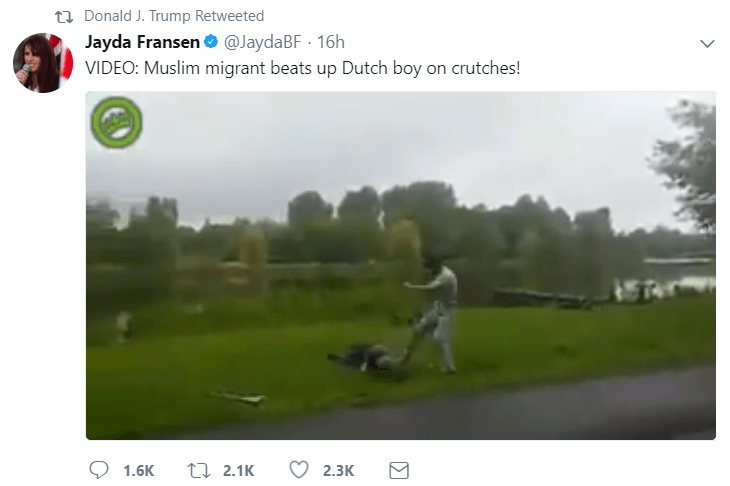 Another appeared to show two men destroying a religious statue, Fransen tweeted the video with the title "VIDEO: Muslim Destroys a Statue of Virgin Mary!"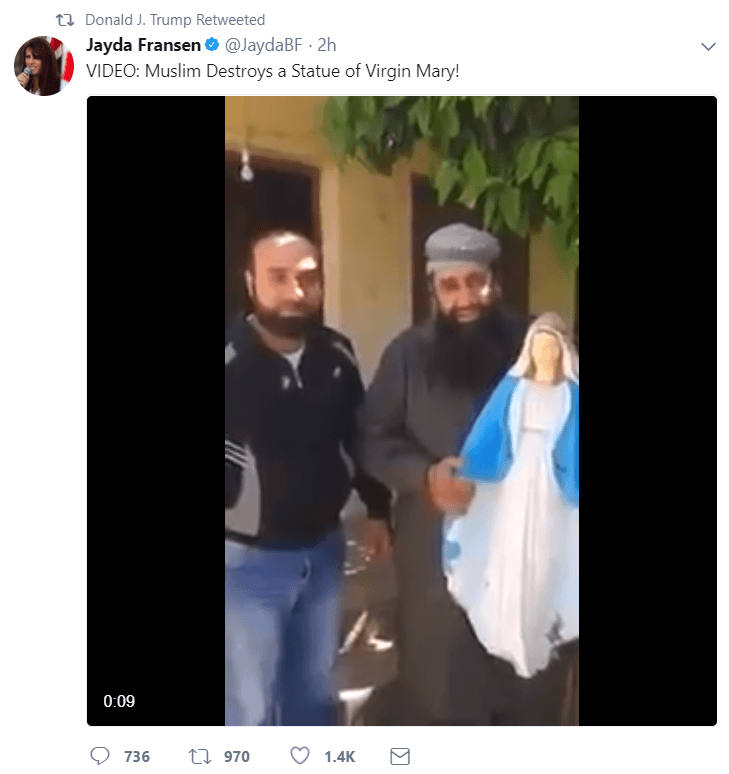 Fransen reacted positively to the retweets from President Trump saying "God bless you Trump! God bless America!" Fransen's Twitter account was banned in December shortly after she was retweeted by Trump.
Lucas Nolan is a reporter for Breitbart News covering issues of free speech and online censorship. Follow him on Twitter 
@LucasNolan_
 or email him at lnolan@breitbart.com