REYNOSA, Tamaulipas — The fearsome crime syndicate known as the Gulf Cartel sponsored a fake police brutality protest in this Mexican border city. The cartel organized the protest by forcing people to go and claim that the Mexican military and Tamaulipas police forces are abusive.
Appearing to take a page out of the #BlackLivesMatter movement, fake police brutality protesters allegedly paid by the Gulf Cartel blocked access to two international bridges in this city. They chanted and held signs calling for state police forces and the Mexican military to stop their operations.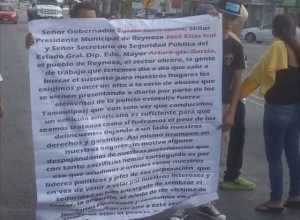 Chanting in Spanish "stop now, we are good people" the so called protesters held multiple professionally made banners that called for an end to traffic stops and home searches by state police officers who are hunting for cartel members.
Breitbart Texas consulted with Mexican law enforcement officials in Tamaulipas. The officials confirmed that that the protest is connected to a series of operations that have been targeting members of the Gulf Cartel in this border city. The officials also confirmed that they have been actively hunting for various high ranking commanders and the protests are a sign that they are feeling the pressure.
A Reynosa resident with direct knowledge of the events leading to the protest spoke with Breitbart Texas asking that his name not be released as he fears for his safety.  The individual said that five local buses from the public transit system were hijacked by Gulf Cartel members.
The cartel henchmen took the buses with passengers and telling them that they would be going to a protest but to not worry and that they would be paid for it, the man said.
The gunmen took their cell-phones and would not let the forced protesters communicate with their relatives until late in the afternoon.
Just three months ago, Mexican authorities applied a lot of pressure in order to capture various leaders within the Gulf Cartel. In response, their leaders placed a series of banners around town telling residents to call local authorities to report criminal activity, Breitbart Texas reported.
The criminal organization claimed they were not responsible for kidnappings and extortions. As reported in previous stories with the Cartel Chronicles, the Gulf Cartel is not only blamed for drug trafficking, but also human smuggling, kidnapping, extortion and multiple other crimes.
When the criminal organization is running low on funds, the Gulf Cartel has resorted to bank robberies and other petty crimes to make quick cash.
Since February, two factions within the Gulf Cartel, one from Matamoros and one from Reynosa, went to war over territories, command structure and smuggling routes setting off much chaos along the border area, as was previously reported by Breitbart Texas,.
The regular shootouts, along with the spike in murders and kidnappings, has led to an increase in activity by Mexican authorities who have been under much pressure to lower criminal activity in the region.
The protest began Thursday morning when protesters gathered outside of the international bridges in this border city. The goal was to disrupt automobile traffic to the United States.
Despite the protest, officers with U.S. Customs and Border Protection (CBP) remained vigilant at the two international bridges in order to continue normal operations.
In a statement by CBP provided to Breitbart Texas, officials confirmed that:
A protest began at approximately 10 a.m. on Thursday Sept. 10, 2015 in Reynosa, Tamaulipas Mexico affecting the Pharr and Hidalgo International Bridges. This blockade temporarily halted northbound commercial and passenger traffic from entering the U.S. at the Pharr International Bridge until approximately 1:15 p.m. and until approximately 2:00 p.m. at Hidalgo. Southbound traffic was unaffected. U.S. Customs and Border Protection remains operational throughout. Traffic at both international bridges has returned to normal operations.
Ildefonso Ortiz is an award winning journalist with Breitbart Texas you can follow him on Twitter and on Facebook.