MISSION, Texas — An apparent drug theft turned into a shootout in this border city and left one person dead. The shootout comes after various home invasions have been reported along the Texas border where multiple gunmen storm rural houses looking for drug shipments or cash.
Late last week, investigators with the Hidalgo County Sheriff's Office responded to a house on the 3100 block of Fresa Drive in rural Mission for a call of shots fired, information provided to Breitbart Texas by the sheriff's office revealed.
When deputies arrived to the house they found that the door had been damaged and forced open so they went in to investigate.
"Upon searching the home, deputies discovered a deceased adult male with gunshot wounds … As they continued searching they discovered bundles of narcotics. " the information provided revealed.
Crime scene investigators found signs of multiple shots fired inside the house pointing to a possible shootout.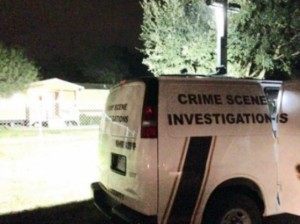 The deadly shootout in Mission comes just weeks after as Breitbart Texas reported, two separate home invasions just days apart caused an uproar in the border cities of La Feria and Harlingen.
In one of those home invasions, local, state, and federal authorities carried out a massive manhunt using armored vehicles as they searched for multiple heavily armed men who had broken into a house, tied up the people inside and tried to steal large amounts of cash.
As Breitbart Texas has reported in the past, home invasions have plagued areas around the Texas border, particularly in Hidalgo County, where teams of gunmen storm into houses that they suspect are being used to store large amounts of cash or recently smuggled drug shipments.
The home invasions tend to deal primarily within individuals tied to illicit activity, however, at times innocent people have been victimized as gunmen storm the wrong house.
Ildefonso Ortiz is an award winning journalist with Breitbart Texas you can follow him on Twitter and on Facebook.