Breitbart Texas traveled to the Mexican States of Tamaulipas and Coahuila to recruit citizen journalists willing to risk their lives and expose the cartels silencing their communities.  The writers would face certain death at the hands of the various cartels that operate in those areas including the Gulf Cartel and Los Zetas if a pseudonym were not used. Breitbart Texas' Cartel Chronicles are published in both English and in their original Spanish. This article was written by Coahuila's "JM Martinez" and Breitbart Texas' Ildefonso Ortiz.
PIEDRAS NEGRAS, Coahuila — Authorities in this border state continue to look into a series of executions that recently shook this community. The gruesome murders remain unsolved. Piedras Negras sits immediately south of the Texas border city of Eagle Pass.
One of the executions was recently reported when bystanders found the body of a man who had been dumped on Padre De Las Casas street in the Colonia Santa Maria Street. Local authorities confirmed the finding of the man's body, which showed signs of torture and had been shot various times. The victim had been wearing a green t-shirt, jeans and a black jacket. Coahuila State Forensic Investigators went through the body and pointed out that the victim has been tortured and beaten severely. The body had received multiple blows to the face and was missing the left eye. The victim was killed by a gunshot to the left abdomen and another one to the forehead.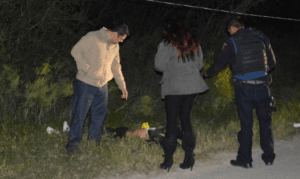 As authorities were gathering evidence and following the proper procedures to pick up the body, they were called to another location just a few blocks away in a gated lot. The body was found on the Eden neighborhood near the old road to El Moral. At the location authorities found the body of a man who has similar signs of torture and execution as those of the body found just moments before. The second victim has been beaten and then shot once on the left abdomen and once in the forehead.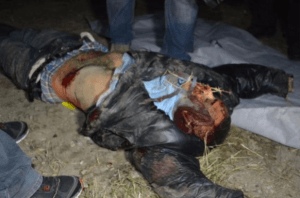 The second victim was wearing jeans, a blue sweatshirt and a black jacket. The victim had multiple tattoos including a large eagle similar to the one used in Mexico's flag tattooed on his stomach.
The following day the bodies were identified by their relatives. The first victim was identifies as 19-year-old Gustavo Contreras. He was described as a hair stylist that had been previously reported missing. The second victim was identifies as 29-year-old Fernando "El Nene" Gonzalez Diaz.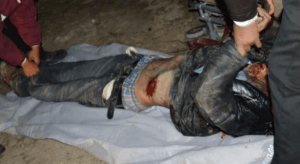 The case continues to be investigated by state authorities and while at the moment they do not have identified the murderers officials claim to have various investigative leads that could help solve the gruesome crime.