DONNA, Texas — Two members from a Texas border school district have been convicted on federal bribery charges for taking money in exchange for contracts.
On Tuesday afternoon, 54-year-old Eloy Infante and 45-year-old Elpidio Yanez, both members of the Donna Independent School District Board, went before U.S. District Judge Randy Crane and pleaded guilty to the charge of attempted interference with commerce by extortion. Adrian Guerrero, a 50-year-old Donna man who is not part of the school board but acted as a go-between also pleaded guilty for his role in the conspiracy. The three men are expected to be sentenced in March.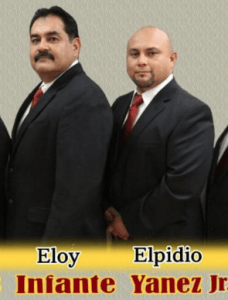 According to information provided to Breitbart Texas by the U.S. Attorney's Office, the board members admitted that from February to May 2015, they had demanded money from a private business in order to continue providing services to Donna ISD. Guerrero admitted to having been the go-between.
Breitbart Texas has reported extensively on widespread corruption that has taken place in Donna since November 2014 when a new faction took control of the school board. The new faction led by president Albert Sandoval who, with the help of Yanez, Infante, Tomasa Ramos and Nick Castillo, has been busy handing out contracts to their allies and retaliating against their detractors.
The vendettas have landed the school board in federal court on multiple lawsuits that the board has been settling out of court at the expense of taxpayers.
One of the first measures that Sandoval and his crew carried out upon taking control of the school board dealt with terminating a the school's law firm which charged an $80,000 retainer. Sandoval and the board hired a local attorney at a higher retainer of $300,000 per year in addition to a fee of $250 per hour worked.
As previously reported by Breitbart Texas, Robert J. Salinas, the new school attorney is, in fact, a previously convicted felon who served a prison sentence on money laundering charges but was somehow able to regain his law license from the Texas Bar.
Another of the glaring irregularities dealt with the school board spending taxpayer's money to send the board members to go see Hillary Clinton speak at a conference in Las Vegas, as reported by Breitbart Texas. Tomasa "Tammy" Ramos, one of the school board members even got married during the trip.
The board has even moved to target a board member and the school superintendent who have tried to stop the rampant corruption. They had the school police chief arrest them on trumped up bribery charges that were dismissed when a grand jury decided to no-bill the case, meaning the evidence was not there.
Ildefonso Ortiz is an award winning journalist with Breitbart Texas you can follow him on Twitter and on Facebook.